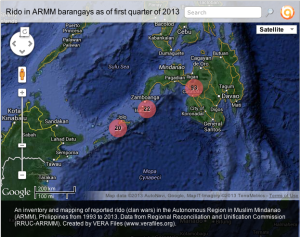 By DEXTER CABALZA and MELISSA LUZ LOPEZ
MORE than half of recorded deaths from rido or clan wars in the Autonomous Region in Muslim Mindanao (ARMM) since 1993 were politically motivated, according to the Regional Reconciliation and Unification Commission (RRUC).
The 2013 report of the RRUC traced at least 170 of 313 deaths resulting from rido to political violence.
Elections in the region often cause tension among families as clans would fiercely defend their bailiwicks by dominating barangay and municipal positions.
Political tensions often result in rido, a chain of violent events between feuding families. Rido is considered a major problem in Mindanao, as the armed conflict causes deaths and damages the local economy.