Text and photo by ELIZABETH LOLARGA

CHILD experts haven't emphasized enough how "first years last forever" to mean that the years zero to six are crucial to a child's physical, mental and emotional development. In fact, it is part of the United Nations Children's Fund mandate to protect and nurture those years.
With its "Auction for Action" going on its third year this month, the UN agency is partnering with the Yuchengco Museum to make possible the event. The auction, the first time it is going online, is targeting a goal of P5 million to be raised from the sales of furniture and home accessories, jewelry and art accessories, paintings, sculpture and some special items donated by outstanding Filipino artists and crafts people to fund UNICEF's Supervised Neighborhood Play Program (SNPP).
These actual items, over 90 of them, are on view at the museum on the ground level of the RCBC Plaza, Ayala Ave., Makati City, until Oct- 21-27 when the auction goes live at www.ebay.ph/unicef.
Tomoo Hozumi, UNICEF country representative, said the SNPP gives young children access to supervised, home-based neighborhood play in disadvantaged areas not served by government day care centers.
He said during the zero to six years, children are sometimes too young to be in school, but their skills in listening and observation must be sharpened. By stimulating these abilities, children become ready to read and enter school, learn to be creative and resourceful, and are least likely to drop out of school later.
He stressed how important the first years are in preparing a young person for his/her entire life, citing "hard evidence" that showed the difference between children exposed to supervised play and those who are not. He said those who went through day care or something like it later showed better academic performance, higher educational attainment, higher job skills and lower crime rate.
Hozumi said the SNPP are being set up in informal settlements and areas in conflicts where other day care workers are reluctant to put up safe places for children. At the SNPPs, he said enrolees go through two to three hours of supervised play, five days a week.
He also said the SNPP, with its story-telling and active play components, is simple and easy to organize. Its benefits include improving the child's social and emotional skills, self-awareness, self-confidence, and natural curiosity. It all boils down to what he called "being successful in life."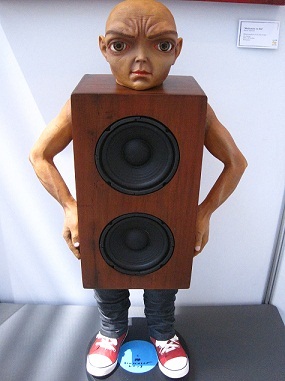 Daphne Oseña-Paez, UNICEF special advocate for children and main presentor at the "Auction for Action, "said she was excited by the event because "my worlds, my passions collide here–art , design, media motherhood, among my advocacies."
Her work has enabled her to visit Boston in Davao Oriental in the wake of Typhoon Pablo. She met a certain Teacher Joy at a day care center who is helping children who witnessed rocks falling on animals, houses and people overcome their trauma through songs and dances.
Michelle Parazo-Borromeo, UNICEF fundraising specialist for private fundraising and partnerships, said it is the organization's first time to work with Yuchengco Museum that offered its space. She added that the gesture demonstrated how the art and design world could come together for a worthy cause.
Hari Sonik by Elmer Borlongan for Unicef's Auction for ActionAmong the participating artists is Kenneth Cobunpue who departs from his much-in-demand furniture, to do "Coral." It is described in the auction catalogue as an "arresting, hand-woven sculpture is inspired by the creatures of the sea."
Oseña-Paez has a furniture line named after her. The "Daphne Chair" is described as reflecting "basic classical forms that are reinterpreted and given a contemporary feel by new finishes and textures."
Debbie Palao specially created "Nimbus" for the UNICEF event. The chaise lounge "invites daydreamers to release their inner child and explore the blissful world of play." The item is made from metal, hose, cotton, twine and hand-woven abaca.
Manuel Baldemor's acrylic painting "Filipino Family" is on a subject that remains his favorite. It depicts "scenes in simplified geometric forms wit a folk art character," highlighting the values of "family love, closeness and unity."
Lito Carating's abstract work "Yellow Sun Over the Blue Sea," despite "rigid lines, complemented by subdued tones of yellow blue, brown and gray…, tries to capture the moods and moments of a landscape with depth."
Measuring 1.25 x 1.75 inches, Gregory Raymond Halili's miniature watercolor on paper "Portrait of a Woman II from the Cordilleras" is his "homage to his motherland." It shows a Cordillera woman wearing traditional Ibaloi clothes.
Young in spirit is Michael Cacnio's brass sculpture "Sweet." It is inspired by the popular computer game '"Candy Crush."