By PABLO A. TARIMAN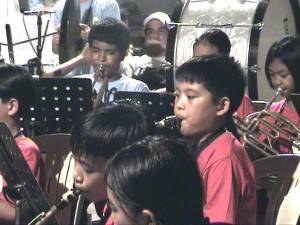 COMEDIENNE-SOPRANO Sylvia La Torre and distinguished baritone Andrew Fernando will share the stage with pop idol Sarah Geronimo in a rare musical event that will combine three generations of Filipino artists on Nov. 27 at 6 p.m. at the Cultural Center of the Philippines.
La Torre, Fernando and Geronimo will be performing with the Philippine Youth Symphonic Band (PYSB) for the latter's benefit.
Formed in 1978 with the purpose of  keeping symphonic band tradition alive, the PYSB  is enjoying an active musical life with the present "working" board that includes Irene M. Araneta (chair), Maja Olivares-Co (executive director), Arnaldo Custudio (band manager), Madonna Punsalang (band treasurer), Romeo San Jose (musical director and band conductor) and William M. Valtos Jr. (finance director).
In the last four years, the PYSB–now with 64 members ages 7 to 22–has undertaken the yearly live-in music camps where young talents get to attend special and personalized classes in sight-reading, musicianship, harmony, solo instrument and ensemble playing. This has resulted in the discovery of more talents.
Many in the first batch of this annual PYSB music camps have since become professionals and have pledged to donate their services to keep music of interest to the young generation.
Funding and sustaining these yearly training programs is no walk in the park, though. This prodded the "working board" to get a core of advisers, consisting of celebrated pianists Cecile Licad and Raul Sunico, conductor-composer Francisco Feliciano and New York-based designer Josie Natori.
This is the reason there is a silent auction of children's designers chairs during the Nov. 27 concert to augment the PYSB sustaining funds.
According to Co, fundraising is always tedious. She said they have to hurdle the misconception that arts and classical music are only for the elite.
"To donors, our training projects are almost synonymous to last priority," she said.
She related that very recently, she  got a reply from a chief executive officer of a multinational corporation who said they preferred to give to street children.
"I have no disagreement with that," Co said. "However, I did point out that PYSB is different because we are working to ensure that these promising young musicians don't end up as street children."
She cited Bien Acelajado as one example. Two years ago, Acelajado, was driving a tricycle. Now he earns a living as a trumpet player and he is enjoying it.
The regular weekend rehearsals of the PYSB have prodded young people to stay home and rehearse their classical pieces rather than go to the malls and just laze around. Some have decided what careers to pursue even at their tender age and after passing the initial music camp standards.
Co also stressed that PYSB activities are not confined to music-making. She said, "We teach them value formation, including how to deal with people who hire them for special events. Many overseas musicians have been shortchanged due to lack of information. Eventually, we hope we could assist young musicians find job opportunities in hotels and cruise ships."
Fr. Manuel Maramba of the Piano Teachers Guild of the Philippines pointed out: "Right now, music is not just a showcase for culture. It is also a burgeoning industry."
Co said they are always conscious that PYSB's overall objective revolves around music, education, opportunity and livelihood.
"Musical interaction is exciting for most musicians but it is intensely fulfilling for our youthful members," Araneta said. "Our band is trained in the rigors of classical music with its required discipline, drive and serious practice."
She added, "But playing with pop and jazz artists not only draws in a larger crowd to our concerts. It also teaches our young members that good music can be found in all genres. After all, there are only two kinds of music–good and bad."
Indeed, the symphonic band has musically crossed over from classical to pop, jazz and Broadway. It has interacted with diverse soloists from soprano Rachelle Gerodias to
Andrew Fernando, Gary Valenciano, Lea Salonga, Christian Bautista and now Sarah Geronimo and Sylvia La Torre.
Araneta said members of the music industry cannot afford to be proficient only in one genre. She said, "We have to expose and hone our instrumentalists in all styles–classical, jazz, pop and rock. Our mission is to provide them with livelihood through their music and thus they should be prepared for any musical score that may come their way in the recording studio, a cruise ship or even a backup band."
Araneta is optimistic the coming year will bring the band to new musical highs. The usual run of mall concerts is in the pipeline and their music stands are burgeoning with new music from all genres.
She said the members of their woodwind quintet already had a rare chance to accompany Licad, who is one of their staunch supporters. She feels fulfilled seeing young artists in PYSB "having grown in refinement."
"They are discerning of the music they play and the artists they play with. They are so eager to learn that their tutors enjoy keeping them musically challenged," she said with pride.