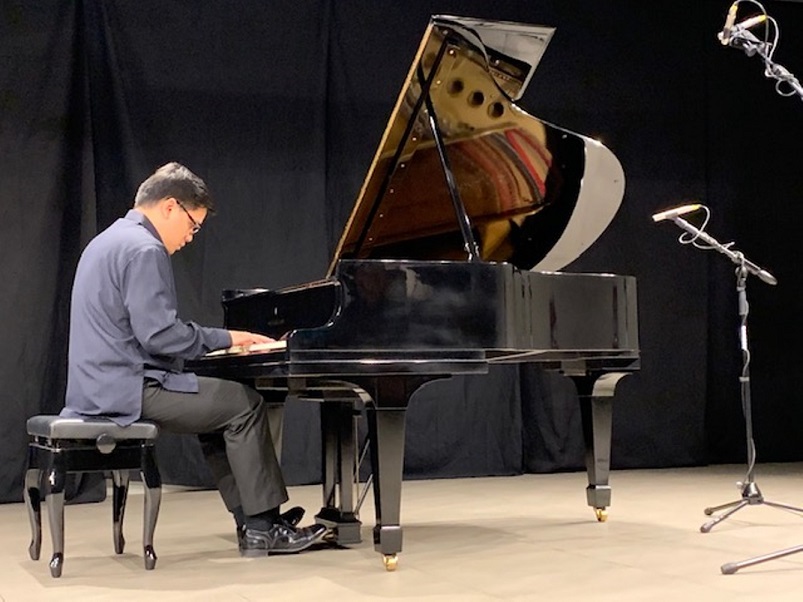 Pianist Clement Acevedo in deep concentration.Photo by Bianca Susi.

By turns professorial in demeanor when standing to face the audience and a personable performer on the Steinway piano, Clement Acevedo wowed a sparse Sunday audience at the Manila Pianos Inc. Artist Series at the Ronac Lifestyle Center in Paseo de Magallanes, Makati City.
Managing to pull in music aficionados despite a lack of publicity, Acevedo's concert was outstanding for what was described as a demanding program that the pianist and organizers selected: Mozart's light-hearted Piano Sonata in C Major, K. 330, especially its allegro moderato movement; Chopin's four ballades—No. 1 in G Minor, Op. 23, No. 2 in F Major, Op. 38, No. 3 in A-flat Major, Op. 47 and No. 4 in F Minor, Op. 52; Nicanor Abelardo's Nocturne in C-sharp Minor; Liszt's Etudes d'execution transcendante, S. 139; and Wagner's "Isoldens Liebestod" from the opera Tristan un Isolde, S. 447, transcribed for the piano by Liszt.
The inclusion of Abelardo in the program is highly commendable. Usually, pianists reserve our composers for their encore numbers, but Acevedo gave a nuanced interpretation of the nocturne that has all the hugot of a Valentine melody.
The pianist, who earned degrees from the University of the Philippines, Temple University, West Chester University of Pennsylvania, and James Madison University, showed he was at home in conversing with his audience before he played a piece. He candidly shared how a particular sonata was significant to him or the challenges it presented to him. He told of how high up Mozart was in piano great Vladimir Horowitz's list of favourite composers.
In a country gaga over the passion and pyrotechnics of piano superstar Cecile Licad, Acevedo provides a serene contrast, and yet the highlights or fortissimos in a piece are ably accented if a trifle too heavily in a venue as small at the piano showcase of Manila Pianos.
By way of background, the pianist was the first prize winner of the 2004 National Music Competitions for Young Artists, Piano Category C, and semi-finalist of the 2009 Heida Hermanns International Piano Competition. He has become a a soloist of the Metro Manila Concert Orchestra, UST Symphony Orchestra, and James Madison University Symphony Orchestra. He is also known as an enthusiastic chamber musician, invited to perform in professional music festivals here and abroad.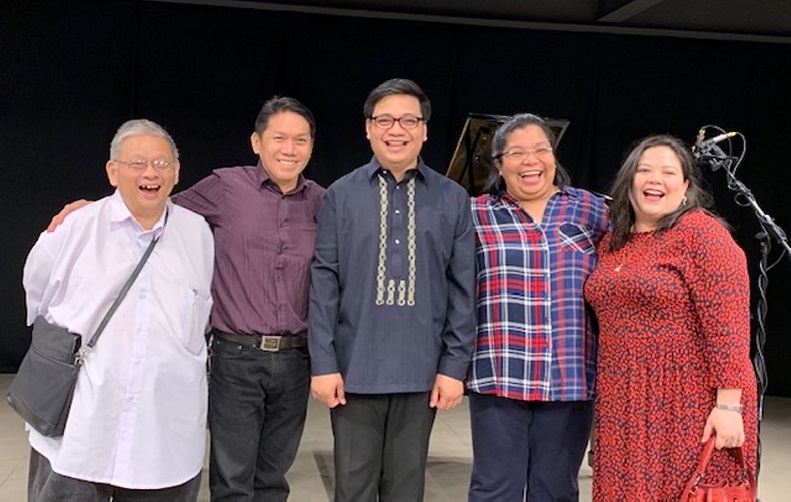 Enjoying the company of fellow music lovers Joseph Uy, Pablo Molina, Camille Lopez Molina and Anna Migallos. Photo by Bianca Susi.
Sunday's recital was so refreshing—it felt like a clan gathering as seniors and children converged. A young boy, after listening to the Mozart and Chopin pieces, piped up during the intermission: "Dad, this is so fun!" May the tribe of parents who expose their children to concert halls with live performances increase. But for that to happen, Manila Pianos Inc. should aggressively promote its series. It has many things going for it, especially if the events happen on weekends. Traffic isn't too heavy and parking space is ample.
As for the senior citizens in the audience, some consideration should be given to their frail health. The air-conditioning was turned up to full blast. This observer counted at least five individuals who stood up to go to the back of the room in the middle of the performance, not even during the breaks between concert pieces, to give vent to heavy coughing. Perhaps the AC can be tuned to moderate temperature next time.
Another notable practice that the organizers have started is to print the ticket of the artist on nice photo paper, good enough as a souvenir. But when this concert-goer asked for Acevedo's autograph, she was taken aback by his response: "I don't normally do this." He proceeded though to sign the picture with the dedication that ran, "Thank you and many wonderful wishes!"
Maybe he should be more comfortable with after-concert meet and greets. At a post-Licad concert, one avid fan offered her arm to be signed with a permanent inked pen. The pianist obliged.
The Beethoven Festival to mark the composer's 250th birthday this year opens on Feb. 22 at 7:30 p.m. at Manila Pianos with a chamber music concert featuring pianist Mariel Ilusorio, violinist Jeanne Rafaella Marquez and cellist Justin Vincent Talusan. For tickets, call Ticketworld at 8891-9999 or log on to www.ticket2me.net or the Cultural Arts Events Organizer at tel. nos. 0918-347-3027 and 8782-7164.