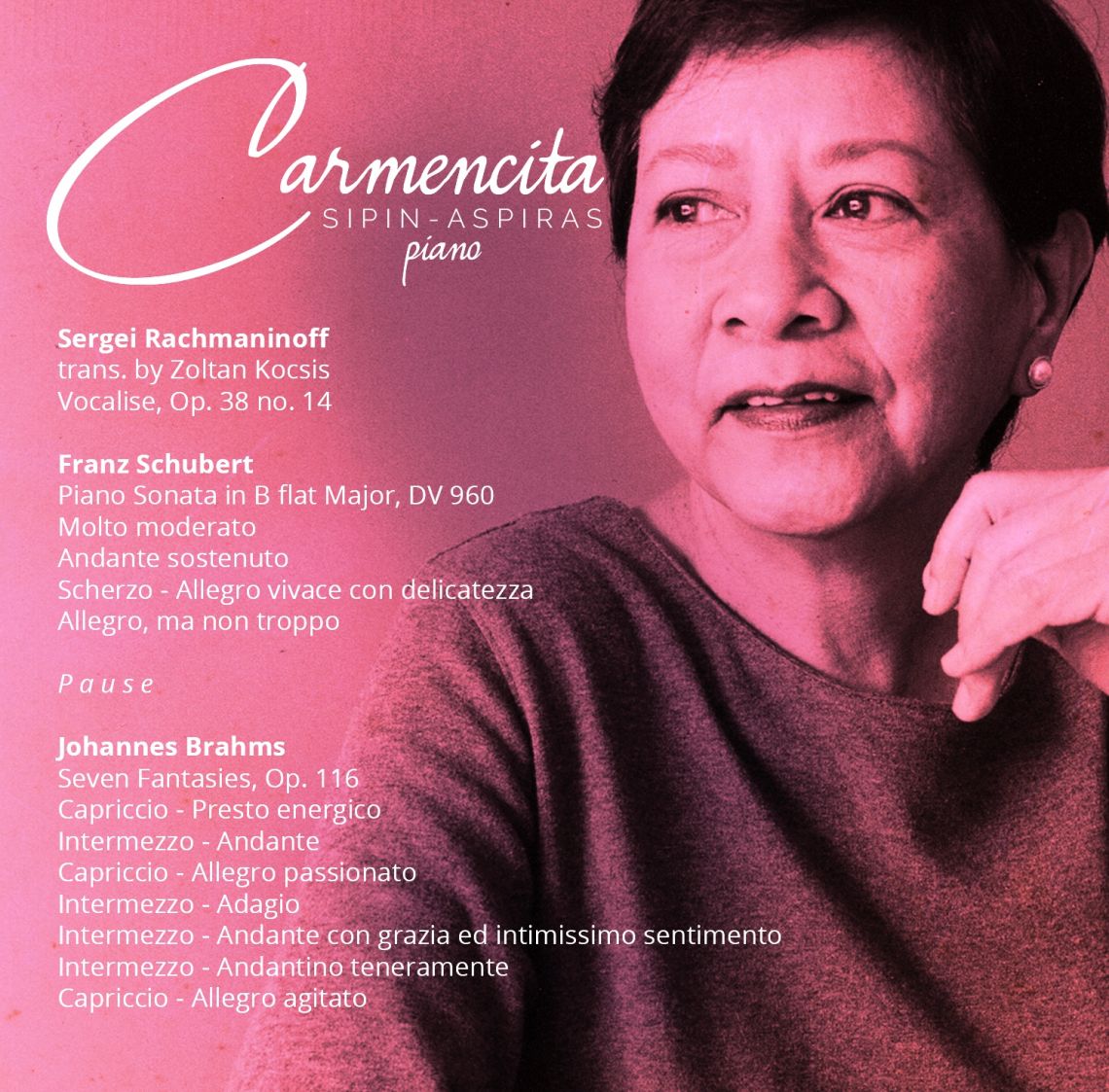 Carmencita Sipin Aspiras has been asked many times if she was willing to record her piano playing. Her answer has always been a firm no.
She said, "With the proliferation of recordings in the Internet nowadays, I didn't think it was necessary for me to record. Besides, I never like listening to my recordings of my performances. I am very critical of myself."
Then she received an email from Dr. Rene Limjoco who is behind the HSTL Foundation put up in memory of his late mother, the late outstanding pianist Henrietta Sydeco Tayengco-Limjoco. He asked if she could cut a record. He began concert and recording projects to promote Filipino interest in the art of the piano and nurture talents of a young generation of pianists.
Aspiras couldn't refuse, saying, "With such a noble mission, why would I deny such an opportunity for me to give back? I was once a recipient of such support." She did the recording of the works of Rachmaninoff, Schubert and Brahms in two days at the Wildgrass Recording Studio in Quezon City in August 2018.
She said of her background: "When I was growing up, our radio was always tuned in to the classical music station. My mother's favorite were Ravel's 'Bolero' and Rachmaninoff's 'Vocalise,' the wordless song that delighted her so much. I came to love it myself and playing it brought back memories of my mother who was relentless in urging me to practice."
In her youth, Aspiras won a scholarship, studied and lived in Vienna for six years. She said, "I became a Viennese in a way that the Viennese worshipped as heroes the great composers like Mozart, Haydn, Beethoven and Schubert. The city was dotted by their monuments. Their houses were places of musical significance that tourists flock to."
She said of Schubert's appeal to her, "There is a certain aura in Vienna the Viennese call gemutlichkeit which means coziness that is felt in Schubert's music. I am drawn to his piano works not only for his exquisitely beautiful melodies but for this quality of coziness. To me, his last sonata, written shortly before he died at age 31, belongs to the pinnacle of the piano literature."
As for Brahms, she said, "Whenever I walked to and from school to where I lived in Vienna, I would pass by Brahms' monument in a small park. He sits with a grandiose air. Brahms' early works like his requiem, symphonies, concertos and sonatas, are in the grand scale and style. After a respite in composing, he turned into the intimate, poetic and small-scale piano works that are best heard in smaller, intimate venues. Far from a flamboyant person, I am drawn to these works that challenge my inner feelings and thoughts more."
Based in Fremont, California, Aspiras spends time mostly practicing and teaching. She also makes sure that "I devote time for God who blessed me with talent by going to Mass as often as I can. I take good care of my health by walking as much as I can and being on a healthy diet."
Perhaps there is more depth in her playing after Aspiras was widowed last year. She said of Armando, a scientist, "Whenever people asked him how we met, he'd say, 'I lost my passport and found a wife.' I was looking for a husband who would tolerate my practicing and found him. During the half century we were together, he never complained about the piano sound at home. I would say that his ears and mind were attuned to music. He could distinguish Bach from Handel, Mozart from Beethoven."
About widowhood, she said, "It has been difficult this past year. There are times when the reality of his passing strikes me like no other. No words can describe my feeling. The lesson I learned from it all is acceptance and turning my attention to God's blessings and being grateful. I am blessed by the most loving daughter a mother can have. Gia calls every night and if she is at a meeting, her daughter Cara calls. We would talk about photography, our common interest. They come to visit on weekends."
Things have also changed with the onset of the COVID-19 pandemic. She said she still spends hours in the piano room, adding, "Now that Californians are ordered to stay home by our governor—police will cite people who are out of their homes for no urgent reason—this shelter of mine provides me with solace more than ever, not because of its comfort but because it is where I work on great composers' compositions, music that uplifts me to a spiritual level no words can express. It is an escape from the dread and anxiety that coronavirus has brought about. Music, whether played or listened to, is the Blessing we can turn to in this dreadful time.May God protect us all from this dreadful disease and keep us healthy."
Copies of her CD are available from Mr. Joseph Uy at this cell phone number, 0920-954-0053, or email him at josephuy2004@yahoo.com.