By KEITH BACONGCO, MindaNews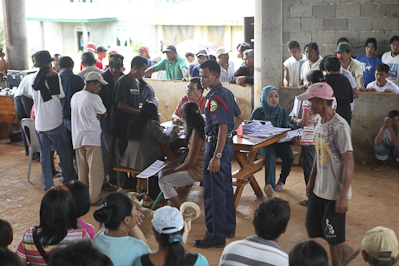 COTABATO CITY – The Parish Pastoral Council for Responsible Voting (PPCRV) has assailed the presence of police and military personnel inside registration centers during the 10-day re-registration in the Autonomous Region in Muslim Mindanao (ARMM) last month.
In an assessment meeting of the Task Force Rehistro on Thursday, Fr. David Procalla, chair of the PPCRV-ARMM, accused the police and military of "playing with law."
Procalla was referring to election law that prohibits the presence of police and military personnel right inside in the registration centers.
Although he acknowledged that there was a need for the presence of the police and military inside the registration centers, particularly in Lanao del Sur, the law clearly says it is prohibited, he stressed.
"Should we play with laws or should we implement even if there are requests from election officers? They should only stay within hearing distance, even just outside the door," the priest told members of Task Force Rehistro.
The task force – which is composed of election watchdogs, police, military and peace advocacy groups – assisted the Commission on Elections (Comelec) during the re-registration of voters from July 9 to 18.
But Col. Daniel Lucero, commander of the Army's 103rd Infantry Brigade based in Lanao del Sur, explained that the soldiers were there because of written requests from the election officials. "There were written requests, not just calls," he stressed.
Lawyer Udtog Tago, provincial election supervisor of Maguindanao, also defended the presence of the soldiers because they were mandated to protect the election officers, the machines and all the election paraphernalia.
"There are some registration centers that would need the presence of the military. We know the culture of our people. If the police and the military are not there, they're rowdy in the registration centers," the election official said.
Procalla also pointed out during the assessment meeting the presence of some barangay officials inside the registration centers, saying that they may have been influenced by some politicians.
He said the barangay officials "were not there to help. They were there to manipulate." He added that reports forwarded to them claimed the barangay officials were already oriented by the local executives in order to reach quota.
Procalla added that this practice was very common in all registration centers of the ARMM.
Tago likewise defended the barangay officials' presence in registration centers. "We don't actually consider them as enemies of the Commission. We are thankful to local officials for ensuring the safety of the machines, for ensuring the peaceful conduct of registration," he said.
(ARMM WATCH  is a project of VERA Files in partnership with MindaNews, The Asia Foundation and Australian Agency for International Development.)