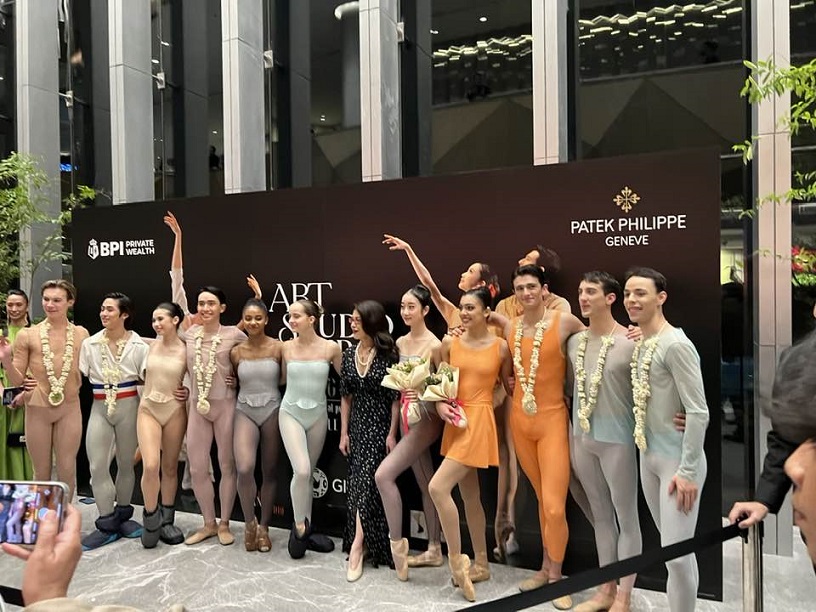 The dancers of ABT Studio Company dazzled Manila balletomanes Thursday night at the Samsung Performing Arts Theater in the new Makati business district.
Another reason for celebration was the presence of pianist Cecile Licad who delivered three ravishing Chopin Etudes while providing live accompaniment in some selected dance pieces.
ABT Studio Company is the junior company of American Ballet Theatre. It is made up of 12 "rising stars of the ballet world" between ages 16 to 21.
Easily the standout was the performers dancing to three Scarlatti sonatas in Gemma Bond's the Go Between.
(There was one more number where Licad had to learn a new piece two days before opening night. Our attempts to find out what it was didn't elicit reply from the organizers despite repeated attempts. It was not in the program and the additional number was not announced.)
It was a night of well-thought out repertoire from contemporary to classical and neo-classical.
The second Manila engagement no doubt showcased the versatility of the ABT Studio performers most of them very young and certified prizewinners of international dance competitions. Not a few were outstanding graduates of ballet academies around the globe.
The program opened with Houston Thomas "Knife's Edge" with music by Johannes Goldbach and lighting by Luke Woods. The music and imaginative lighting and the ensemble's seamless dancing easily made for an enchanting preview of the breadth and width of the company's repertoire.
As the choreographer noted in his note, Knife's Edge is about the expression and expansion of the classical ballet language.
Indeed, the audience found classical ballet technique given new approaches with movements and positions diversified, stretched and expanded.
As interpreted, the opening number was like classical ballet re-examined with hints of various dance possibilities thoroughly explored.
Another dance revelation was Aleisha Walker's "Do You Care" with danseur Brady Farrar dancing to Nocturnal Waltz by Johannes Bornlof. The piece was a good look at the "controlled chaos and uncertainty of everyone's emotion" during difficult times.
For its emotional depth and poignancy, it deserved the Young Creation Award at the Prix de Lausanne competition in February this year.
Easily one of the dazzlers of the night was Balanchine's Tchaikovsky Pas de Deux danced by Sylvie Squires and the Filipino revelation, Vince Pelegrin.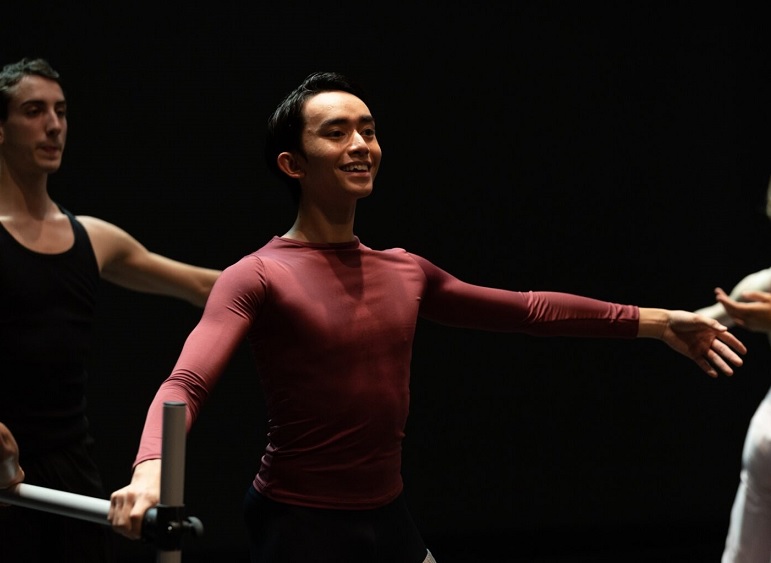 Pelegrin has all the makings of a good danseur with his smooth turns and elevation executed with finesse.
His great moment was in Daniel Ulbricht's Tatum Pole Boogie with music by Art Tatum (played live by Cecile Licad) where one saw a dancer unravel his creative talent as an actor. He was focused as he was in control of his material. A splash jump ending in a lying position near the piano at the end was exquisite and the crowd roared its approval.
Easily one of the crowd favorites was the Stella Abrera staging of Concerto Pas de Deux to the music of Shostakovich's Second Piano Concerto with choreography by Kenneth MacMillan.
Kyra Coco and Finnian Carmeci dazzled as they did with good rapport. Duo dancing has never been this engrossing.
It took a while for Cecile Licad fans to see the pianist do solo numbers which was the main reason they came in droves. For these fanatic Licad fans, the dancing was just added attraction.
Three Chopin etudes from Op.25 treasure trove unleashed Licad's dazzling moment as a pianist.
Number 10 in B Minor ("Octave") was a showcase of control and virtuosity, No. 11 in A Minor ("Winter Wind") has inner torrent of emotion unleased and No. 12 in C Minor ("Ocean") was simply Debussy's La Mer distilled and compressed in a piano etude.
The audience rewarded her with a rousing wave of applause. After all, this was their first live Licad after the pandemic.
Still with Licad on the piano, one never thought of Scarlatti (Sonata in C Major. K. 86, A Major KK 114 and Sonata in D Minor K. 32) as inherently danceable.
But they proved the pessimists wrong.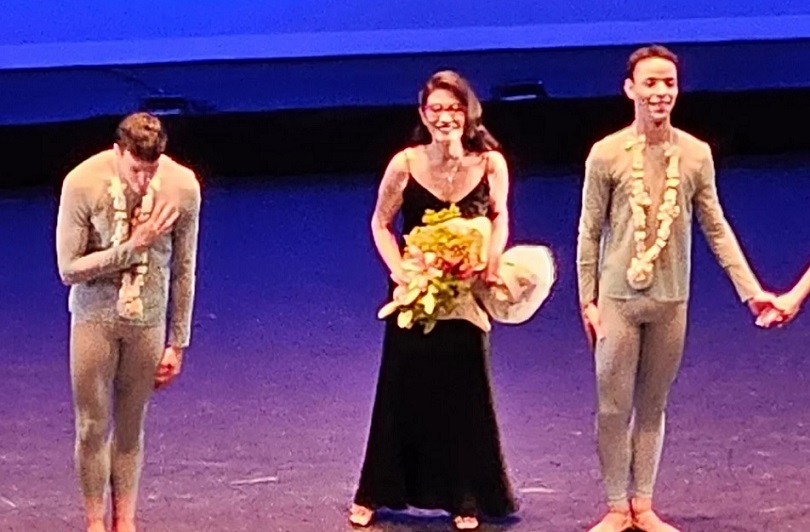 The Go Between by Gemma Bond danced by the ABT Studio Company dancers to the music of Scarlatti was at once a showcase of imagination and versatility of the young performers.
To dance in the intricate web of a choreographer's genius was what one saw and felt seeing dancers negotiate steps with a live Scarlatti in the background.  One can see that the pianist was in perfect harmony with the dancers who jump and float in the Samsung theater stage with grace and precision.
While Scarlatti dazzled, it was the music of Vainonen's The Flames of Paris (restaged by Sascha Radestky) and the dancing of Takumi Miyake and Madison Brown which elicited uproar in the audience.
Brown's solo variations were smooth and well-executed but Miyake's startling elevation and dazzling turns were the night's pure magic.
No doubt about it, Miyake was the night's dancing sensation.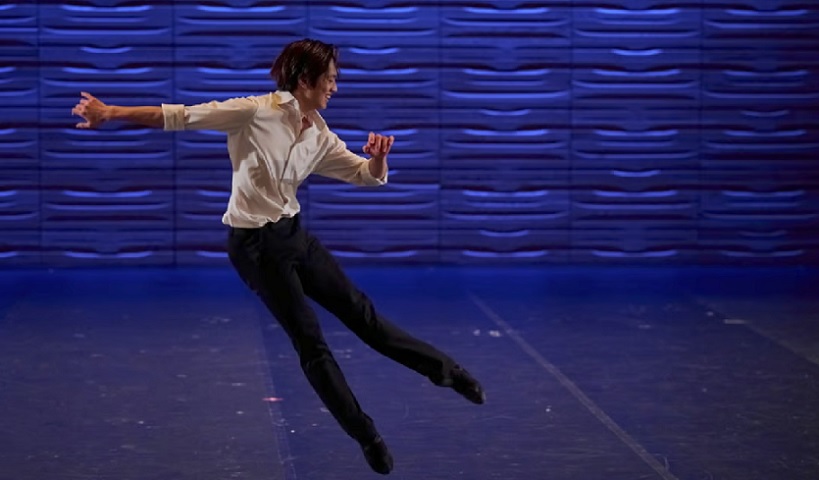 But his partnering was even more commendable and his interpretation went beyond showcase of virtuosity. There is sense of character in every move and seeing him land on the floor with perfect timing was just too much for the audience. I have never seen such adulation for a young Japanese dancer in a long, long time.
If they ended the night's program with Flames of Paris, one was sure the euphoria would be endless and the standing ovation earth-shaking.
But they were already calmed down in time by Scarlatti which was a heaven-sent finale.
The dancers earned several curtain calls and still more endless cheering.
In the audience was National Artist for Dance Agnes Locsin along with CCP president Margie Moran Floirendo, CCP chair Jaime C. Laya and First Lady Liza Araneta Marcos with presidential sister Irene Marcos Araneta.
The opening night was also a virtual reunion of Filipino dancers from various companies.
Ballerina and ballet teacher Melanie Motus gushed: "The ABT Studio Company performance Friday night brought fresh, brilliant talent to our shores. Sofia Elizalde and her team in Steps Dance Studio never are tireless and always enrich the dance scene in our country. For that, we are grateful. Because of this, we are able to watch and enjoy performances of up and coming dancers and see our very own Vince Pelegrin dance with this young troupe."
The April 20 dance event at the Samsung Theater was produced by STEPS Dance Studio under founder Sofia Zobel Elizalde along with Ayala Malls and Ayala Land and directed by ABT Studio Company artistic director Sascha Radetsky.
The opening night was presented by luxury watch Brand Patek Philippe and BPI Private Wealth. The outreach dance concerts were sponsored by Globe in cooperation with Seda Hotels, Philippine Airlines and Pearl Farm.
The same program will be reprised at Ayala Center Cebu Saturday, April 22, 6 p.m. and at Ayala Malls Abreeza in Davao City on Sunday, April 23, 6 p.m.
The next tour destination is in NYU Skirball in New York on May 19 and 20, 2023