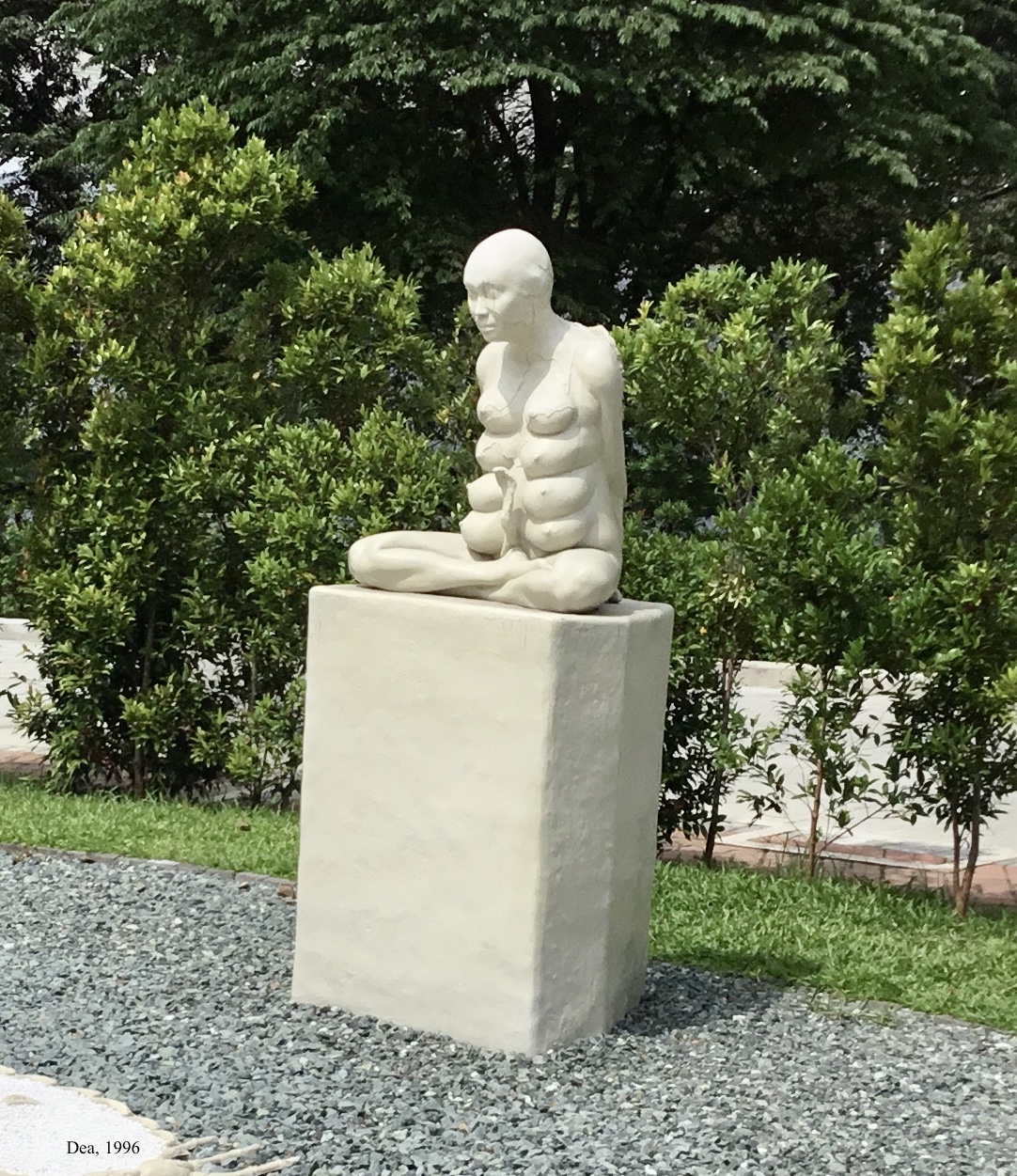 Dea, 1996
A walk through the exhibit assails one's senses: the female form in
all its nakedness, full pendulous breasts, vulvas and vaginas, a womb
filled with life, skulls in a row, and more. The male element is not
forgotten, in phalluses and giant bronze-coated bullets, its penile
form gleaming under the tropical sun.
A celebration of 36 years of practice, Inscapes: A Retrospective by
Agnes Arellano (b. 1949) is an open-air exhibition of 16 works, a
recombination of sculptural pieces from her Inscape exhibits,
1983-1996. It runs until 15 March 2020 at the Ignacio Gimenez
Amphitheater, Areté, Ateneo de Manila University.
Arellano uses the word "inscape" to refer to "the
underlying design of an object which gives it coherence." It is
taken from the writings of Gerard Manley Hopkins, a 19th century
English poet.
Set against the perimeter of the amphitheater and bordered by
photinia shrubs with shiny green leaves and reddish tips, the
exhibit's large pieces dominate the tableau with smaller works
scattered around, all laid out on bluish-gray gravel.
Selected Works
Arellano's early works are mostly autobiographical and retrace the
artist's life experiences through "healing and illness, love and
loss, early motherhood to midlife crisis."
She uses cold-cast marble of her own (younger) body in her works that
are later recast into some other materials. In her words, "the
direct modeling method forces me to stop thinking any further about
subjects which I have researched for several months, thus allowing
the visual and tactile medium of sculpture to fully take over my
energies."
Some of the works on display: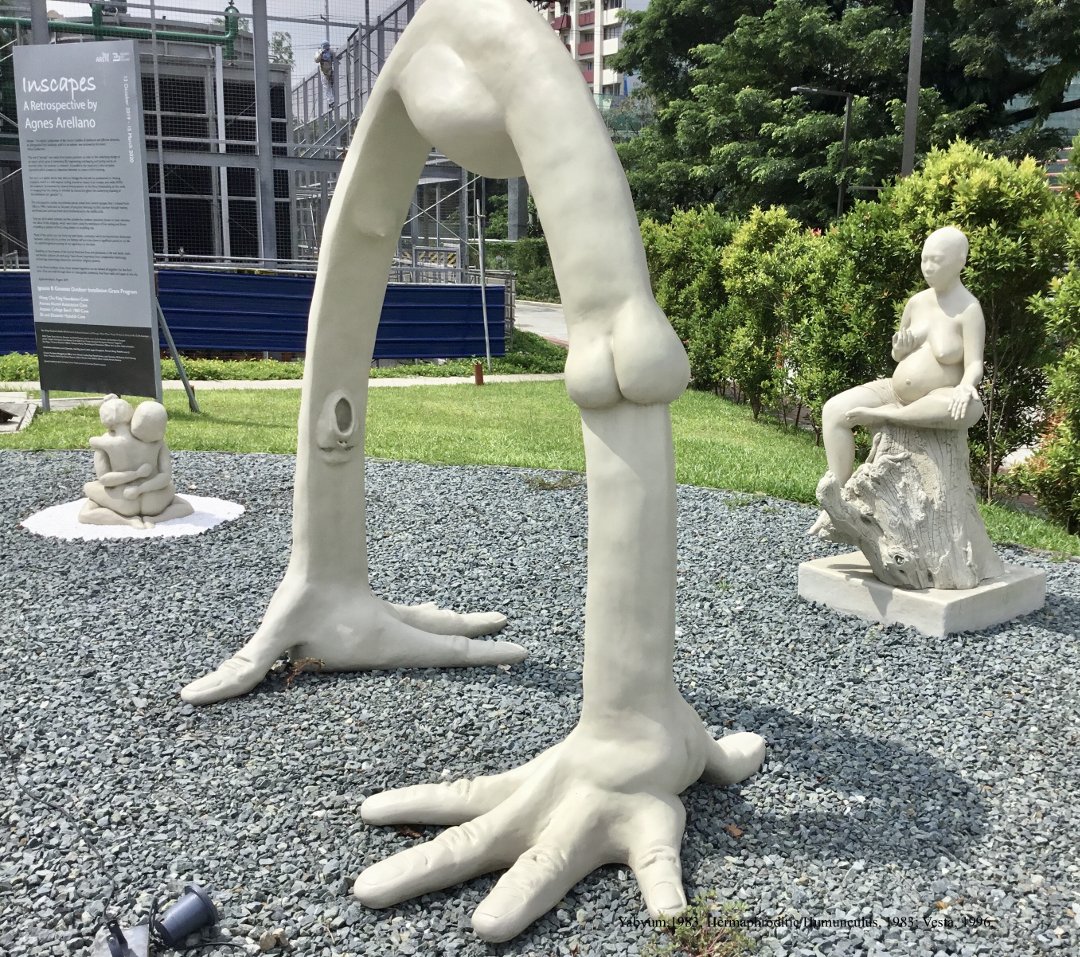 (L-R) Yabyum,1983; Hermaphroditic Humunculus, 1983 & Vesta, 1996

Hermaphroditic Humunculus (1983) is a large arch that depicts the
neurological map of the areas and proportions of the brain
responsible for motor functions of the body.
Vesta (1996) represents a young pregnant woman, breasts engorged, and
ready for motherhood. Her right hand touches her nipple, squeezing a
few drops of milk. Her left hand is extended in an open palm gesture
of generosity. On her back is a monitor lizard, a symbol of
fertility.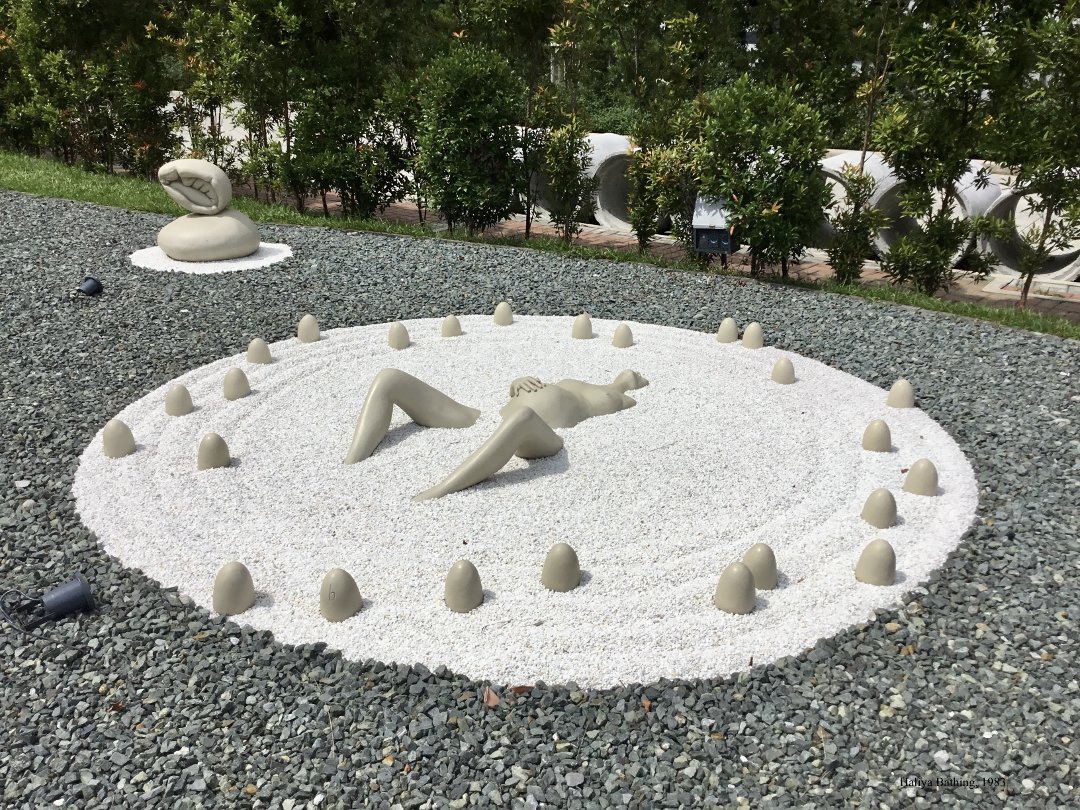 Haliya Bathing, 1983

Part of the first Inscape exhibit in 1983, Temple to the Moon
Goddess,
Haliya Bathing depicts Haliya, a goddess of the moon in the
myths of precolonial Ibalon or today's Bicol region, who would visit
the earth and bathe in its waters. She lies on a bed of crushed white
marbles; knees raised and spread apart, her right hand touching her
enlarged womb. The soothing white stones, raked and rippled like
gentle waves, almost engulf her face.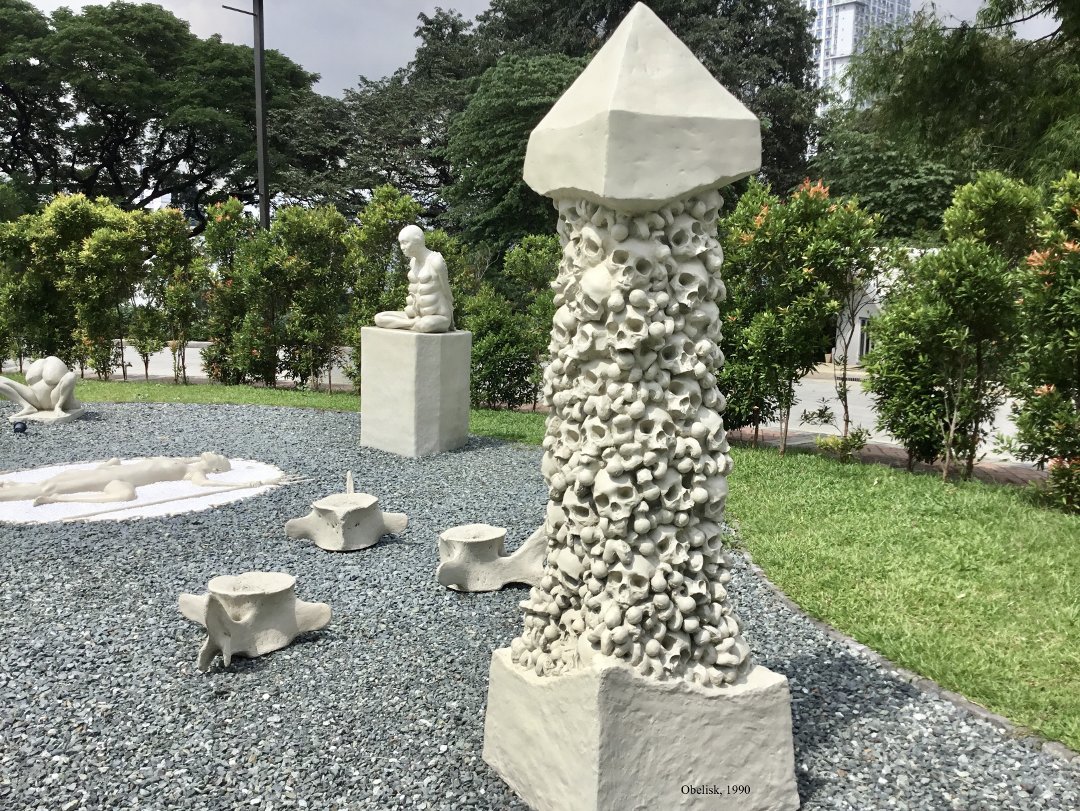 Obelisk, 1990
Obelisk (1990) is a monument to death, made up of densely packed
skulls and bones, a reminder that life is short and brutish. It
echoes the Ifugao burial caves or the Catacombs of Paris, underground
ossuaries holding the remains of millions.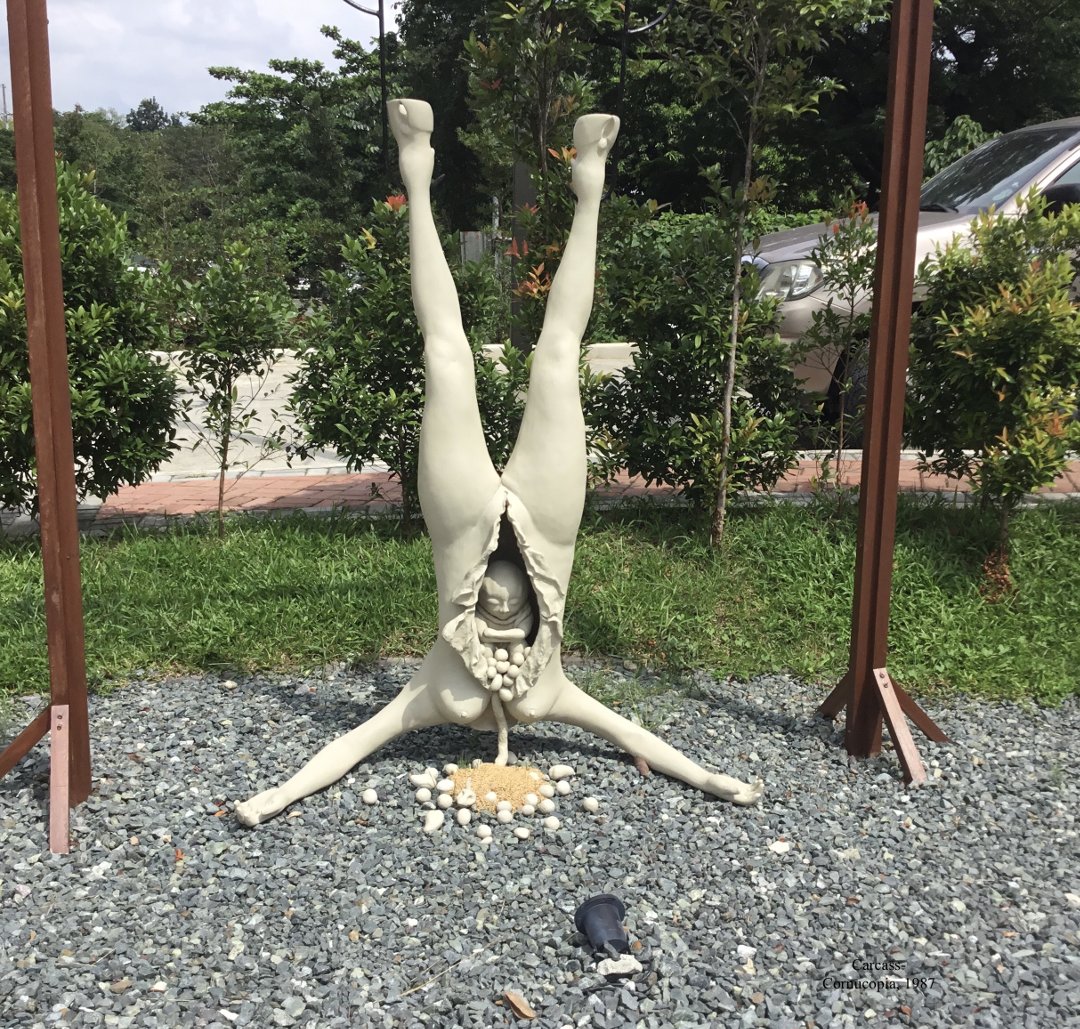 Carcass-Cornucopia, 1987
From Inscape 2 (Myths of Creation and Destruction 1),
Carcass-Cornucopia (1987) shows a headless female body with hooves
instead of feet, hanging upside down from slaughterhouse hooks. Her
stomach is ripped open showing a small bulol, the rice god of the
Ifugaos, with oval balls spilling to the ground. A mound of unhusked
rice is strewn around. From death, a new life arises.
Eshu (1997) the "Lord of the Crossroads," was created for
the Sixth Biennial of Havana — the mediator between men and gods.
With two pairs of feet and three hands, he holds a trident, a cigar,
and a wine bottle.
The Artist and the Cycle of Duality

Arellano finished two degrees from the University of the Philippines,
Diliman: psychology and fine arts, major in sculpture, 1984-1990. She
received the Thirteen Artists Award from the Cultural Center of the
Philippines in 1988. Losing both parents and a sister in a 1981 fire
that burned down their ancestral home remains an enduring influence
in her work. Amidst the whys of existence, her search for answers
continues.
Duality reigns in Arellano's works inspired by ancient religion and
myths: birth-death, creation-destruction, yin-yang,
emptiness-fullness, and the sacred-profane. And the archetypal theme
of the "mother goddess" or the "sacred feminine"
remains a constant in her creations.
Sharply focused on the female as the source of primal energy,
Arellano's work weaves the personal with the mythical. Each one is
full of hidden meanings, waiting to be revealed. Certainly, the
artist has her own narrative behind each work; and the viewer has a
choice: to be attuned with the artist's narrative or confront each
work with one's own narrative as well.
Arellano's sculptures tap into our innermost thoughts, desires, and
fears with an intensity that is both erotic and spiritual. A cerebral
journey it becomes for all.