IF Manila is a city that leads to the gates of hell, then your ticket to a wild ride is Juana C. in her bikini.
"Juana C. The Movie" is a fast-paced hodgepodge of sex and politics in a ludicrous yet compelling plot. Leading a talented cast is political activist Mae Paner, Juana Change herself.
Written by award-winning playwright Rody Vera and directed by Jade Castro of "Zombadings," the movie came a few scenes short of becoming a full-frontal hilarity.
The film is a satirical portrayal of everything that has gone wrong in Philippine society—from corrupt politicians, judges and priests on the take, activists who sell out, greedy capitalists to landgrabbing, drugs, and prostitution.
And just how do you sell a movie that paints such a grim scenario? Do a burlesque. As Juana C. says so herself, "I'm the new sexy!"
The story revolves around a naïve teen from an indigenous tribe in the north who was forced to study in Manila on a scholarship. Her misadventures start when she pretends to be a bar-hopping, rich colegiala, and turns into a highly paid escort caught in the world of crooks and sex-starved politicians.
A love triangle between John James Uy, the rich hunk who plays as Bayani, and Jelson Bay, the activist Hiro, turns it into a nearly full-length smut flick, not to mention the "vroom, vroom", bare-your-ass bed scene with Niño Muhlach.
What started as a series of misfortunes ends well with Juana C. in her homecoming as a local hero who saves her village from losing their land to a mining company. But not after Juana C. survives a mad chase from those out to silence and kill her.
"When I read the script it was obvious that it's a sex comedy. And since this movie 'exposes' a lot, we had to be equally generous, visually," Castro says.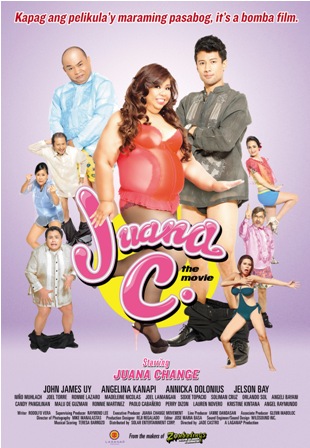 "The movie theme is 'heavy' as it is, so we had to put some hilarity and flesh into it," Paner says.
Somewhere in the movie, Juana C. manages to sneak in a few lines on the FOI bill, pleading that she would not be at that moment falling fast from a tall building if the country had freedom to access information to blow the whistle on lawbreakers.
"It was hilarious. Juana Change is fantastic. We should support this movie," says Cheche Lazaro, who hosted The Probe Team show that monitored Paner's attempt to lose 100 lbs during the 2010 elections, titled "365 Days of Change."
For the film, Paner managed to lose just that, and trimmed down some more after the movie was shot.
"I'm super happy. It's like you've been wanting to exhale, like a pregnant woman who's birthing a child after nine months," Paner says during the May 28 premiere night in SM Megamall, where she sashayed down the red carpet in a sultry, black and white Rajo Laurel dress.
Castro says "every day was fun" during the shooting of the film.
"The energy of Mae helped the entire set. The film is action-packed and there were scenes where she had to run, and just seeing her giving it her best, 100 percent of her heart, that in itself was inspiring for me," Castro shares.
Paner since 2008 has been producing shorts on YouTube that features Juana Change, an agent for social change. The movement is active in anti-epal campaigns, a crusade against officials who use public money to promote themselves.
Paner does not respect party lines in her crusade for good governance. Although she supported President Aquino's presidential bid, she did a parody on Aquino's Porsche, which displeased the chief executive.
The movie, produced by Laganap Productions, will be running in theaters starting June 5. For the moviemakers, prodding the audience to engage in critical thinking and social action does not have to be a bore. "It can be fun and sexy, too!"
"This movie is relevant especially now that we have newly elected officials; isa itong pamulat (this movie is an eye-opener)," Castro says.