Can Southeast Asians trust less and less the news, as they consume more of such news, mainly in online venues? Can they turn to social media to access news, but distrust social media at the same time?
These appear to be the case, judging from the findings of the '2020 Digital News Report', which was produced by the Reuters Institute for the Study of Journalism (RISJ) at Oxford University.
Malaysia, the Philippines and Singapore are the three Southeast Asian countries among the 40 covered by the report, which is based on a global survey conducted among 80,155 mainly urban-based, connected adults in January and early February, in the early days of the COVID-19 pandemic.
In these three countries taken together, an average of 86 percent of online users consume news through online venues, a trend that is also evident globally. "This year's report confirms underlying shifts towards a more digital, more mobile, and more platform-dominated media environment," the RISJ said in a statement with the report's release on 16 June.
Eighty-seven percent of respondents in Singapore, 86 percent of Malaysian respondents, and just a bit less at 85 percent in the Philippines, said they consume news online. 'Online' increasingly means the use of social platforms and smartphones.
In each country, which had about 2,000 respondents, the percentages of people who say they access news through social media are: 70 percent in Malaysia, 68 percent in the Philippines and 63 percent in Singapore. Malaysia and Singapore had the highest percentage of respondents using smartphones for news at 81percent, then the Philippines at 75percent.
Among the lowest trust in media, globally
But users' shift to online habits of consuming news has not meant having greater trust in the news- or social media, the respondents' most-used channel for getting these same news.
In fact, it appears to be the reverse in some cases. The report findings show that a media outlet may have wide reach – measured in weekly and more than thrice-weekly usage of top media brands – but trust levels lagging far behind, as in the case of Malaysiakini (Malaysia), of Rappler (Philippines).
For instance, only 25percent of respondents in Malaysia said they trusted "most news most of the time". This figure was just a bit higher at 27 percent in the Philippines, and highest at 36 percent in Singapore. The global average was 38percent.
In the global ranking, these figures put these countries' media brands at the bottom rungs of the trust ladder: Malaysians' trust level in news was 37th out of the 40 countries in the survey, the Philippines 35th and Singapore, 23rd.
For Southeast Asia, these data are eye-opening. They may well go against some perceptions among news professionals and audiences, and would logically reflect the domestic political climate as well.
Examples: Malaysiakini and Rappler
In the Philippines, two examples stand out and show wide gaps between the use of media brands, and trust in them.
The first is ABS-CBN, the country's largest TV network, which shut its television and radio stations and moved online in May, after failing to get a renewal of its franchise to operate. The second is Rappler, a digital-native news site whose legal challenges under the President Rodrigo Duterte's government have gotten wide international attention. On June 15, Rappler's executive editor Maria Ressa and a former staff writer-researcher were convicted in a cyber-libel lawsuit.
First, ABS-CBN. The television station's offline network and its online outlet have the highest reach, since 61percent of respondents in the Philippines say they watch it weekly. Fifty-four percent follow the online site weekly.
But while No 1 in reach, ABS-CBN ranked just 10th in terms of trust among the top 15 media brands in the Philippines – 61percent of respondents said they trusted it, and 21percent said they "don't trust' it. Its ranking was just two notches above 'Abante', a local-language, sensationalist tabloid.
The most trusted brands were GMA TV network, which has a 73 percent trust rating and was second in reach offline and online. Next was TV5 (68 percent trust) and then Manila Bulletin newspaper (68 percent), which has almost the same rating as two major English-language dailies, 'Philippine Star' (68 percent) and 'Philippine Daily Inquirer' (67 percent).
Second, Rappler. It ranked fifth in reach in the list of online media brands, with 31 percent of respondents saying they access its news weekly, or up to three days a week. But when it came to trust, it was second to the last among 15 media brands in the Philippines ­– 49 percent percent said they trust it and 28 percent said they don't.
In fact, this 25 percent figure of respondents who don't trust Rappler is the highest among the top 15 media brands in the Philippines. The second most mistrusted brand was the local-language 'Bulgar' tabloid, which has a mix of popular and entertainment news, and third, ABS-CBN (21percent).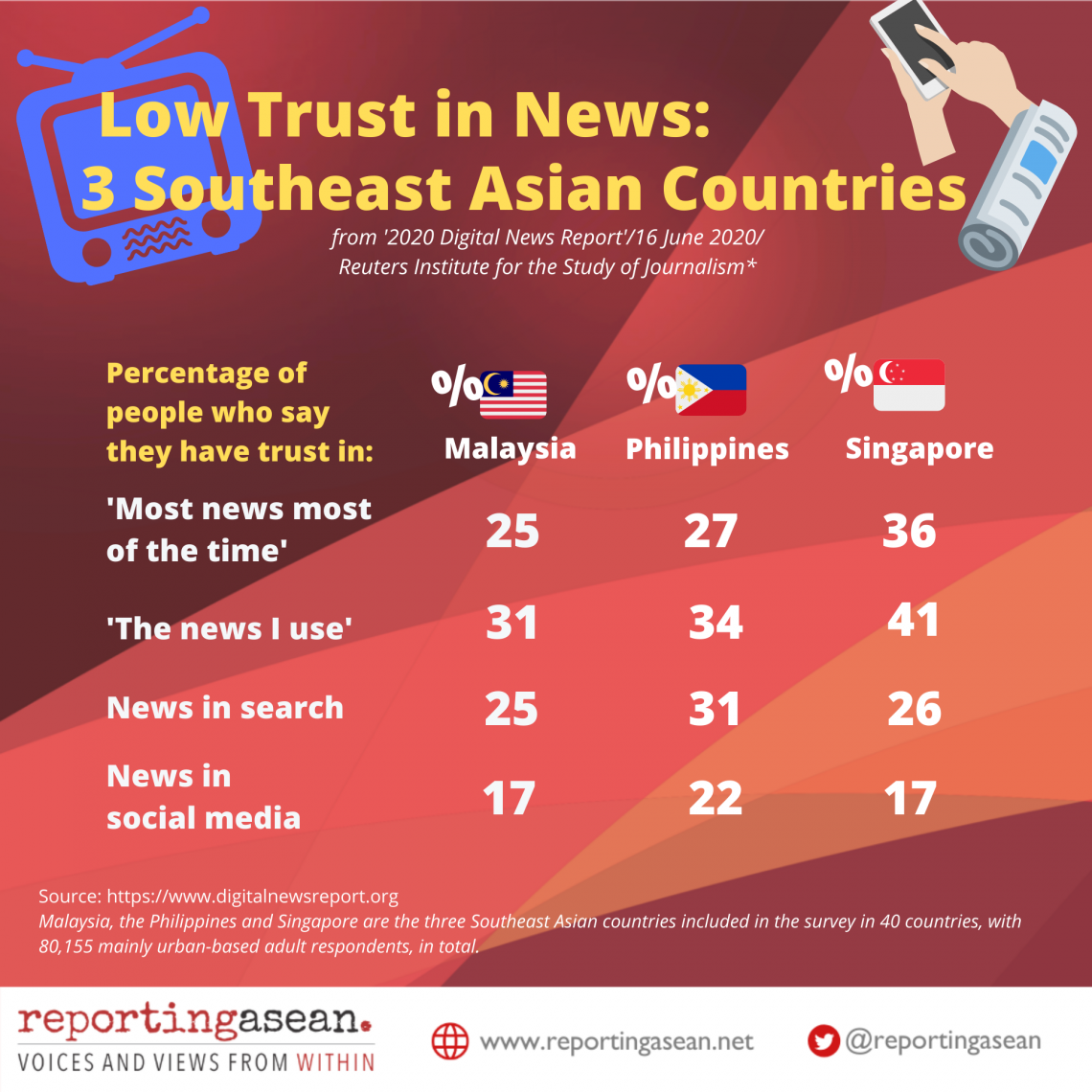 Political polarization and trust go together
These findings throw up interesting questions about news consumption, perception, trust and how they relate to the domestic political environment, one that has been quite polarized in the Philippines between supporters of the popular Duterte, whose policies ranging from the 'war on drugs' to media freedom have come under fire, and those opposed to his government.
"Perhaps as a result, trust in the media is amongst the lowest of all the countries in this year's survey," University of the Philippines journalism professor Yvonne T Chua wrote in the report summary for the Philippines.
History provides context for digesting these results. Since 2017, both ABS-CBN and Rappler have been the subject of criticism and insults by Duterte and his allies. One could ask if the findings reflect, to some degree, perceptions of these media brands in this fractured political scene.
"Divided societies seem to trust the media less, not necessarily because the journalism is worse but because people are generally dissatisfied with institutions in their countries and perhaps because news outlets carry more views that people disagree with,"Nic Newman of the RISJ said in the report's executive summary.
Next, Malaysia. Among online media, the Malaysiakini independent news site has the highest audience reach at 45percent of respondents saying they visit it weekly, but ranks much lower or 7th among 14 top media brands in Malaysia. Fifty-three percent said they trusted the outlet, which was set up as an alternative in a media setting with large state footprint, and 17 percent said they did not trust it.
In comparison, 24-hour television news station Astro Awani and its online brand ranked second in reach (32percent and 35percent respectively) but were first in trust ratings of 62 percent. A total of 58 percent of respondents said they trusted public broadcaster Radio Televisyen Malaysia, which ranked second. Third was 'The Star', which 56percent said they trusted. In terms of reach, 24percent said they followed the newspaper weekly (making it fifth in reach) and 30percent, the online product (third).
Over in Singapore, where the media sector has a much fewer variety as well as large state presence, audiences appear to trust the established media outlets more. "A highly developed if tightly controlled media market" was how the report's Singapore summary described the city-state.
The media brand with the widest reach offline was 'The Straits Times' newspaper (40percent using it weekly), followed by three MediaCorp channels. Online, Channel News Asia (also of MediaCorp), leads with 48percent saying they follow it weekly, and 'The Straits Times' online is second (41percent).
In the trust ranking, Channel News Asia is first with 76percent saying they trust it (only 6 percent mistrust it), followed by 'The Straits Times' (73percent trust it, 9 percent don't trust it). Mothership.sg falls to 13th among 15 brands in trust (48 percent trust it), even though it is in third in reach, with 40 percent saying they use the popular digital site. "Popular digital brands like Mothership.sg have not yet built credibility with many news users," said the Singapore brief.
In Singapore, which has much smaller room for independent media actors, foreign and non-Asian news sources have quite a following. BBC News was fourth in trust (73 percent) and CNN was sixth (71percent).
Little trust in social media
Although majority of Southeast Asians consume news through social media, their trust in social media is also lowest when compared to trust "in the news I use" and "news in search".
Only 17 percent of respondents in Malaysia and Singapore said they trust social media, and 22 percent from the Philippines.The most-used social media and messaging apps for news was Facebook in the Philippines (73 percent) and Malaysia (57 percent). WhatsApp was top in Singapore at 47 percent saying they access it for news and second (51 percent) in Malaysia – it is the most widely used messaging app in these two countries. (The percentage of average global trust in social media is 22 percent.)
The figures show the dominance of Big Tech – given that Facebook owns WhatsApp, as well as Facebook messenger, which 33 percent of Filipino respondents said they use for news.
Worries around misinformation
Online misinformation is of concern to 56 percent of respondents globally. Domestic politicians are identified as "most responsible for false and misleading information online (40 percent), followed by political activists (14 percent), journalists (13 percent), ordinary citizens (13 percent) and foreign governments (10 percent).
"Facebook is seen as the main channel (by 29 percent of global respondents) for spreading false information almost everywhere," Newman said. In the Philippines, this concern was aired by 47 percent of respondents.
"Despite widespread media coverage of alleged attempts by outside powers to undermine elections, it is striking that it is the rhetoric and behavior of national politicians that is considered the biggest problem," Newman added. "This echoes arguments from scholars that misinformation often comes from the top (and not from ordinary people)."
In Singapore, 41percent of respondents said they trust the news they use, followed by 34 percent in the Philippines and 31percent in Malaysia. Thirty-one percent said they trusted news that comes up in searches in the Philippines, 26 percent in Singapore, and 25 percent in Malaysia.
Sixty-five percent said they were concerned "about what is real and what is fake on the internet" in Singapore. In Malaysia, this figure was 63percent and in the Philippines, at 57 percent of respondents.
Casualty: Print media
In this shift in news consumption habits, print has been the largest loser, followed by television.
The percentage of respondents who get news from print fell to 30 percent (from 45 percent in 2017) in Singapore. In Malaysia, this percentage was 29 percent, down from 53 percent in 2017. In the Philippines, which has been included in the '2020 Digital News Report' for the first time, the figure stood at 22 percent.
Television fared better than print, though usage has fallen from 2017. In Malaysia, 50 percent of respondents said they used TV as a news source (down from 57 percent), 66 percent in the Philippines and 44 percent in Singapore (down from 57percent).
(*This article is part of the Reporting ASEAN media series.)