Things are looking up in the concert world.
Tenor Placido Domingo, 80, is concertizing from Madrid to Moscow and Paris with limited audience.
Pianist Yuja Wang finally saw her first live concert with masked audiences from Florida to Leipzig while our own pianist Cecile Licad will grace the Santa Fe Chamber Music Festival in New Mexico capped with solo recital at the St. Francis Auditorium on July 29.
In another development, the CCP used its main theater for its PPO chamber music series. It is strictly virtual concert with no live audience.
We caught up with the June 25 concert with bassoon player Adolfo Mendoza with pianist Mary Anne Espina.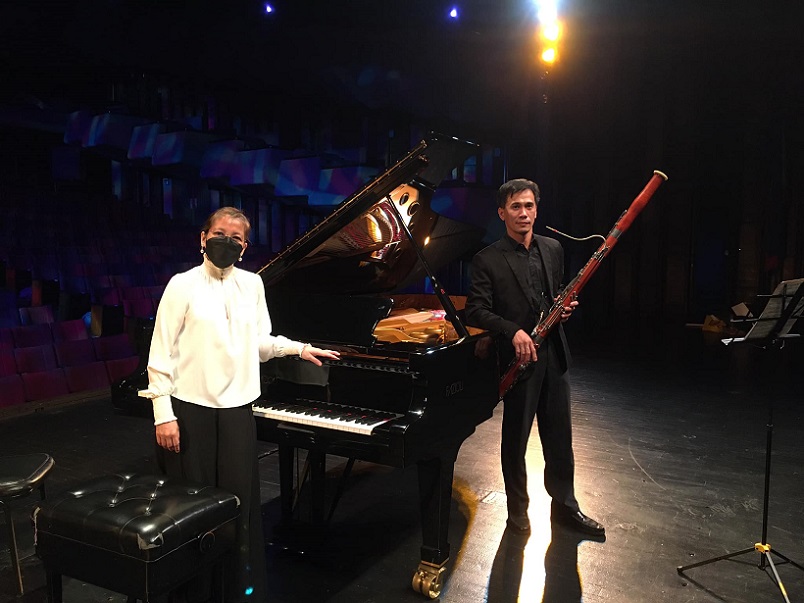 Bassoon player Adolfo Mendoza with pianist Mary Anne Espina at the CCP main theater with no audience. From the FB post of Mary Anne Espina.
The program: Saint Saens' Sonata for Bassoon and Piano in G Major, Op. 168 and Carl Maria von Weber's Andante e Rondo Ungarese, Op.35.
That we are up to an unfamiliar program was a big challenge. The big plus is that pianist Espina is using CCP's most expensive piano, the Fazioli now considered a big rival of the Steinway.
A bassoon and piano program also needed extra focus for its virtual audience. It is tough enough you are watching from faraway setting and there is no audience you can interact with.
There is visible rapport in the Saint-Saens' allegro moderato movement and a bit of musical surprises in the allegro scherzando and down to molto adagio and allegro moderato parts.
This our first live Saint-Saens in a long, long time and the experience was for the most part, rewarding.
The gentle mood of the last movement—slow, but with a brief, joyous concluding section—made for a beautiful contrast. The piano part was for the most part beautifully crafted but with very sparse moments for showing up. It allowed the bassoon the fullest range of dynamics and color.
One looked back on another earlier PPO chamber music series featuring violinist Christian Tan and pianist Espina.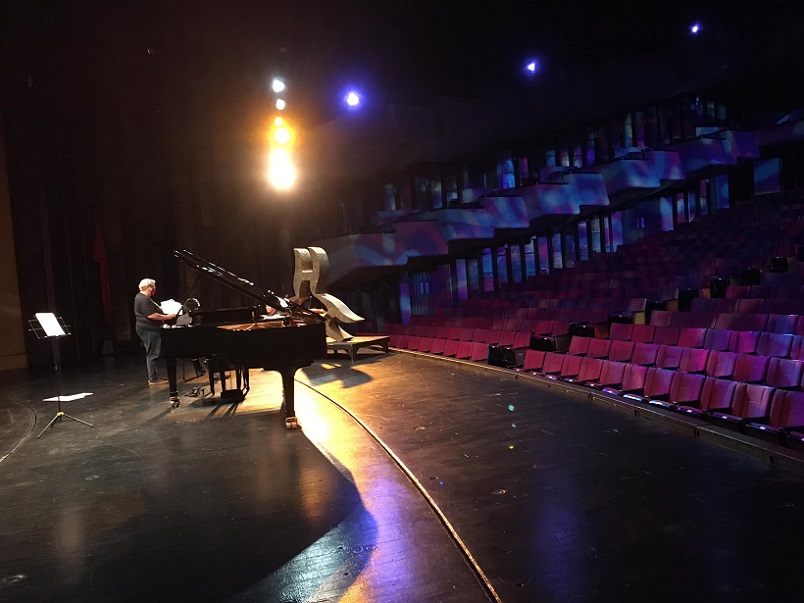 The only menu: Beethoven's Sonata for Violin and Piano in G Major No. 8 Opus 30.
There is far more musical connection with audience in this piece and thus you brace for some brilliant readings.
You connected easily in the allegro assai part, lulled to infinite reflection in the tempo di minuetto and towards the end of allegro vivace, you know this was one chamber music moment worth remembering.
Tan blended easily with Espina especially in the last movement showing bold melodic lines that allowed both violin and piano to show off full virtuosic power.
The two virtual concerts had fitting introduction from CCP head Nick Lizaso.
How was it performing without an audience in the main theater while observing strict health protocols?
Espina admitted it was a totally different experience performing in an empty theater. "I usually get the energy from the audience, but I obviously couldn't do that now in an empty hall. It was lonely, for lack of a better description."
Moreover, she wasn't totally alone. "I had my co-artist to collaborate with and focus on. This was enough for me to communicate and make something magical with your co-artists. I have performed many times earlier with Christian (Tan) and Pong (Adolfo Mendoza) and they were once againwonderful to work with. They made the experience of performing in an empty hall less jarring. In addition, we had the technical and production crew with us. Despite having to maintain social distancing, I could feel their support."
How did she cope with the pandemic?
Like many others, the pianist said she struggled a lot trying to find her footing. "First is the realization that you can no longer teach with the old format and had to adjust fast to the new technology."
But finding more time to be with family was the best moment during the pandemic. She got used to the lockdown and isolation and she managed to adjust very quickly with the help of some friends and students. "Weekly lessons are now done through Zoom and we are getting used to sanitizing alcohol instead of cologne.They aren't exact substitutes for our pre-pandemic lives, but in this situation, we do the best we can to stay safe and healthy. If there is anything that the pandemic taught us, it is the realization that friends and family are really your pillar of strength in times of uncertainty."