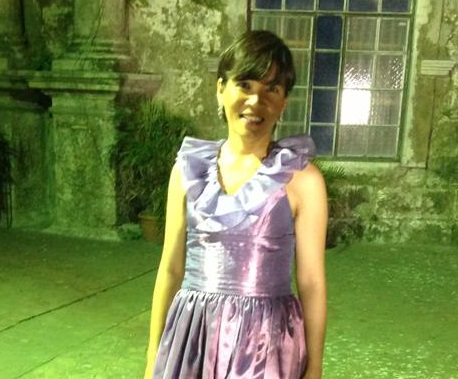 By PABLO A. TARIMAN
 BEING classical musicians in a country — where noontime shows have more following than decent concerts — is always a struggle.
Violinist Gina Medina, for one, isn't just concertmaster of the Manila Symphony Orchestra. On top of her season orchestral schedule, she has to teach as well and coach young talents preparing for yearly recitals.
Pianist Mary Anne Espina also figures actively in chamber music but she is also a full-time music teacher honing young talents preparing for competitions.
"As a full time music teacher," relates Espina, "it is also difficult and stressful juggling time between teaching, individual practice and practice with your partner. At times, I am simply too tired to even open my score when I come home from work."
Medina and Espina — who will be heard in the March 6 chamber music series at the Ayala Museum with young cellist Guo Qiele – point out the rewards of music-making far outweigh the difficulties.
Medina, who just got married to another musician, confides: "Playing music is always rewarding.  As they say, music feeds the soul. What makes it more fulfilling is when you love the music that you play and you work with musicians who have the same passion and dedication to the music. The preparation is tough, especially if the piece is technically and musically demanding. In our case, we have to manage our time since we also have other important things to accomplish, like preparing our students for graduation recitals and for our other performances."
Espina adds: "I would say the greatest rewards are the opportunity to play with different kinds of musicians of all ages, from beginners to veterans, and the chance to help them not just musically but even emotionally. There is also the limitless repertoire available. It pays decently and is work that can done full time or part time, independently or as part of an institution, which gives me a substantial degree of control over my life, including my social life. There is also the chance of working with musicians of different personalities which, while it can be challenging, is also tremendously rewarding and always an opportunity for learning. Lastly, it frees me up from what can be pleasant but can also be a great source of stress – being the center of attention."
In Espina's life as chamber musician, everything didn't come easy.
She had her share of working with musicians who come unprepared for rehearsals. Still there are insensitive characters in the music world who treat accompanists as 'second class citizens' without knowing that a good performance is impossible without good artistic collaboration.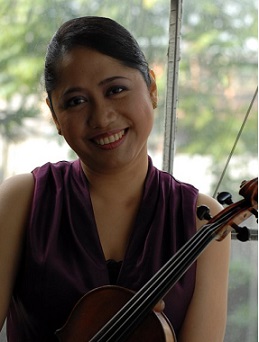 Looking back, Espina and Medina share what it takes to be good chamber musicians.
The first point is the level of musicianship.
Medina explains that she has known Medina  since college although she is two years her senior.  "Since our personalities were very different, we did not hang out together or move in the same circle of friends. However, we both knew each other's capabilities as musicians. I have a high regard for her. Our first duo performance was in Chang Kai Chek. That was when we noticed that we enjoyed playing together. And so, whenever I needed a pianist, I would get her to play for me, and vice versa," she says.
Espina adds a lot of her training as chamber musician started when she was still in college (St. Scholastica's) where she used to play with singers and string musicians, especially violinists. "I am lucky to be a sight-reader. This prepared me for my eventual work with professional musicians.  I believe hard work, dedication and determination pay off. I have always loved playing with other musicians."
The challenge of learning new repertoire is also what excites the two musicians. They maintain that what seems to be expected in Dvorak's work is not present in the f minor piano trio.
"The Dvorak trio in f minor deviates from his usual use of folk material. We chose this over the more popular 'Dumky' piano trio since this is rarely, if not, performed at all in the Philippines. There is so much emotional distress in this piece as he had just lost his mother.  The Piazzolla, on the other hand, is a work that is totally new to us. It is sensual and sophisticated. Its playing style is a challenge to both of us, neither of whom dances the tango nor plays jazz music. But we also realized that as musicians, any type of music should be played with the right style and interpretation," the duo say.
As they prepare for an evening of Dvorak and Piazzolla with cellist Guo Qiele on March 6, they maintain that experience — especially musicianship and talent — count more in chamber music than age. "We are both excited to work with Guo Qiele Playing chamber music involves a democratic exchange of ideas and we are looking forward to this musical sharing."