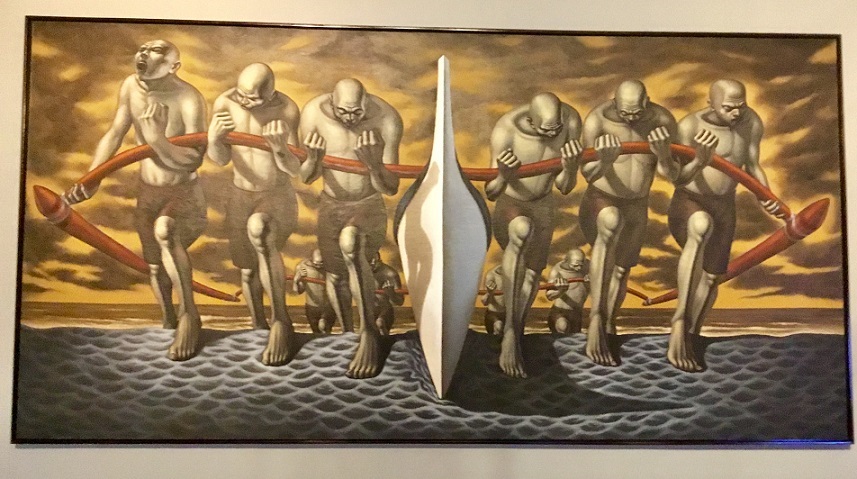 Pag-ahon,2011
The mass of men lead lives of quiet desperation.
— Henry David Thoreau
The exhibition, An Extraordinary Eye for the Ordinary, is a survey of Elmer Borlongan's body of works, in his 25 years as an artist. More than 200 art works, mostly in oil and acrylic, are on display at the Metropolitan Museum of Manila. Another room is devoted to Borlongan's sketches and drawings that are mostly studies of his paintings, reflecting his exquisite skill as a draughtsman.
Entering the main hallway, a huge mural on the left wall, Pag-ahon (2011) awaits, depicting six bald men with clenched hands under the outrigger, and exerting forward to haul a white boat to the shore. Another painting, Kapit-Bisig (2010) depicts ten men and women, arms linked in a circle and heads raised in a defiant manner, eyes closed.Like Pag-ahon, it shows people united towards a common goal.
The works are clustered by themes: making a living, relaxation, religiosity and folk Catholicism, playing music, family pets, the disabled, children at play, and simply doing nothing.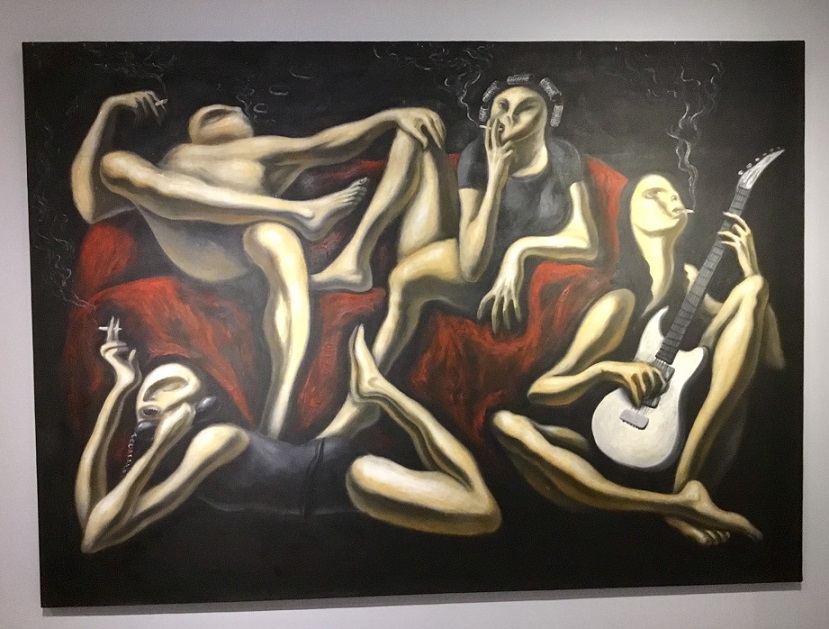 Pamilyang Menthol, 1994

The Artist
Elmer Borlongan, as a child, was fond of drawing and sketching and his
first art lessonsat eleven years old was under Fernando Sena who introduced him to the art world. Borlongan won second prize at the Metrobank Annual National Painting Competition for Rehimen in 1988 and received the Award for Continuing Excellence and Service from Metrobank Foundation in 2004. In 1994, he was the recipient of the Thirteen Artists Award from the Cultural Center of the Philippines for four works, including Pamilyang Menthol and Laklak. In 1995, he was the artist-in-residence at Coke Bolipata's Center for the Arts in Zambales where he met Plet Bolipata, who is also a painter, and they got married in 1998.
The exhibition traces Borlongan's growth and his search for an identity as an artist. In hindsight, he would have "gone straight to what I'm doing now" instead of "of imitating all sorts of styles." By 1993, his works were leaning towards figurative expressionism, influenced by Onib Olmedo, Danny Dalena, and Jaime de Guzman. Borlongan considers Victorio C. Edades (1895-1985) as an influence insofar as "form and content in a modern approach" is concerned.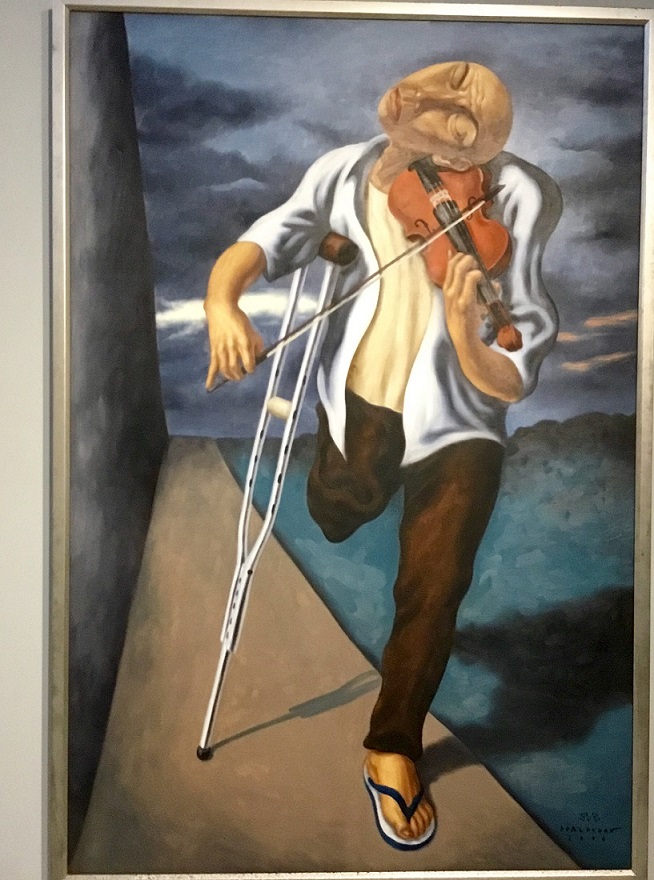 Disabled Fiddler, 2006
The Art of Being Ordinary
Overall, the exhibition depicts a variety of scenes from daily life in the inner streets of Manila, specifically in Nueve de Febrero, Mandaluyong, a historic street where the artist grew up and found inspiration. Observing people in his surroundings, Borlongan zeroes in on the Every Man— the Juan de la Cruzes whose humble lives go unmarked and unnoticed.
Borlongan's works revisit a gritty world of humdrum lives, weary perseverance, and unexpected tenderness. A strong empathy with the marginalized and the disabled remains a constant presence in his works. Familiar scenes of ordinary people going about their day abound with an edgy and dissonant twist.
Far from being Pollyannish, Borlongan captures people trying to make ends meet, and in the process, survive and thrive: selling balloons, puppies, or religious paintings of Christ or the Last Supper. The artist also includes children having fun, minus fancy toys and gadgets: riding piggyback on each other or playing blind man's bluff.
He tends to choose darker shades of browns, blacks, and greys in his early works; after 2002, a when he moved to San Antonio, Zambales with his wife, his works started having rural imagery and his colors became more vibrant.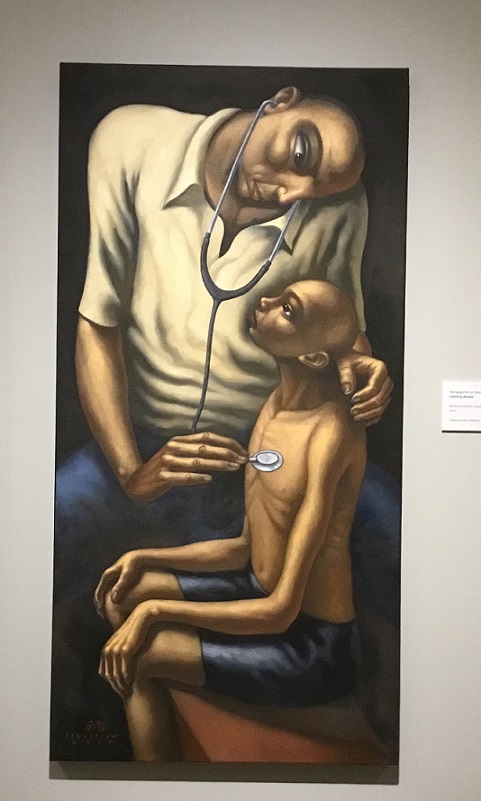 Country Doctor, 2010
Borlongan's signature style is reflected in his rendering of human figures that are rather elongated and distorted, with oblong faces and large almond eyes with a quizzical expression. In his words, "The eyes are a distinct trademark of my works. The people in my paintings don't show so much emotion, but you can see it in their eyes." An inner tension exudes from his characters. His bald figures started appearing in 1993, and by doing so, character is concentrated on the face of the individual. And there is one face that keeps appearing in his works. Is it him?
Borlongan's stubborn focus on the ordinary embodies an antidote to our own blind spot, ignoring the sad and the ugly around us.
Borlongan paints an ode to ordinariness, a visual guide in how to turn every moment of one's mundanity into a celebration of being alive and human, every day.
Elmer Borlongan: An Extraordinary Eye for the Ordinary runs until March 28, 2018, Metropolitan Museum of Manila.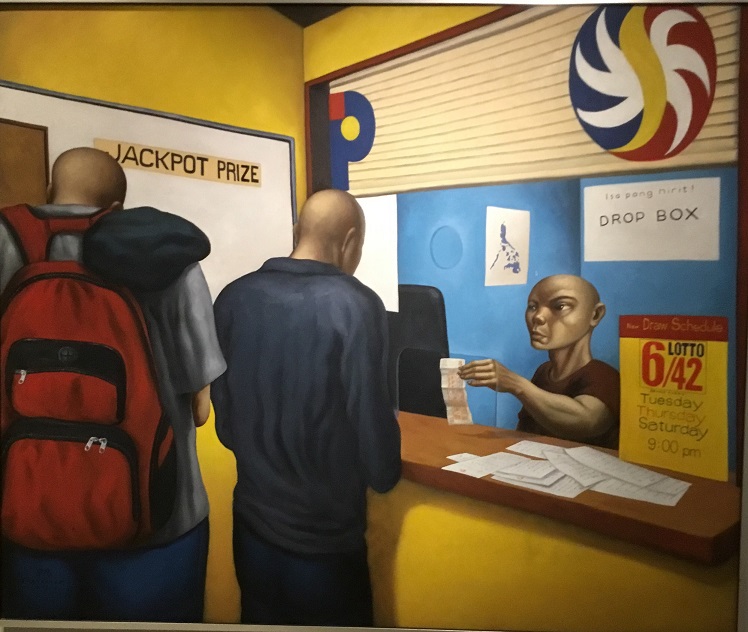 Isa Pang Hirit, 2011