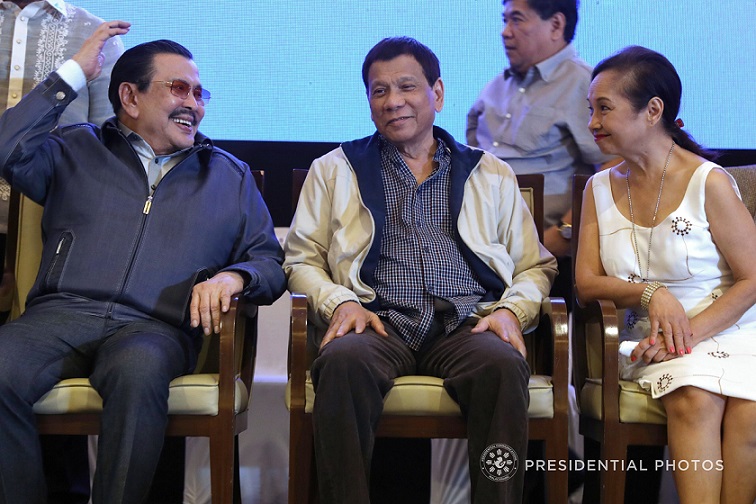 Pres. Duterte shares a light moment with two former presidents, Joseph Estrada, who now Manila mayor and Gloria Arroyo, who is representative ofsecond district of Pampanga during the meeting with local chief executives from Luzon at in Clark, Pampanga on March 7, 2018.Malacanang photo by Robinson Niñal, Jr.

At the start of his administration, President Duterte said there were three million drug addicts in the Philippines which was the reason why he launched a brutal campaign against illegal drugs which has now claimed over 4,000 as of March 2017 per data from the Philippine National Police.
From three million drug addicts, which number he attributed to former head of the Philippine Drug Enforcement Agency Dionisio Santiago, he increased it to four million in less than a year.
He even fired then Dangerous Drugs Board chairman Benjamin Reyes for saying there were only 1.8 million drug addicts in the country. Reyes was replaced by Santiago whom Duterte fired after just a few months at the DDB for saying the 10,000-bed capacity mega drug rehabilitation facility in Fort Magsaysay in Nueva Ecija built by a Chinese official was a "mistake" and an "impractical solution" to the drug menace.
Last week at the meeting with local chief executives of Luzon at Clark, Pampanga, Duterte used 1.6 million as the number of drug addicts in the country. He said that's the PNP figure.
He said: "Look, even you place it doon kay Bato, huwag na 'yung kay Santiago, 1.6 million addicts. One million six Filipinos made slaves to a drug called shabu. And everyday when the monkey rides at their back, they do not have the money they steal, they kill, beg or borrow."
Duterte is correct in saying that whether it's 1.6 million or four million drug addicts, illegal drugs destroy the fabric of society. But correct data is important because these numbers represent human beings. In case of those killed in the war against drugs, one killed without due process is human being deprived of life. He is a son, a father, a brother.
These numbers are translated into policies and if your basis is wrong, it goes without saying that you get everything skewed and screwed.
***
In that Clark speech, Duterte also said something that indirectly confirmed the allegation of Sen. Antonio Trillanes IV about his son, Paolo, former vice mayor of Davao City.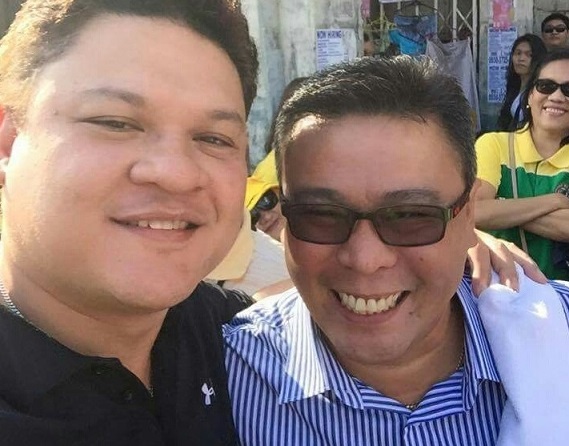 Former Davao City Vice Mayor Paolo Romero and Davao City Councilor Nilo "Small" Abellera.
Duterte was talking about the sad scenario of soldiers whose pension when they retire are inadequate to sustain them in their old age. In his case, he said he expects to get about "nine, eight million" pegged at his highest salary.
He shared his problem if he gets sick .He said he could not go to the "ospital ng health center" hospital yet his retirement pay would not be enough to go to expensive hospitals. "Who will now buy my medicines? Who will pay for my oxygen? Sinong magbayad ng kabaong ko? (Who will pay for my coffin.) And who will pay for my burial? Son of… 'Yan ang problema diyan. Maliit na nga ang kinikita, hindi pa makabili ng p*** i*** medisina lang para… (That's the problem. The earnings are measly, can't buy the b.s. ..medicines.)"
He continued his rant: "'Di ako, sinong maasahan ko? Si Inday, 'yung anak ko na mayor, buti't na lang nakalusot. O 'yung anak kong si Pulong, isa rin 'yung gangster, 'yun mabubuhay 'yun. O 'yung si Baste? Pero si Baste naman babae ang inaatupag, si Adarna. (Who do I depend on? Inday, my mayor child, it's a good thing she came out different. My child Pulong is a gangster. He will survive. Baste, he is pre-occupied with women, si Adarna.)"
It will be recalled last year at the hearing of the P6.4 billion worth of shabu that slipped through the Bureau of Customs then under the watch of retired Marine officer Nicanor Faeldon, Trillanes linked the Davao group allegedly headed by Paolo Duterte.
Trillanes claimed Paolo is member a Chinese triad drug syndicate and has even a tattoo on his back as proof of his membership. The vice mayor admitted he has a tattoo but refused to bare it in public. He called Trillanes allegations as "baseless and hearsay."
Paolo resigned from his position as vice mayor three months after the Senate hearing.
The President should talk some more. Someday, we might get the truth from the horse's mouth.