By PABLO A. TARIMAN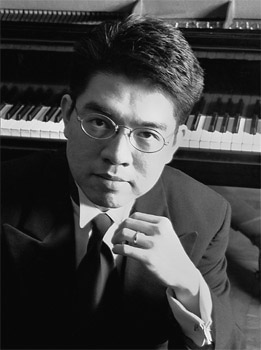 CHAMBER music enthusiasts will have another special treat when Singapore-based Filipino pianist Albert Tiu teams up with Belgian clarinetist  Marcel Luxen Saturday, June 1 at the Ayala Museum courtesy of the MCO Foundation.
A highlight of the recital is the performance of Brahms sonata Op. 120 for  clarinet and piano, Schumann's Fantasie Stucke  and the fiendishly challenging  Weber's Duo Concertante.
Tiu elaborates on their program choice:" The Op.120 sonatas by Brahms are two of the most important works for clarinet and piano. The composer was inspired by the clarinetist Richard Muhlfeld to whom these sonatas are dedicated.  They are also played on the viola, but the clarinet was the original instrument for which they were intended. The piano writing is very substantial and physically demanding. On the other hand, the Weber Grand Duo Concertante is a tour de force for both instruments, and contains acrobatics galore!  It also has some beautiful bel canto writing for the clarinet."
Described by the American Record Guide as "an artist of uncommon abilities," Tiu said this is not the first time he is collaborating with a clarinetist. "During my Juilliard days, I played with several students, as well as the legendary teacher Charlie Neidich, who could make the clarinet sound like many other instruments.  Marcel (Luxen) and I first worked together about two years ago in a Trio by Paul Schoenfield, with violin.  We had a blast because the music was wildly hysterical!  He was able to make the music wail and laugh, and his sound ran a whole gamut of emotional colors.  Marcel is very easy to work with, and he's a good musician as well."
A prizewinner of several international piano competitions, Tiu has made his mark as chamber musicians collaborating with the St. Lawrence String Quartet, Ysaye Quartet, T'ang Quartet, Australian String Quartet, Muir String Quartet, violinists Pierre Amoyal, and Cho-Liang Lin, among others.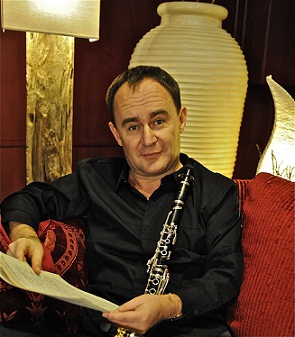 As to why he enjoys doing chamber music, Tiu points out: "Chamber music is an interactive experience, because it involves give and take between the musicians.  It becomes rewarding when the musicians are able to find a compromise during rehearsals, and then take it to another level during the performance.  Being able to react spontaneously to what happens in a performance is what I enjoy in chamber music."
Is a chamber music performance doomed if one partner starts behaving like a soloist and the other partner sounding like he was competing?
"Not entirely," he replies. "It really depends on what is happening in the music at any given time.  If someone has the more dominant part, they should take charge and lead, which then makes it easier for the others to give support.  And there will be times when it can sound like the players are competing or struggling against each other. if that is what the music demands.  What is more important is that the spirit of the music is brought to the fore, and that everyone involved is on the same page in terms of what the desired result should be."
Tiu's recordings have also made a mark among music critics like his latest recording on Centaur Records, "Nocturnal Fantasies", featuring the music of Chopin and Scriabin. In Gramophone, Bryce Morrison describes it as "performances where heart and mind unite in a deeply affecting union. Tiu is the sort of artist…who can make a single note or chord tell, yet always within an enviably natural, lucid and refined context."
Now an Associate Professor of Piano at the Yong Siew Toh Conservatory of Music in Singapore, Tiu has also taught in the Juilliard Pre-College Division before moving to Singapore in 2003. His students have won prizes in international competitions, and have been awarded scholarships for graduate studies in major institutions.
One time Vice-President of the Singapore Music Teachers' Association from 2005 to 2009, the Filipino pianist shares what he enjoys as a teacher.
"Teaching and performing compliment each other perfectly," he said. "I find that doing both makes me practice what I preach, and preach what I practice.  It is important to have a hands-approach while exploring a piece together with a student, because to quote Ralph Waldo Emerson, 'Life is a journey, not a destination'.  While it is ideal to have a vision for the end result of a piece, the slow process of organic growth is even more critical.  I just had a 9-year-old student win First Prize in the Chopin Competition for Children in Szafarnia, Poland, and I am very happy for her because she was able to slow things down and be with me in my patient approach."
(After the June 1 performance at Ayala Museum, Tiu and Luxen will hold free master classes on June 2 from 9 – 12 noon, and Marcel Luxen from 2:00 – 5:00 p.m., both to be held at the Ayala Museum. For ticket and master classes inquiries, please call  MCO Foundation at tel. no. 750-0768 or 0920-954-0053 or email josephuy2004@yahoo.com)