By MIKHA FLORES
FIRST it was the source code for the PCOS machines they were quarrelling about.  Now former colleagues, Commission on Elections Chairman Sixto Brillantes, Jr. and Augusto "Gus" Lagman are squabbling about intelligence funds.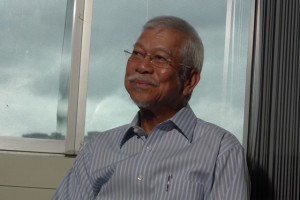 Lagman, who served as Comelec commissioner for about a year, revealed on Wednesday that election officials receive intelligence funds and hinted at some irregularity in the way they are liquidated.
In an e-mail sent to reporters, Lagman said he received separate checks of P1 million and P250, 000 in 2011 as "intelligence fund" which, he explained, all other Comelec commissioners received while Chairman Brillantes received double the amount.
In early 2012, an official from the Comelec's Finance Services Department asked him to sign a document, Lagman wrote. "The document basically said that I spent the amount on a variety of activities, none of which I actually did," he said.
"I therefore refused to sign the document and said that I would just return the money, still untouched," he added.
Brillantes confirmed the existence of an intelligence fund but would not disclose how it is used. "The intel funds are supposed to be intel funds," he said, but added these are all documented.
He also confirmed he received double the amount of intelligence funds the commissioners received. "In fact sa akin nakapangalan lahat ng intelligence fund.  Binibigyan ko lang sila (In fact, all intelligence funds are under my name. I just give them their share)."
Lagman said he decided to return the money by writing a check. In return, Comelec's Finance director issued him an official receipt.
"Two days later, Chairman Brillantes sent me a text message asking me why I returned the money," Lagman said. "I said I didn't know what to do with it and besides the money was just sleeping in the bank. I also said I had no intention of making anything big out of it."
Brillantes confirmed that Lagman returned the funds but made no big deal about it, saying he was not the only commissioner who returned the money.  ""How would he know that he is the only one who returned it? That is not true and he does not know what he's talking about," he said.
Brillantes, a veteran election lawyer prior to his current post, and Lagman, an IT expert who was once involved with the poll watchdog, NAMFREL, have been at loggerheads over matters involving Comelec.
One of these is the lack of review of the source code for the precinct count optical scan machines used in the recently-concluded elections. Lagman has also joined the chorus of critics against the poll body's handling of last Monday's automated elections.
Meanwhile, Comelec Finance Services Director Eduardo Mejos told VERA Files what he had given Lagman back then was merely a "guide" on how to use the intelligence funds.
"Iyon yung guide niya para kung saan niya gagamitin iyong intelligence fund. Iyon ang purpose noon. Nakalagay doon kung anong purpose ng intelligence fund (That was his guide on how he can use the intelligence fund. That was the purpose. It contained the used of the intelligence fund)."
Mejos said the guide contains "activities related to the functions of the office."