By ELIZABETH LOLARGA
Photos from the book The Odyssey of an Igorot Mission Girl
FOR a woman who formally entered school at age 10, Esperanza Daliwa Somebang of Nadatngan, Mountain Province, travelled far and wide, a great believer in education and in the spirit of service to humankind.
Somebang grew up in a culture where , "girls were expected to stay home to help in the fields, get married and raise a family." It was something she was prepared for since she was the family baby sitter.
But Somebang had a mother, Mauricia Badasan Suyen, who had the perspicacity to tell her before she went off to study at St. Mary's in Sagada, "We are very poor; the only thing we can offer you is to allow you the opportunity to have an education in our mission school. We are glad to make the sacrifice, whatever it will take."
The Odyssey of an Igorot Mission Girl (published by Igorot Heritage Press in Lyme, Connecticut) traces Somebang's childhood, a rural idyll on hills "abundant with wild fruit, especially black berries, salmon berries, pinit (a small raspberry) and other edible plants." She knew what it was like to have little but not to feel deprived.
She writes in this memoir, considered "a pioneering contribution to a growing body of literature about the Igorot people from an autobiographical perspective" by anthropologist Albert S. Bacdayan, "We had no store-bought toys whatever. Even if my parents had heard of them, they had no money to buy them. Father made wooden tops for the boys, but we girls played with them, too. We made our softballs out of any material available—worn-out clothes, paper and dried grass, shaped into a ball and bound with twine…Our bats were branches. It was hardly a baseball game by the rules but we played until the ball went to pieces."
At the Girls' School of the Mission of St. Mary the Virgin, she was determined not to disappoint her parents, although the nuns in white wimples and long blue robes at first looked "like goddesses out of story books." She quickly learned how to read. So proud was she of this that she once left school and dormitory without permission to walk several miles to her village to show her parents a book so she could read aloud to them.
Somebang acknowledges the sacrifices of many so she could move forward. Before she left for nursing school in Manila, an American, Janet Anderson, had the foresight to buy vegetables from Somebang's mother who put aside the money for the education kitty. They and a school nun pitched in to buy the requirements (shoes, stockings, watch).
Manila life meant mosquitoes biting through her stockings, dust, prickly heat on her skin, but she learned that "taking care of demanding patients has its rewards if one learns to anticipate what they need." Because of her good posture, she was chosen to hold St. Luke's banner for a photo used for a fund-raising campaign to build a new hospital.
Throughout the war, she succored the sick, even if classes were disrupted. Later, she joined the resistance in the north, learning to boil a sewing thread and needle to pull lacerated wounds together, each time saying a prayer for healing to God and Nature.
With the war over, she found herself still improvising to save lives, e.g., using small rubber catheters to suction mucus from children's throats in the absence of oxygen tanks.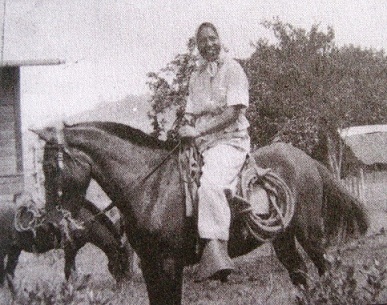 She served the Tiruray tribals and Muslim Filipinos, riding on a horse to reach far-flung outstations where she came face to face with poverty and the illnesses that fester because of it (malnutrition, tuberculosis, worm infestation, among many).
While studying and working in the US where she made small sandwiches for the birds, "my mind was on the malnourished children I took care of in Upi. I wished I could throw those sandwiches instead. The thought pained me and sometimes I cried…Images of starving children have been with me for a long time."
Itching for adventure, she applied as a bush nurse in Alaska. That meant "taking nursing and other clinical services to remote settlements that are inaccessible by usual forms of transportation…the use of snowmobiles, dog-sleds, boats and small aircraft."
Her looks earned for her the trust of Eskimos and Indians. One told her, "I am happy to see one of us come to be our nurse. I hope you stay long."
On top of everything, Somebang joined the religious life, taking theological studies and her lifetime professional vows and rising to become an Episcopal Church deacon despite a lung cancer that she later routed.
Everywhere she served as itinerant public health nurse, she is generally remembered as "the Philippine nurse, greatly beloved by all, regarded as a saint."