Distractions everywhere: the ping of phone messages, and the clamor for attention from Instagram, Facebook, Tiktok, Twitter, and more. In a noisy, noisy world, one seeks refuge by reading fiction: short stories, to be precise.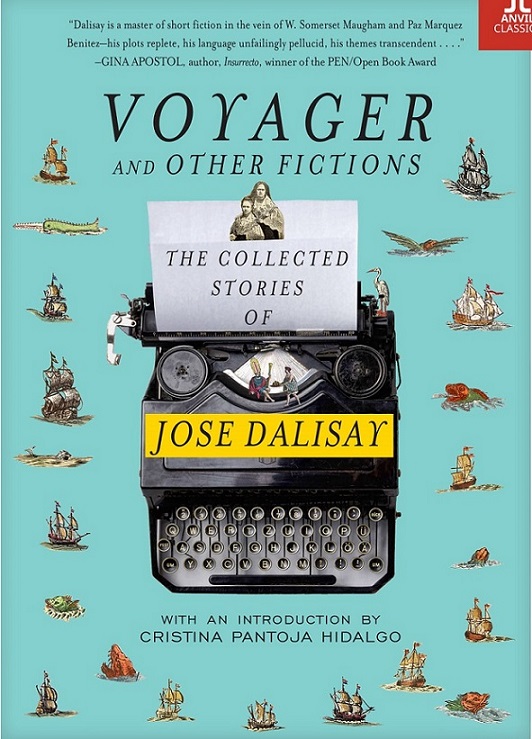 Voyager and Other Fictions: The Collected Stories of Jose Dalisay (2019) is a 500-page collection of 43 stories, written and published over four decades from 1975 to 2015, covering the writer as "a lanky 21-year-old" to "a potbellied senior."  It is presented in a chronological order of their writing, hoping that it will reveal "some patterns of growth and change in the way a writer treats and selects materials as he himself is shaped by life and time," says Dalisay.
Voyager characters
A galaxy of characters populates the Voyager collection, familiar figures in a neighborhood: a policeman, bar girls and prostitutes, a querida, an instructor, a driver, a go-for, and OFWs. Many stories involve a young man and an older and much wiser man or woman, or a single character making sense of his world. A gamut of themes that always haunt our existence include desire, longing, rejection, love, unrequited love, fate and the powerless, trust and respect, vulnerability, and death.
A sampling
In Voyager, stories include Oldtimer (1982), where the über-cynical and tough Charlie Quinton, who has made it in America through hard and honest work, decides to pay it forward to another kababayan, and the story unfolds on what happens next.
In Cameo (1984), a 13-year-old boy's first puppy love for the much older Chelo, the mistress of a married fiscal, giving him violent dreams and testosterone fantasies.
In Penmanship (1994), a bachelor in his fifties and an avid letter writer who treasures his 1938 gold-nibbed Parker Vacumatic pen, fell in love with a blind coworker, who asked him to write a letter for her, using his beloved fountain pen.

In Dalisay's stories, the end is always unexpected, an uncanny twist that bears witness to the writer's creative prowess. While understanding how the story ends, the reader may commiserate with the protagonist or he may even attempt to fill in the could-have-beens, and continue the story in his own imagination.  Endings in Dalisay's stories leave the reader in a state of reflection, in a pensive mood about life's journey, and where it takes us.
One can say that our lives are composed of myriad short stories; we go through it, experience it, and yet, we do not really write about the stories of our own lives.  It takes a few writers of fiction like Jose Dalisay to distill a lifetime of stories with brevity and clarity.
Exploring and catching a moment in the quiet lives of Filipinos, Dalisay captures with grace and honesty the banality of day-to-day existence where seemingly nothing happens and yet, something does happen.
In Dalisay's words, his stories of lower-and middle-class Filipinos like him "whose lives are often dismissed as 'ordinary' but which are in fact eventful and dramatic in their own fashion."
In "Penman," Dalisay's column in Philippine Star and in his Facebook account, one can also read shorter musings of the quotidian. Just like his fiction and nonfiction, no name-calling, no trolling, and no histrionics. Just decent and excellent writing all around.
In 2020, Dalisay has noted that his writings give him "… an incipient pleasure at knowing that whatever I type will survive me, be it trash or treasure, so I have to do a good job of it, now, while I'm still awake and alert to every minute ticking by."
Simply, we are richer for it.
Jose Dalisay (1954+)
At the recent Frankfurt Book Fair 2022, (the world's oldest and largest trade fair for books) Dalisay's second novel, Soledad's Sister (2008) has been selected for publication in Germany early this year, with the German translation in progress.
The German edition will be retitled as Last Call Manila, with the book cover featuring Antipas Delotavo's painting titled Diaspora (2007). It will be the novel's fourth international edition, after the French, Italian, and U.S. ones. Dalisay's first novel, Killing Time in a Warm Place (1992) is about the martial law years in the country.
Aside from writing fiction, Dalisay has written essays, plays, and screenplays. He has garnered almost all the major awards, prizes, accolades, and international fellowships for his writings.  With around 30 books, fiction and nonfiction, to his name, Dalisay has also written and edited biographies that include Ninoy Aquino, Jose Diokno, the Lava brothers, Washington Sycip, Edgardo Angara, Tet Garcia, Andrew and Mercedes Gotianun, and Rafael M. Salas, among many others.
Having spent 35 years in the University of the Philippines Diliman as a professor of literature and creative writing, Jose Dalisay was a former chairperson of the Department of English and Comparative Literature, director of the Institute of Creative Writing, and vice president for public affairs. Officially retired in January 2019, he was awarded the title of Professor Emeritus.