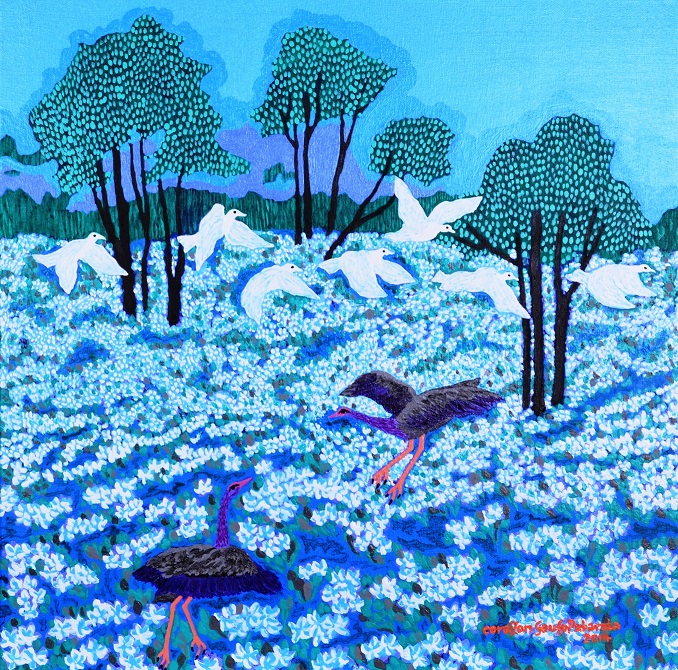 Purple herons and egrets in Agusan marsch
Her ambition was to become a medical doctor. She prepared for that by graduating magna cum laude with a bachelor's degree in biology at St. Louis University in Baguio. Because Corazon Patarata had to help her family and see siblings through school, she got a job as a teacher. Later, she qualified for foreign service.
Her classmates from those early years remember her as someone who was always drawing or giving away her drawings to those interested in them. But professional work left her no time for art.
She says, "I longed to paint through all my years of diplomatic service. I traveled at my own expense while serving abroad, getting away from the office on weekends and on short leaves from work. I took a lot of pictures on subjects that interested me."
These photos helped her make the paintings "Pilgrims in Borobudur", "Prayer Symphony in Saint Paul's Church in Malacca", "Sailing on Sydney Harbor", "Contemplations on Ayers Rock" and "The Enchanting Australian Desert."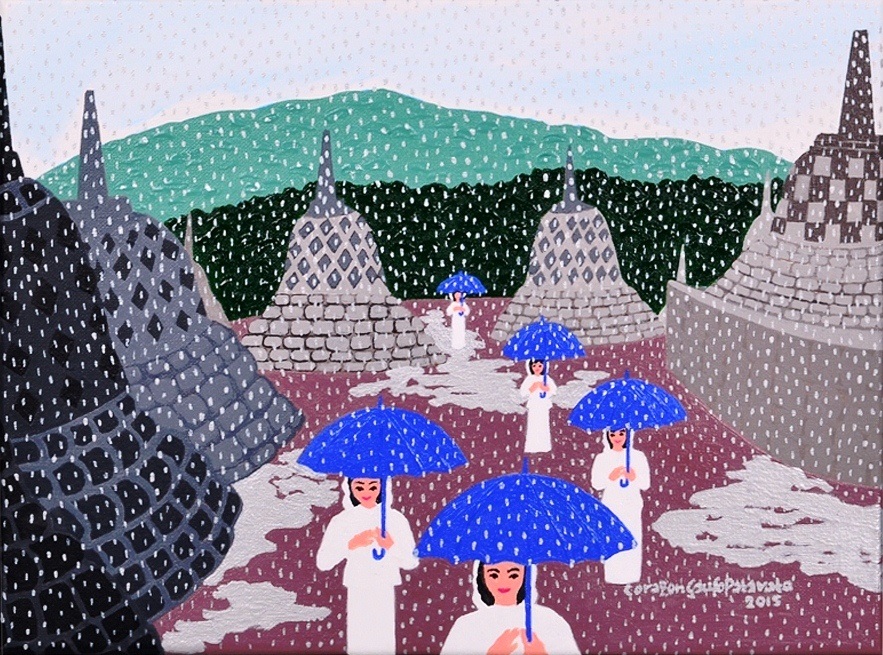 Pilgrims in Borobudur
While posted in Beijing in 1990, she studied Chinese painting under a tutor who came to her apartment weekly.She says, "Those paintings were the only works I made in my entire diplomatic career."
When she resigned from the foreign service at age 49 in 2006 with the rank of minister counselor, she began doing watercolors on paper and oil pastel on paper. She sold two watercolors. This encouraged her. She bought a book on acrylic painting in 2011, made two works using the medium on canvas that same year and has since been selling and making a living out of acrylic paintings.
She describes her process: "I paint directly on canvas a picture composition that I decide on from my imagination and according to my mood.I do not begin with pencil or even acrylic outlines on canvas either.Sometimes my picture composition is not complete when I work on the painting. I add elements as I go along so even I don't know what the final picture will look like."
To create texture, she piles on several colors of acrylic, paints when these colors are still wet and sculpts while the paint is wet.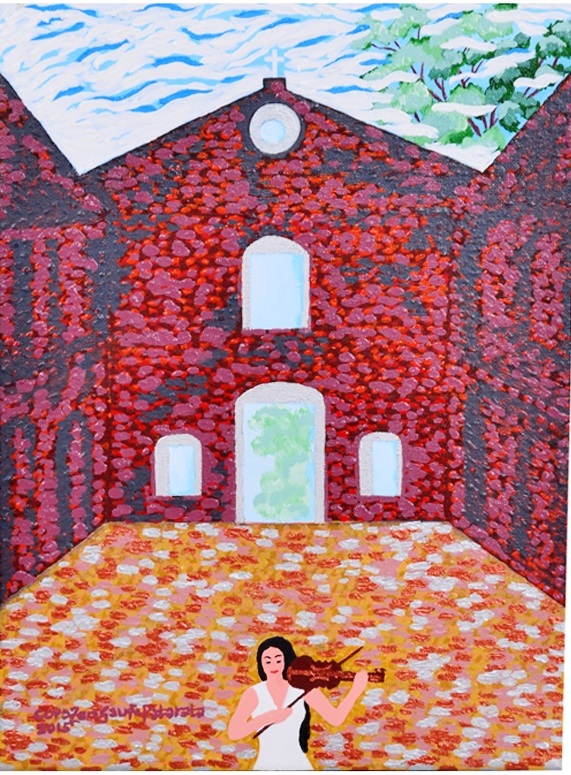 Prayer symphony in Saint Paul's church in Malacca
For works that depict tourist spots, landmark buildings and monuments, she refers to photos that she has taken during her travels or those found in books. If it's the latter source, she adds her own elements. "I don't like to produce paintings that look like postcards.I put in human figures so that a story is infused in the scene as I did with 'Pilgrims in Borobudur,' 'Prayer Symphony' and 'Survivors' which depicts the Angkor Wat in Cambodia."
She says of Borobudur and Malacca, "My memories of how charming and fascinating they were helped me create the mood of my paintings. I'd like to do more paintings about these two places.I have done 'Angels at the Louvre' which shows the Louvre and Architect I. M. Pei'spyramid passageways with angels playing there under a starlit sky. I have beautiful memories of these places. They remain in my mind to this day although twenty to thirty years have passed."
Local landscapes have been part of her compositions. She calls them compositions because she puts together the elements from two or three pictures, arranges them in a particular perspective so that the final picture lookslike a new photo taken from a different angle. This can be seen in "Twin Falls: Jewels of Mount Kanlaon".
Patarata is with the Antipolo-based artists' group ARTipolo that has the Haemophilia Association of the Philippines for Love andService as permanent beneficiary for all its exhibits.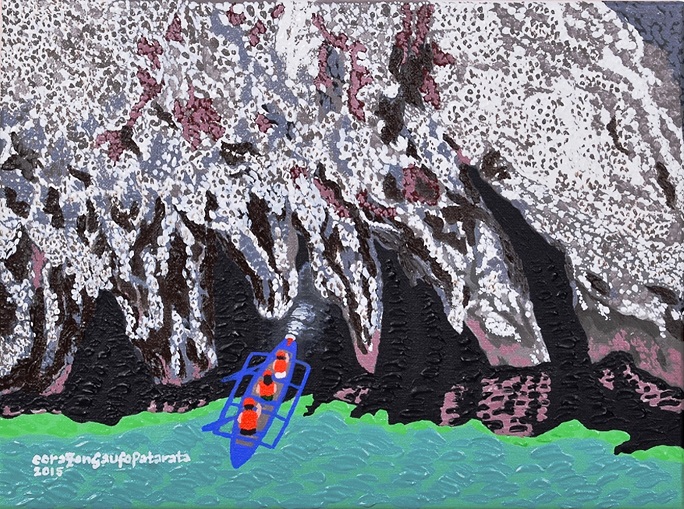 Into the cave of Palawan's underground river
This self-taught vignette painter admires Amorsolo. "I aspire to someday learn his techniques with light and shadows."Among the Renaissance artists, she singled out Rembrandt for the sensitivity of his human figures, Tintoretto for his lights and shadows, Paul Cezanne, Paul Gaugin and Vincent Van Gogh for their colors and brushstrokes.
Of the moderns, she likes John Singer Sargent "for the emotional impact of his paintings," Frida Kahlo "for her use of Nature as symbols for human emotions," Miro "for his joyful and playful abstract renditions" and Norman Rockwell "for portraying scenes of everyday life that everyone can relate with."
Now that she is doing what fulfills her, she calls painting "an essential part of me. Painting is something I owe to my Maker and to the people around me.Through the process, I enjoy many good feelings in heart and spirit.Painting is like praying. It is like a cleansing and uplifting process."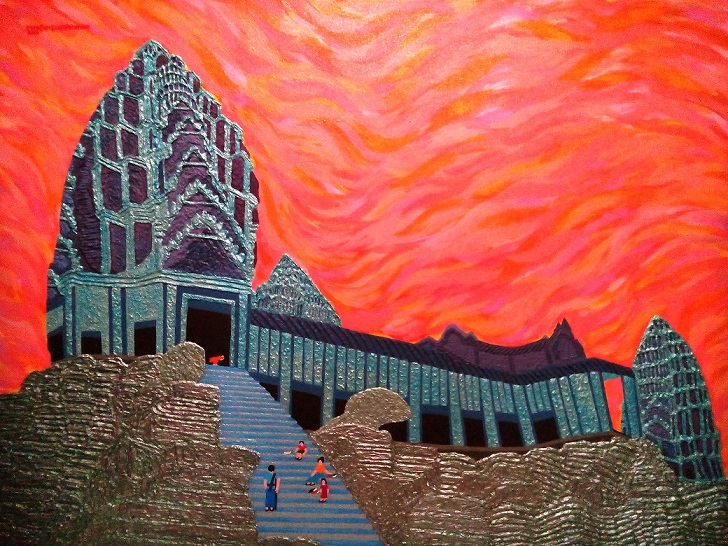 Survivors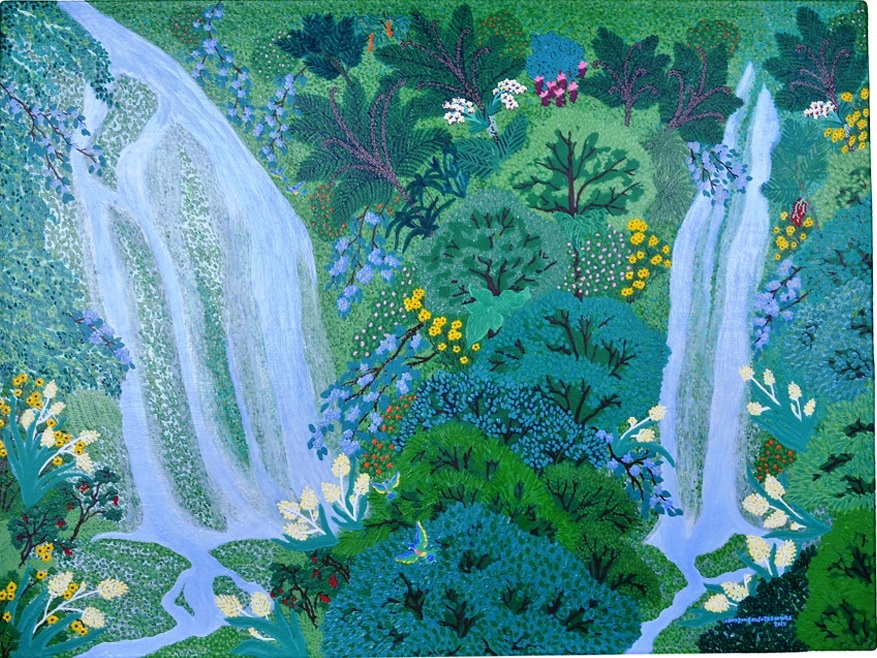 Twin Falls, jewels of Mount Kanlaon