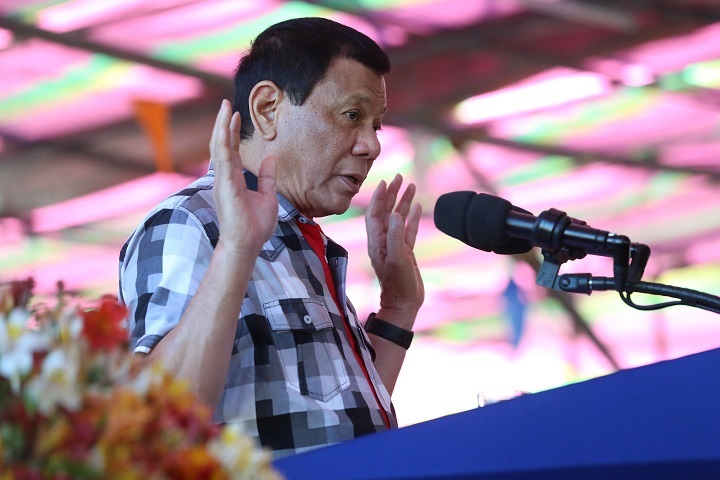 "I will not declare martial but …"Pres. Duterte talks aboutmartial law in his keynote message during the 20th Anniversary Celebration of the Premier Medical Center in Cabanatuan City on January 18, 2017. Malacanang photo by Karl Norman Alonzo.
"Just be quiet all of you."
President Duterte barked that order during the 20th founding anniversary of the Premiere Medical Center in Cabanatuan City, Nueva Ecija Wednesday.
He was reacting to negative reactions to his earlier statement about declaring martial law unilaterally without following the process stated in the Constitution.
He has been floating the idea of imposing martial law way back August last year when Supreme Court Chief Justice Lourdes Sereno told judges the President named in his narco listnot to surrender unless presented with a duly-issued warrant of arrest.
In Davao, last Saturday, before the Davao City Chamber of Commerce and Industries, he talked again of imposing martial law in a moredesperate tone. Like in his ealier speeches, it had to do with his single crusade: the drug menace.
These were his exact words:
"You know, I have to protect the Filipino people. It's my duty. And I'd tell you now, if I have to declare martial law, I will declare it. Not about invasion, insurrection; not about danger. I will declare martial law to preserve my nation. Period.
"Wala akong pakialam diyan sa Supreme Court or… because the thing, the right to preserve one's life and my nation, my country transcends everything else, even the limitation. Kung gusto ko, at it will deteriorate into something really very virulent, I will declare martial law if I wanted to.
"Walang makapigil sa akin. And l will just say, why are you declaring martial law? Because I have to preserve the Filipino people and the youth of this land. "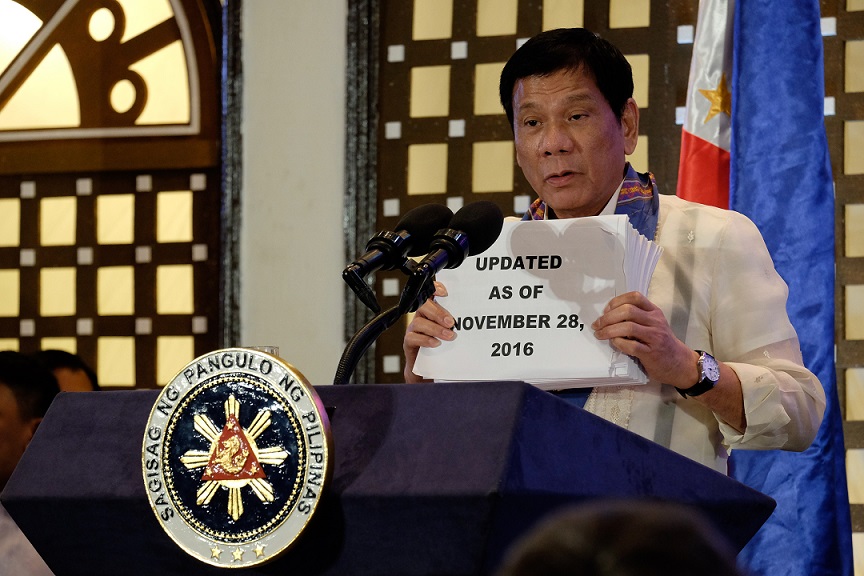 Pres. Duterte shows the list containing the names of alleged
illegal drug personalities in his speech during the 49th Annual Installation of
Officers and Board of Trustees of the Davao City Chamber of Commerce and
Industry Inc. at Marco Polo Hotel in
Davao City on January 14, 2017. Malacanang photo by Rene Lumawag.
Media reported his statements as he said it and as expected, raised concerns. Press Secretary Martin Andanar accused media of being irresponsible.
Last Wednesday in Cabanatuan City, a high-strung Duterte said, "I will not declare martial law."
If it sounded likehe flip-flopped, it didn't go beyond that one sentence because he immediately qualified it: "If I declare martial law, I will not make noise. If asked for the basis, you son of a bitch, I don't care. Just be quiet all of you."
Duterte continued, "It is not found in the Constitution. It is not written there. But If I feel as a President that I have to preserve my country, I will declare martial law."
He also said that in a situation where the "Supreme Court says no; Congress says yes. Who decides? Of course the President."
"Who decides now? It will be me. It will encourage me to become a despot because I now can interpret the law itself and it is final," he further said.
It may sound confusing but actually, there is method in what seems to be martial law talk madness. Yesterday Solicitor General Jose Calida, in a press briefing in Malacanang,amplified Duterte's statements.
"When there is really a clear and present danger to our country and nobody will help the president do his job as the father of the nation, then he will not allow his family so to speak, us the Filipinos, to suffer because of the inability or unwillingness of certain functionaries to do what is right for the country. When it is already the life of the country that is at stake, the lives of the citizens of this country, the president will not stand by just like Nero and let Rome burn," the government's lawyer said.
Calida added: "Our president is a political genius actually."