Vice President Leonor "Leni" Robredo was not fired, nor was Health Secretary Francisco Duque III forced to resign as alleged by an erroneous claim in an eight-minute video posted on Sept. 2.
YouTube channel BANAT NEWS TV and Facebook (FB) page PH Batang Maynila posted the video headlined, "JUST IN : PRES DUTERTE CONFIRMED! SEN.GO HARAPANG PINAG-RESIGN SI SEC.DUQUE SIBAK-PWEST0 ROBREDO (Sen. Go personally made Sec. Duque resign, removed from office Robredo)." This is false.
Robredo is an elected official, so neither the President nor a Senator has the power to remove her from her post. Like the president, the Vice-President, the members of the Supreme Court, the members of the Constitutional Commissions, and the Ombudsman may be removed from office through impeachment, according to Article XI of the 1987 Constitution.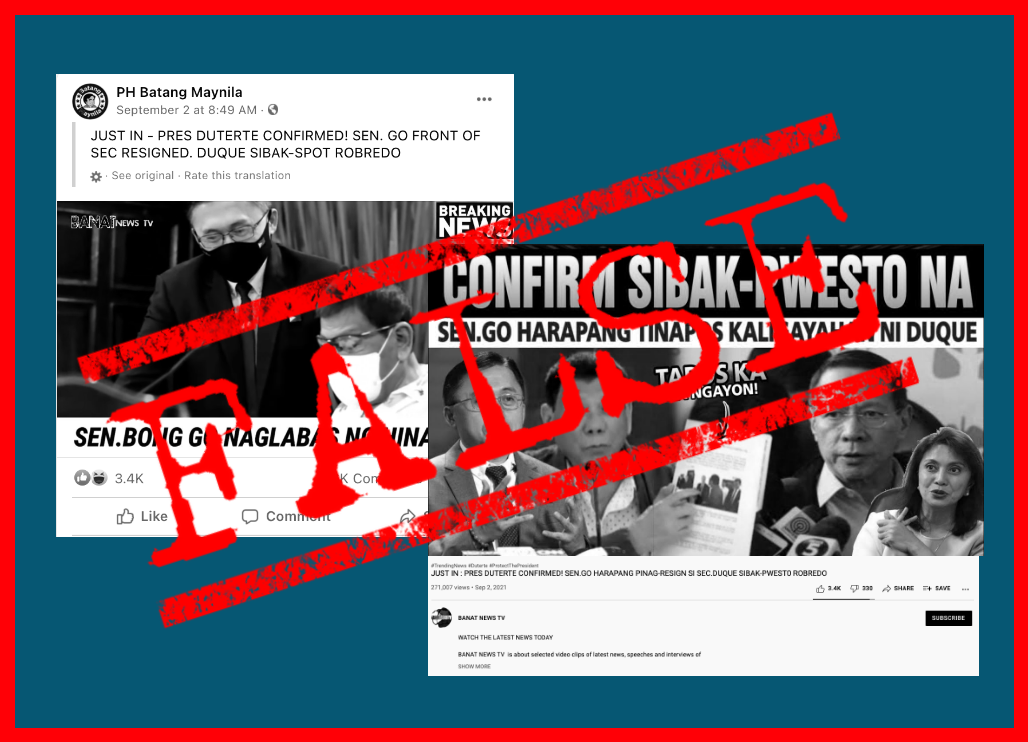 Likewise, Robredo does not hold any Cabinet post from which she can be removed. In the case of Duque, Sen. Christopher "Bong" Go only advised him during a Senate blue ribbon committee hearing to address the findings of the Commission on Audit on the "deficiencies" in the Department of Health's (DOH) handling of the pandemic.
"My word of advice is make the supreme sacrifice when the right time comes," said Go. His statement, however, did not result in Duque's resignation, contrary to the video's claim.
The video was patched in with clips that did not support its false claim, starting with a Bombo Radyo news episode on Sept. 1 about Go's privilege speech last Aug. 31.
The only time it mentioned Robredo was when it showed a report from the same Bombo Radyo episode that featured the Office of the Vice President's swab cab – a pandemic response to the novel coronavirus (COVID-19) – that has already tested thousands of Filipinos.
The video emerged a week after Duque told a congressional hearing that funds for COVID-19 booster shots were reduced to P45.3 billion from the initial proposal of P104 billion because the government had yet to decide on plans for booster shots.
Weeks before, the DOH was flagged for deficiencies amounting to P67.3 Billion which "resulted from the non-submission of documentation or supporting papers," triggering speculations of corruption from citizens.
BANAT NEWS TV was created on Dec. 26, 2015. Its video received over 268,600 views.
PH Batang Maynila, created on Dec. 12, 2020, has 101,444 followers. Its video has over 200,000 views and nearly 400 shares.
(Editor's Note: VERA Files has partnered with Facebook to fight the spread of disinformation. Find out more about this partnership and our methodology.)