A 10-minute video claims that Health Secretary Francisco Duque III will be replaced by former senatorial candidate Doc Willie Ong. This is false.
Before and after the dubious video was posted on Aug. 19, President Rodrigo Duterte had declared full support for Duque amid calls for his resignation. During his weekly briefing on Monday night (Aug. 23), the president reiterated he would not ask his health secretary to quit, but would accept his resignation if he did so voluntarily. There has been no word from Duque since.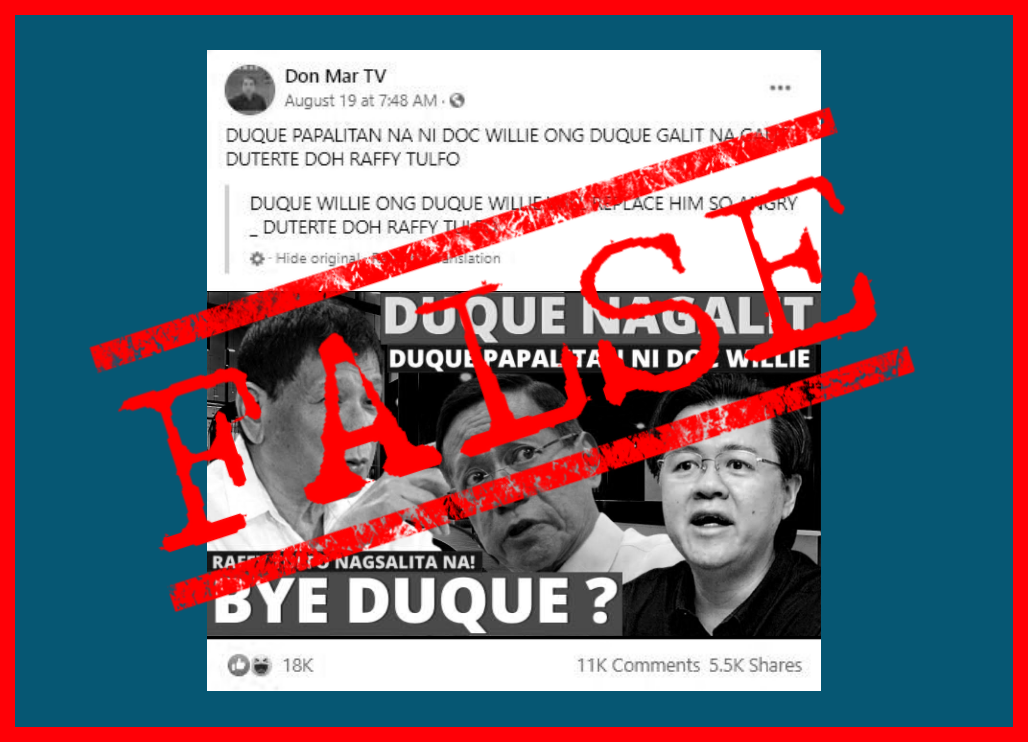 Posted by Facebook (FB) page Don Mar TV, the video's headline and caption read: DUQUE PAPALITAN NA NI DOC WILLIE ONG DUQUE GALIT NA GALIT (Duque will be replaced by Doc Willie Ong, Duque is really angry). The claim was based on comments of netizens, among them that Ong would have been a better health secretary than Duque.
The video emerged a few days after the Commission on Audit (COA) reported deficiencies in the Department of Health's management of P67.3 billion intended for programs to fight the pandemic. The state auditors cited irregularities in the procurement process, the lack of documentation of contracts entered into by the DOH, and the amount of undisbursed funds that could have been used to improve the health system.
The COA later clarified that the audit report did not say that the billions were lost to corruption.
The false video was patched with clips of Duque and COA Chairperson Michael Aguinaldo speaking separately in Zoom meetings. Other clips were from reports on COA's findings on the unaccounted multi-billion peso deficiencies involving novel coronavirus (COVID-19) funds.
Contrary to another claim in the video that Duque was angry about being replaced by Ong, the former had actually offered to resign twice, according to Duterte in his weekly recorded talk on Aug. 16. On both instances, he said he denied his resignation.
"Wala ka namang ginawang masama. Bakit ka mag-resign? (You didn't do anything wrong. Why would you resign?)," said Duterte.
Ong, who ran but lost in the 2019 senatorial election, is active on social media, where he gives medical advice. His official FB page has over a million followers.
According to a recent Pahayag-Quarter 2 survey done from July 13 to 19 by PUBLiCUS Asia, Ong was in third place among those whom people would support in the 2022 senatorial race.
The video continued to gain traction as the DOH recorded 18,332 new COVID-19 cases – the highest number of new cases ever tallied in the Philippines.
It was viewed nearly 560,000 times and gained almost 20,000 reactions and over 5,000 shares.
Don Mar TV, which was created on July 1, 2020, has 10,802 followers.
(Editor's Note: VERA Files has partnered with Facebook to fight the spread of disinformation. Find out more about this partnership and our methodology.)