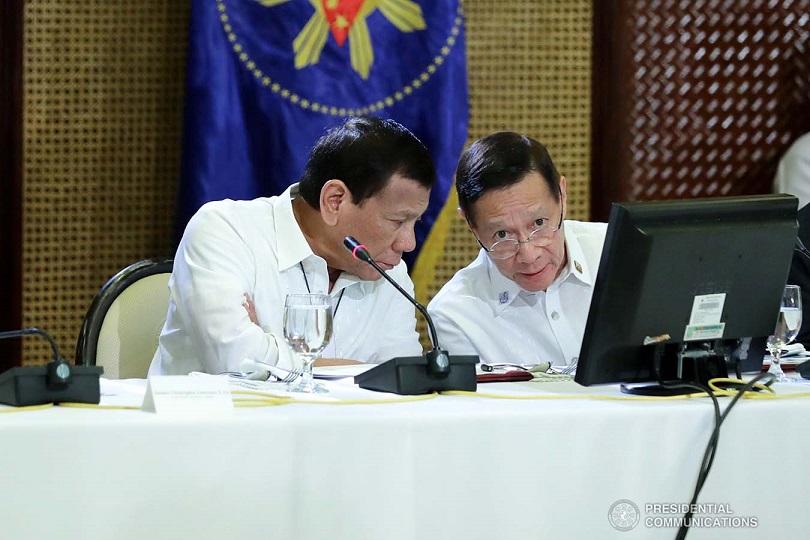 President Duterte confers with Health Secretary Francisco Duque III during a meeting of the Inter-Agency Task Force for the Management of Emerging Infectious Diseases in Malacañang Palace on March 9, 2020. Malacañang photo.

The country's health chief has dodged so many controversies that one of at least 14 senators who have called for his resignation wondered aloud what amulet he has that President Rodrigo Duterte just can't seem to fire him.
Health Secretary Francisco T. Duque III remains in his post despite unceasing criticism of how he is handling the COVID-19 pandemic and his silence regarding the Philippine Health Insurance Corporation scandal — the current one, not the one he was associated with in 2004 when he was PhilHealth president, nor the one involving his family.
Senator Risa Hontiveros has also asked why Duque is "unscathed" in the wake of allegations of massive corruption in an agency he was involved with almost throughout the Macapagal-Arroyo administration, cumulatively serving over ten years either as PhilHealth president or ex-officio board chairman.
Last month, Malacanang spokesperson Harry Roque provided a possible explanation. During an interview with Pinky Webb in the CNN Philippines program The Source on June 23, Roque explained that the president had a "deep friendship" with Francisco's older brother, lawyer Gonzalo "Gonz" T. Duque, Duterte's fellow San Beda College of Law alumnus. Duterte supposedly believes the Duques could be trusted not to steal from public coffers because they were already wealthy. Duterte considers Francisco, who was appointed DOH secretary in November 2017, to be a man of integrity, who has never committed anything criminal himself, Roque added.
In 2004, Duque was accused of diverting over PHP 500 million from the Overseas Workers Welfare Administration (OWWA) to buy PhilHealth cards, which were distributed for free. The political opposition perceived it to be an illegal use of public funds for the presidential campaign of Gloria Macapagal-Arroyo, given that her presidency-by-succession was about to end. The cards reportedly bore her picture and the name of her administration's healthcare program: Greater Medical Assistance, or GMA. Duque, however, claimed the fund transfers from OWWA were made in 2005, almost a year after the elections. In 2011, Duque and Macapagal-Arroyo were among those charged with plunder because of the PhilHealth-OWWA issue. Then Ombudsman Conchita Carpio-Morales dismissed the case in 2012 due to lack of merit.
Duque is one of several Duterte appointees closely associated with Macapagal-Arroyo and the connection has a "historial" character. Duque is the son of Francisco Duque Jr. who was once president of the Philippine Medical Association, and was appointed Secretary of Health by President Diosdado Macapagal, Gloria's father. Francisco Jr. resigned from Macapagal's cabinet in 1963 to run for governor of Pangasinan. Diosdado personally campaigned for the elder Francisco, who served one term as governor, from 1964-1967.
Echoing their fathers' ties, Macapagal-Arroyo appointed the younger Francisco to serve as her Secretary of Health, a position he held from 2005 to 2009. Duque's last appointment under Macapagal-Arroyo was as chairman of the Civil Service Commission, a position he held until 2015, during the Benigno "Noynoy" Aquino III administration.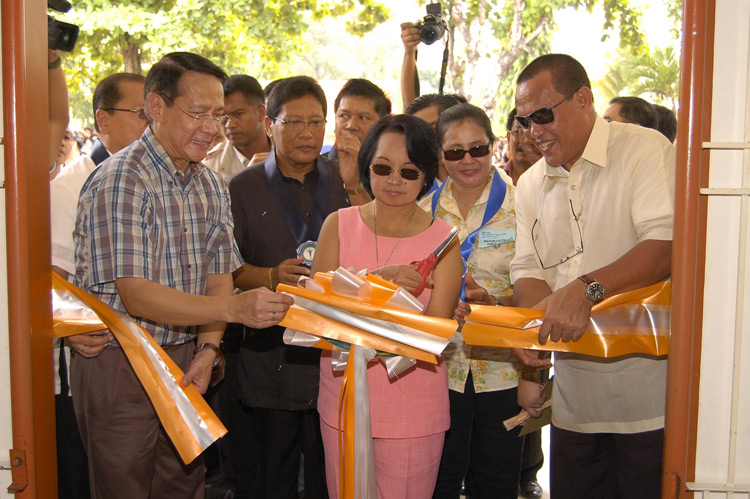 President Gloria Macapagal-Arroyo leads the ribbon cutting ceremony of the Manticao Provincial Hospital Wednesday on Sept. 9, 2009) in Manticao, Misamis Oriental. Assisting the President are Health Secretary Francisco Duque III (left) and Gov. Oscar Moreno of Misamis Oriental. (PNA/NIB photo by R.C.Manabat)
Duque's first appointment under Duterte was as chairman of the Government Service Insurance System. His term started in March 2017, abruptly ending in October of the same year when he replaced Paulyn Ubial as DOH secretary. Before him, his brother Gonzalo Duque, the president's friend, was appointed commissioner of the Social Security Commission in 2016.
In July 2019, Gonzalo was appointed administrator of the Philippine Coconut Authority. At the time of his appointment, Health Secretary Duque was facing accusations that he allowed the PhilHealth office in Pangasinan to lease a building owned by the Duque family's Educational and Medical Development Corporation, of which the siblings in government held shares. Gonzalo was replaced as PCA head by Benjamin Madrigal Jr., former Chief of Staff of the Armed Forces of the Philippines under Duterte, on January 28, 2020. Gonzalo does not currently hold any position in government.
Other persons connected to Gonzalo who became Duterte appointees include the late Nestor Espenilla, Gonzalo's brother-in-law, who was Central Bank governor from 2017 until his death in February 2019, and Presidential Commission on Good Government commissioner John Agcaoili Agbayani, reportedly Gonzalo's former chief of staff.
Another Duterte appointee with a relatively little-known Duque connection is Esther Margaux "Mocha" Uson. In several of his columns in the Sunday Punch, "Pangasinan's News Leader," Gonzalo described Uson as his baptismal goddaughter, or, in more colloquial terms, his inaanak. Both the Usons and the Duques are from Dagupan, Pangasinan. Gonzalo was a close friend of Uson's father, the late Judge Oscar Uson, as well as Uson's mother, Dr. Esterellita Uson, a former head of the pediatrics department of the Region I Medical Center in Dagupan.
Mocha Uson, chastised numerous times for spreading fake news usually via her eponymous Facebook page, has proven to be as seemingly untouchable as her ninong's brother. She has held three different positions in the Duterte administration, with her current position being Deputy Administrator for Membership Promotion, OFW Family Welfare, and Media Relations of the Overseas Workers Welfare Administration.
Meanwhile, Uson's childhood playmate, Gonzalo's daughter, Ma. Florinda Princess "Pebbles" Espenilla Duque is currently Director IV (head of agency) of the Bureau of Communications Services (BCS), an attached agency of the Presidential Communications Operations Office (PCOO). She was earlier appointed Director III at the PCOO for New Media and Special Concerns in July 2016. She is involved in the PCOO-Philippine Information Agency's Dismiss Disinformation campaign, which aims to combat alleged fake news against the Duterte administration, such as the purportedly false claims about the War on Drugs. According to her public LinkedIn profile, Pebbles Duque is a long-time "new media strategist."
A series of articles on pro-Duterte bloggers written by Natasha Gutierrez in Rappler in August 2017 said Pebbles Duque's main role in PCOO was "to organize and mobilize bloggers." According to Gutierrez, the "workflow" between the pro-Duterte bloggers and the PCOO went thusly: "bloggers see negative sentiment about Duterte or the administration online, they alert [Pebbles] Duque, Duque relays the message to the PCOO officials, and the PCOO officials decide what to do." Duque was further described as "the direct link between bloggers and PCOO officials on a day to day basis, making her valuable to [PCOO Secretary Martin] Andanar." Andanar "uses her because she is friends with the bloggers from the [2016] campaign [during which] she helped unite online supporters," according to one of Gutierrez's insider sources.
According to an article by Rie Takumi, titled "Mocha Uson and Duterte's Social Media Warriors: (Re)framing the President's Words," published on June 14, 2016 in GMA News Online, Pebbles Duque was "Duterte 2016 social media lead coordinator." Her group identified point-persons responsible for campaigning for Duterte on social media in Luzon, Visayas, Mindanao, and among the Overseas Filipino Workers, it added.
Pebbles Duque is now heavily engaged in public relations regarding the government's responses to the COVID-19 pandemic. Duque in fact gave a press briefing during the launch of the online government COVID-19 portal, https://www.covid19.gov.ph.
Given all of the above, Roque's explanation of the ties that bind Secretary Duque and the president seems to be more multifaceted than the presidential spokesperson makes it appear. To be fair, there are other families or clans with multiple Duterte appointees. Take the Vega-Quitain clan, for instance, the most politically prominent members of which are direct descendants of wartime Davao deputy governor Pedro C. Quitain.
Undersecretary Jesus Melchor "Boy" Vega Quitain, former Davao City councilor and city administrator (and the speechwriter of the scripted portions of Duterte's state-of-the-nation addresses) is OIC Special Assistant to the President, the position formerly held by now Senator Christopher "Bong" Go. Quitain's wife, Anita Bumpus-Quitain, is an SSS commissioner. Elpidio Jumalon Vega, supposedly a nephew (perhaps more accurately, a cousin) of Boy Quitain, according to Pia Ranada in an October 1, 2018 Rappler article, is Duterte's Government Corporate Counsel. It has not been publicly reported whether newly appointed DOH undersecretary Dr. Leopoldo Jumalon Vega, former Southern Philippines Medical Center (SPMC) chief, and his daughter, Assistant Secretary Beatrice Aurora A. Vega of the Office of the Special Assistant to the President, are also related to Boy Quitain.
Incidentally, Boy Quitain is a member of the task force created by Duterte, upon the prompting of Senator Go—chair of the Senate Committee on Health and the Senate Panel of the Joint Congressional Oversight Committee on the National Health Insurance Program—to investigate the current PhilHealth scandal. Among the things the task force may look into is why SPMC received the highest amount of funds from PhilHealth's Interim Reimbursement Mechanism for COVID-19 patients, PhilHealth's legal counsel, Roberto Labe Jr., disclosed during a Senate hearing on August 11, 2020 on the alleged PhilHealth anomalies. During a House hearing on August 12, 2020, Israel Francis Pargas, PhilHealth senior vice president for health finance, explained that the IRM was computed based on historical claims in 2019, and SPMC topped the list of highest claims for that year. Perhaps the various investigators can look into how prudent this allocation system is.
Senator Go, in an August 5 press release, said that the president has instructed him to "talk like an opposition" when the subject is corruption. Hopefully the PhilHealth scandal investigators who are close to the president will act like opposition members as well, even if those who will be investigated are also counted among the president's friends.
Will the pandemic-weary citizenry get the impartiality it deserves? Unlike the Quitains and the Vegas of Davao City, it seems that the Duques of Dagupan, Pangasinan are more closely linked to the machinery that helped propel Duterte to the presidency and continues to help him maintain public support, especially during these very trying times. Perhaps Francisco Duque III's continued tenure as health secretary is a consequence of his connection to this network, which may still help elect whomever Duterte anoints to be his successor.

The
views in this commentary are those of the author and do not necessarily reflect the
views of VERA Files.

(Miguel Paolo P. Reyes is a university research associate at the Third World Studies Center, College of Social Sciences and Philosophy, University of the Philippines Diliman. Joel F. Ariate Jr. provided research assistance.)