A Facebook (FB) page posted an extract from a three-year-old video and made it look like dermatologist Vicki Belo is promoting a product called Angel Underarm Whitening Serum. This is fake. 
Angel Underarm Whitening Serum, which claims to instantly whiten underarms, is not on the Food and Drug Administration's (FDA) list of verified cosmetic products. 
Reverse image search and cursory search show that Belo actually endorsed Angel Whitening Laser, a laser-based procedure which can whiten and smoothen the arms, underarms, groin, knees, and elbows. It's not the same as the serum.
The content of the fake one-minute advertisement is a snippet of a 43-minute video by vlogger Camille Co dated June 22, 2019, where the dermatologist was asked about skincare and plastic surgery procedures.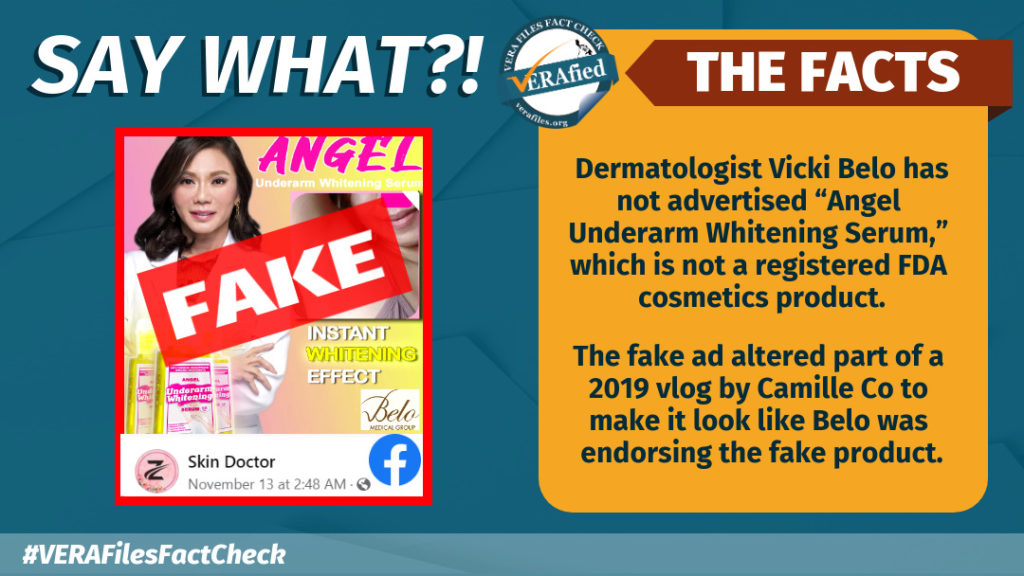 To make the ad look legitimate, part of the vlog was edited to read as "Angel Whitening Serum" instead of "Angel Whitening Laser."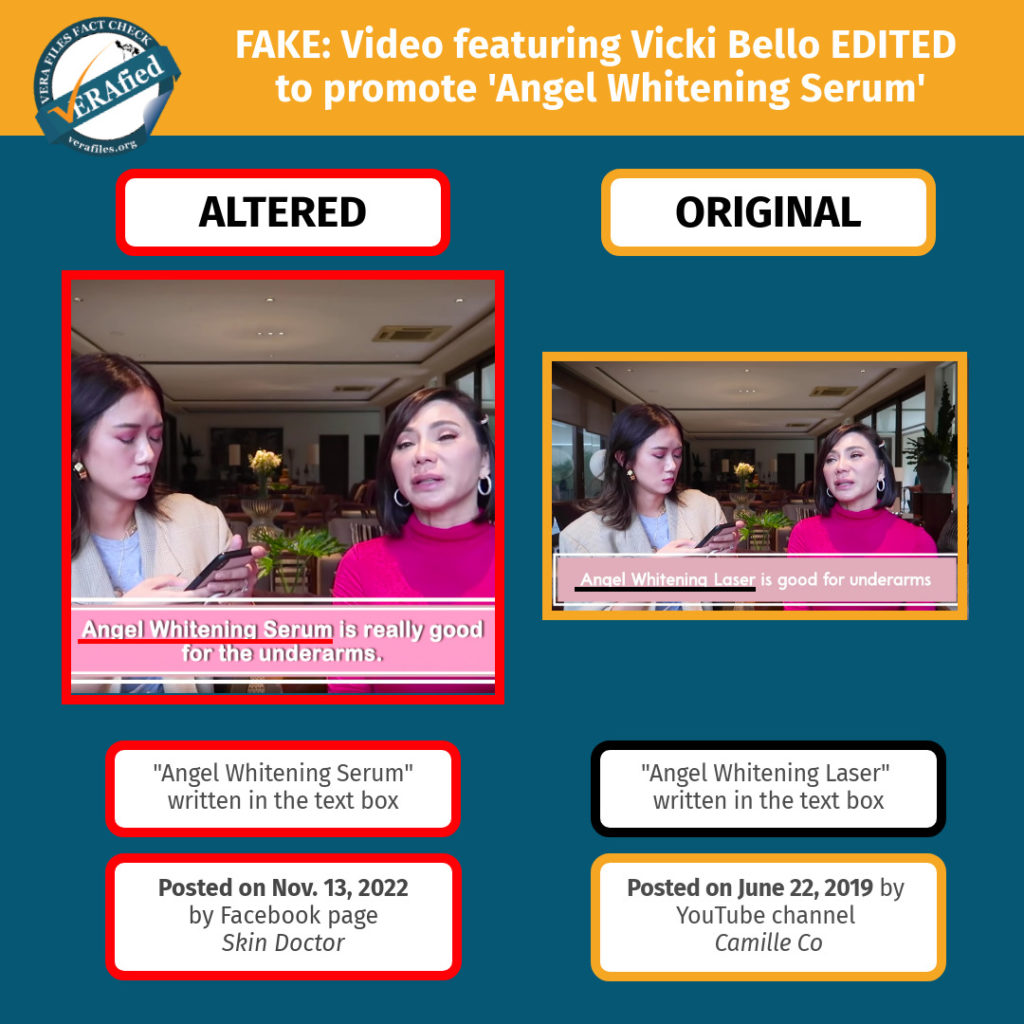 A graphic briefly flashed in the fake ad showed Belo allegedly advertising the dubious whitening serum. The dermatologist's portrait was captured from an official profile picture dated Oct. 7, 2020.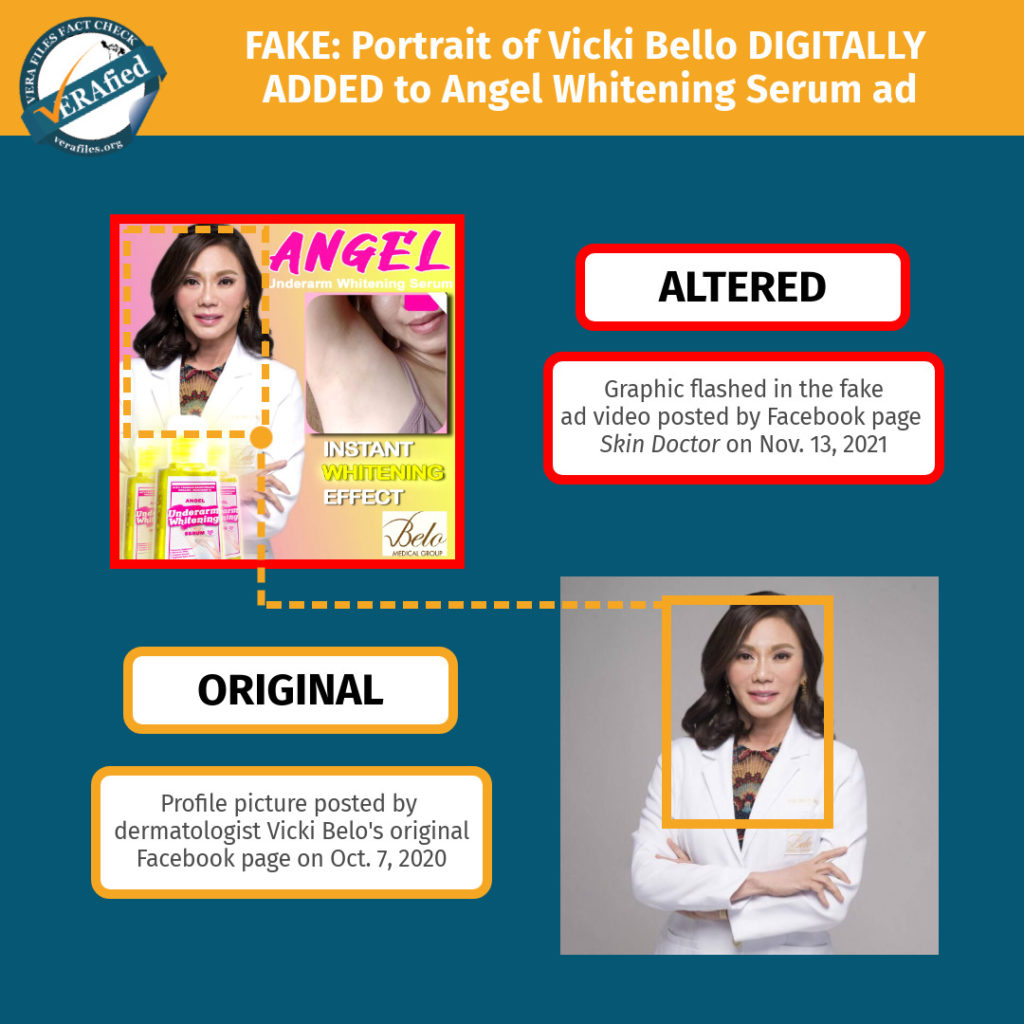 Skin Doctor (created on Oct. 19), posted the fake ad on Nov. 13. It appeared two days after Belo Essentials, the dermatologist's official skincare product shop, endorsed an FDA-registered whitening cream.
The fake ad garnered 281 reactions, 61 comments, and 43,000 views. Netizens in the comments section, who thought the ad was true, asked how to buy the bogus product.
Have you seen any dubious claims, photos, memes, or online posts that you want us to verify? Fill out this reader request form or send it to 'VERA, the truth bot' on Viber.
(Editor's Note: VERA Files has partnered with Facebook to fight the spread of disinformation. Find out more about this partnership and our methodology.)