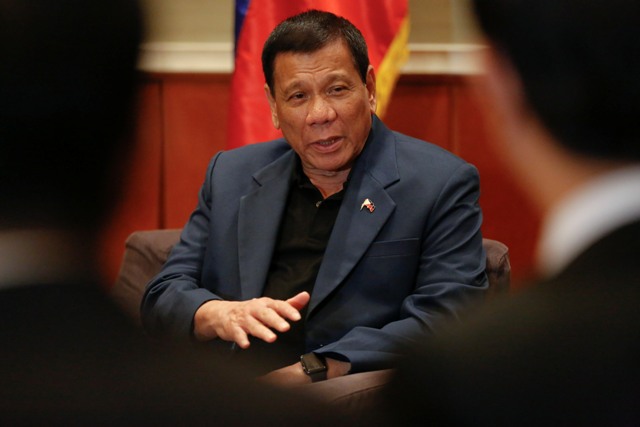 FIRST, it was the enormity of the drug menace that prompted President Rodrigo Duterte to ask for "a little extension." Now, he seems to be waffling on yet another promise: stamp out scalawags in public office.
On multiple occasions, Duterte committed to end corruption in government.
His latest statement was said before the Filipino community in Beijing at the Grand Hyatt Hotel on Oct. 19.
"I assure you, I give you my word…there will be no corruption.

'Yung mga corruption, corruption. I guarantee you never hear a whisper 'yung — hindi ko type iyan."
(Source: Malacanang Press Release, Grand Hyatt Hotel, Beijing, China, Oct. 20, 2016)
He went on to encourage his audience to call 8888, the hotline where anyone can report erring government officials or employees. He also announced there will be a one-hour program on the state-owned People's Television Network (PTV-4) where anyone can report abusive government workers.
In his first State of the Nation Address on July 25, Duterte said:
"I assure you, this will be a clean government….You know, ako maka-garantiya, 101 percent it will be clean."
(Source: 2016 State of the Nation Address, House of Representatives, July 25, 2016. Watch from 1:11:46 to 1:13:12)
FLIP-FLOP:
But earlier, on Oct. 11, during the mass oath-taking of newly appointed officials and league of municipalities of the Philippines, he said he could no longer stop but only minimize corruption in government.
"If I could just get a fraction of the corruption sa ating gobyerno, mukhang okay na. I cannot erase all. I cannot stop it. But I can minimize it…..Kasi hanggang ngayon ho, meron pa rin eh. And parang I feel it as an insult really. Kasi 'yan ang pinangako ko. One is I will stop corruption. That was the only line that was repeated by my mouth all the months of the campaign."
(Source: Mass Oath-taking of Newly Appointed Officials and League of Municipalities of the Philippines, Rizal Hall, Malacanang Palace, Oct. 11, 2016. Watch from 3:54 to 4:18)
In his message to Filipinos in China, he said corruption, drugs, and criminality have made Filipinos suffer. Duterte ended his speech saying he wants to be remembered as a president who "tried his best" to give his countrymen a clean government.