In a video posted online, a Filipino doctor endorsing a mineral drops product claimed that pork fat intake does not cause hypertension or high blood pressure. This needs context.
YouTube channel IONIQUE MINERALS PHILIPPINES first uploaded the video of a doctor named Renato "WaterDok" Paragas on Sept. 14. This was posted on Facebook on Oct 13 and continues to draw views. Paragas was correct in saying that dehydration causes hypertension, but his claim that eating pork fat does not lead to hypertension needs context.
Cursory search shows that Paragas works for VER1REV Enterprises (Ionique Minerals Philippines), which distributes concentrated mineral drops. He finished his residency in pediatrics at the Armed Forces of the Philippines Medical Center in Quezon City in June 1987.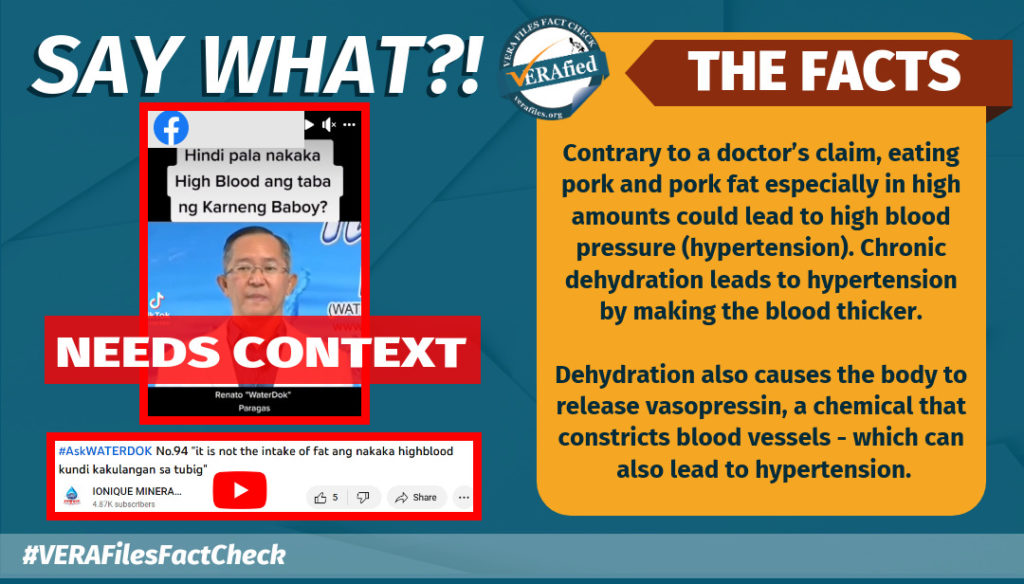 Too much meat and fat consumption leads to high blood pressure
In the video, Paragas said that eating pork and beef – especially pork fat – does not cause hypertension. 
Pork contains a lot of saturated fat, cholesterol, and sodium, depending on the type of cut. These three are listed as risk factors for hypertension, according to the World Health Organization, Cleveland Clinic, and the U.S. Centers for Disease Control and Prevention.
"A high intake of red meat and animal fat has been shown to be associated with higher rates of hypertension and other health problems such as cancer and cardiovascular disease," Jenna Sherman, program manager and researcher of Meedan's Digital Health Lab, explained.
Dehydration does cause hypertension
Paragas also claimed that dehydration or lack of water in the body can lead to hypertension by making the blood thicker or more viscous. This is true; this finding was also observed in a 2004 article published in the Aviation, Space, and Environmental Medicine journal.
"Dehydration for an extended period of time can also lead to greater blood viscosity (thicker blood)… Thicker blood can, in fact, lead to higher blood pressure," Sherman said. 
Sherman, who also works as a researcher for Harvard T.H. Chan School of Public Health, added that dehydration also causes hypertension by constricting the blood vessels. A 2014 article published in the Journal of Cerebral Blood Flow & Metabolism reached the same conclusion. 
"When the body's cells lack water, the brain sends a signal to the pituitary gland to secrete vasopressin, a chemical that causes constriction of the blood vessels. This causes blood pressure to increase which leads to hypertension," Sherman said. 
The Facebook Reel got a total of 40,500 reactions and 32,000 shares, while the YouTube video got 115 views.
Have you seen any dubious claims, photos, memes, or online posts that you want us to verify? Fill out this reader request form or send it to 'VERA, the truth bot' on Viber.
(Editor's Note: VERA Files has partnered with Facebook to fight the spread of disinformation. Find out more about this partnership and our methodology.)