A Facebook (FB) post has resurfaced a previously debunked claim that the Philippines was the second richest country next to Japan during the time of the late dictator Ferdinand Marcos.
Data from the World Bank has shown that the Philippines never ranked second to Japan between 1965 and 1986, when the former president ruled the country, including almost 10 years under martial law.
The Sept. 22 FB post of a netizen carried a photo saying: "We believe Marcos is the best President. If I stole money from the people, why the Philippines is (sic) the richest country second to Japan?"
On March 18, 2020, fact-checking organization Agence France-Presse debunked an identical claim. In its report, Emmanuel De Dios, a professor at the University of the Philippines School of Economics, said when Marcos came to power in 1965, the Philippines' gross domestic product (GDP) was fifth behind Japan, Singapore, Malaysia, and Sri Lanka.
De Dios added: "The end of Marcos's rule saw the country experience its worst recession in post-war history."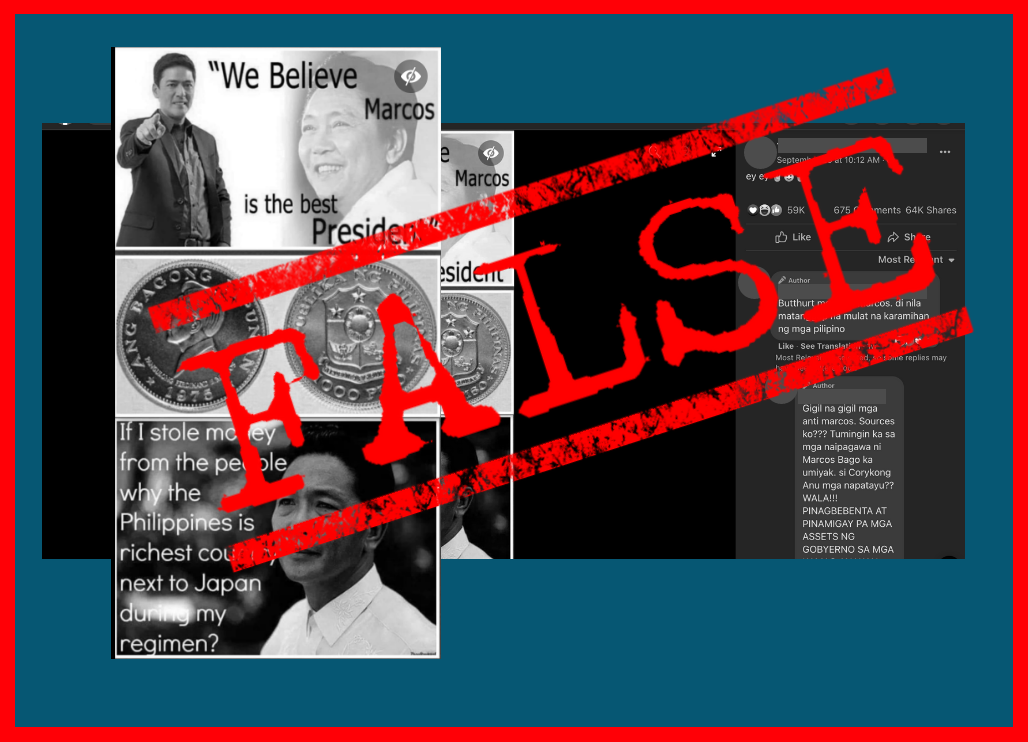 The post makes two more inaccurate comparisons of the budget and infrastructure projects during the Aquino and Marcos administrations.
False comparison between budgets of Cory Aquino and Ferdinand Marcos
A comment of the author in Filipino said: "MAGKANO BUDGET NIA DUN?? 1 TRILLION PONDO NIA IN 6 YEARS.. MAS MALAKI PA SA GINASTOS NI MARCOS NI 20YEARS NA 400BILLION LNG NAPUNO NA NG IMPRASTRAKTURA ANG PILIPINAS." This is wrong.
(Translation: How much is her [Cory Aquino] budget? One trillion is her budget in six years… Higher than what Marcos spent in 20 years with 400 billion, he filled the Philippines with infrastructures.)
In a 2019 Rappler fact check that debunked a similar comparison, the annual expenditure of Marcos amounted to P600.778 billion, not around P400 billion as the publisher of the false recirculating post stated. On the other hand, Aquino's budget reached P1.364 trillion.
But Department of Budget and Management (DBM) Secretary Tina Rose Canda said in an email to VERA Files Fact Check that the inflation on a year to year basis may be a factor in the difference between the two presidents' budgets.
Misleading claim that Aquino 'failed to match' Marcos' infrastructure projects
The publisher further said in the comment section: "BAGO KAYU MAGHUSGA KAY MARCOS AT BAGO NIO SIA LAITIN DAPAT IPOST NIO DITO KUNG ANU BA MGA NAGAWANG IMPRASTRAKTURA NI CORY AQUINO NUNG PUMALIT SIA KAY MARCOS. NATAPATAN NIA BA MGA PROYEKTO NI MARCOS?? MAY NAIPAGAWA BA SIA KAHIT ANU??? ILABAS NIO NGAYUN BAGO KAYU MAGPATUTSADA JAN." But this misleads.
(Translation: Before you judge Marcos and before you mock him, you should post here what infrastructures Cory Aquino built when she replaced Marcos. Was she able to match the projects of Marcos? Was she able to build anything? Put it out before you make quips [about Marcos].)
Canda, who is an expert in government budgeting, explained that the infrastructure accomplishments of Marcos and Aquino "cannot and should not be compared to each other" because the former had 20 years while the latter had six years.
"Second, remember the differences in governance. One is secretive with minimal transparency and the other started transparency in government transactions and freedom of information," she added.
Last May, VERA Files Fact Check also flagged similar claims about the Marcos regime. University of the Philippines economist JC Punongbayan explained that the Philippines was, in fact, dubbed the "sick man" of Asia during the time because its income plateaued while the country's external debts ballooned and underemployment spiked.
(See VERA FILES FACT CHECK: PH NOT richest country in Asia during Marcos era)
The false post was uploaded on Sept. 22, just a day before the commemoration of the Martial Law declaration in the Philippines. It has gained more than 69,000 shares and 59,000 reactions on FB.
(Editor's Note: VERA Files has partnered with Facebook to fight the spread of disinformation. Find out more about this partnership and our methodology.)
Have you seen any dubious claims, photos, memes, or online posts that you want us to verify? Send us a message here or here.