A video on Facebook (FB) erroneously claims the Supreme Court (SC) has already dismissed the cases seeking to disqualify and void the candidacy of presumptive president Ferdinand "Bongbong" Marcos Jr.
On May 22, a 10-minute video was posted with the title: "JUST IN: FINISH NA! SUPREME COURT PABOR kay BBM/KAMPO ni LENLEN NATARANTA SINOB0AN (sic) ng EBDENSYA (sic) IYAK (JUST IN: It's finished! Supreme Court voted in favor of BBM; [Vice President Leni Robredo's] camp panicking, served with evidence, cried)"
Past the two-minute mark, the following text appeared: "VICTORY! BINA-SURA (sic) NA LAHAT (Junked all of it)." In support of its claim, the video cited the SC not granting a temporary restraining order to stop the canvassing of votes for the presidential and vice-presidential elections.
The SC has yet to decide on the outcome of these petitions. No official document or legitimate news report has mentioned whether or not the High Court has decided on the cases. The SC is currently on a writing break and will meet again en banc next month.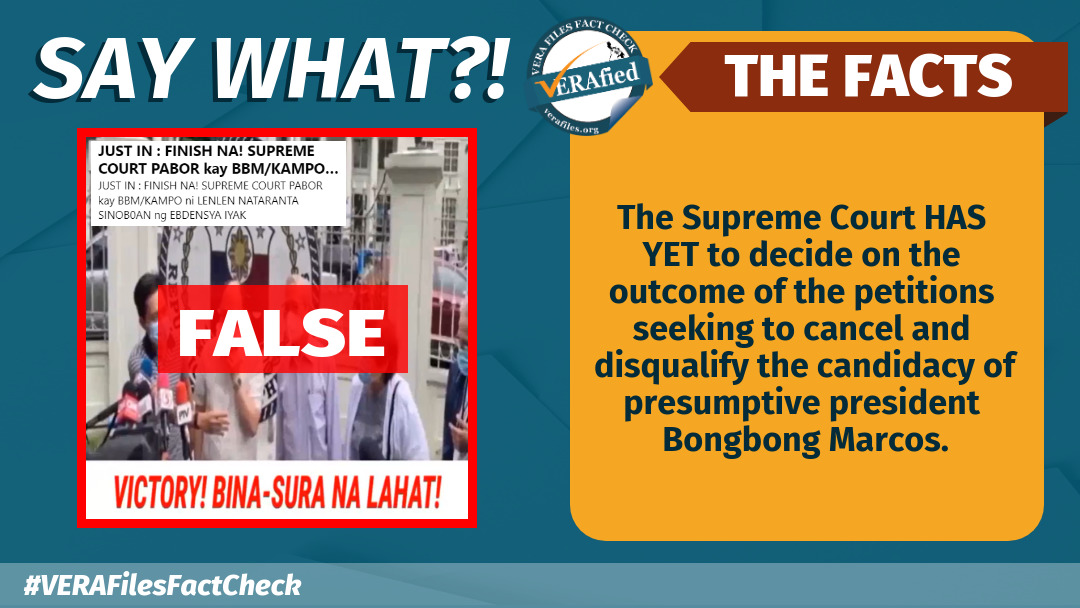 In a May 19 en banc order, the SC requested the Commission on Elections (Comelec) and the Marcos camp to comment on the petition calling for the cancellation of Marcos' certificate of candidacy. The High Court likewise asked both chambers of the 18th Congress to comment on the petition to not proceed with vote canvassing temporarily.
The two chambers resume their separate sessions today, May 23, and will begin canvassing votes for president and vice president. Senate President Vicente Sotto III said in a May 21 DWIZ interview that the canvassing of votes is a "constitutional mandate," and he expects Congress to proclaim the winners a few days after canvassing starts.
The cancellation and disqualification petitions against Marcos, earlier dismissed by the Comelec, were elevated to the Supreme Court last week. Should the SC rule in favor of these petitions before proclamation, the candidate with the second highest number of votes will be declared president, according to the petitioners, citing a previous ruling of the High Court.
FB page Bbm&Sara2022 (created on March 15, 2022) published the video, and gained more than 292,000 views. It has garnered more than 18,000 reactions, 1,700 comments and 2,200 shares.
Have you seen any dubious claims, photos, memes, or online posts that you want us to verify? Fill out this reader request form.
(Editor's Note: VERA Files has partnered with Facebook to fight the spread of disinformation. Find out more about this partnership and our methodology.)