A Marcos-Duterte fanpage falsely claimed in a post online that the Sexual Orientation, Gender Identity and Expression (SOGIE) Equality bill will disallow the labeling of a newborn's sex, introduce same-sex marriage, and defrock clergymen who disallow marriage between members of the LGBT community, among others.
Five days before the Senate held its second hearing on the proposed measure, Facebook page Bongbong Marcos-Sara Duterte 2022 published on Aug. 30 a photo that states the SOGIE Equality bill — which seeks gender equality — will "undercut" several freedoms.
In its caption, the page listed down several "provisions" it claims are under the said bill:
Pag nilait mo ang lgbt kakasuhan ka at pagmumultahin ka ng 500,000pesos + makukulong ka ng 6years and 6months (If you insult the LGBT, a case will be filed against you and you will be made to pay a fine of P500,000 + you will be imprisoned for 6 months to 6 years)
Di mo pwedeng ilagay sa birth certificate ng kapapanganak ng bata ang sex nito until he/she reach the age of 12 (You cannot put a newborn's sex in his/her birth certificate until he/she reaches the age of 12)
Pwde na maghalikan sa public ang mga lgbt (LGBT can now kiss in public )
Kung sino man ang tututol na sila ay magpakasal ay pwde maalis ang karapatan mo bilang Pari o kaya Pastor (Whoever objects to their marriage can be stripped of their rights as a priest or pastor)!!
Two are downright false, while the other two are misleading.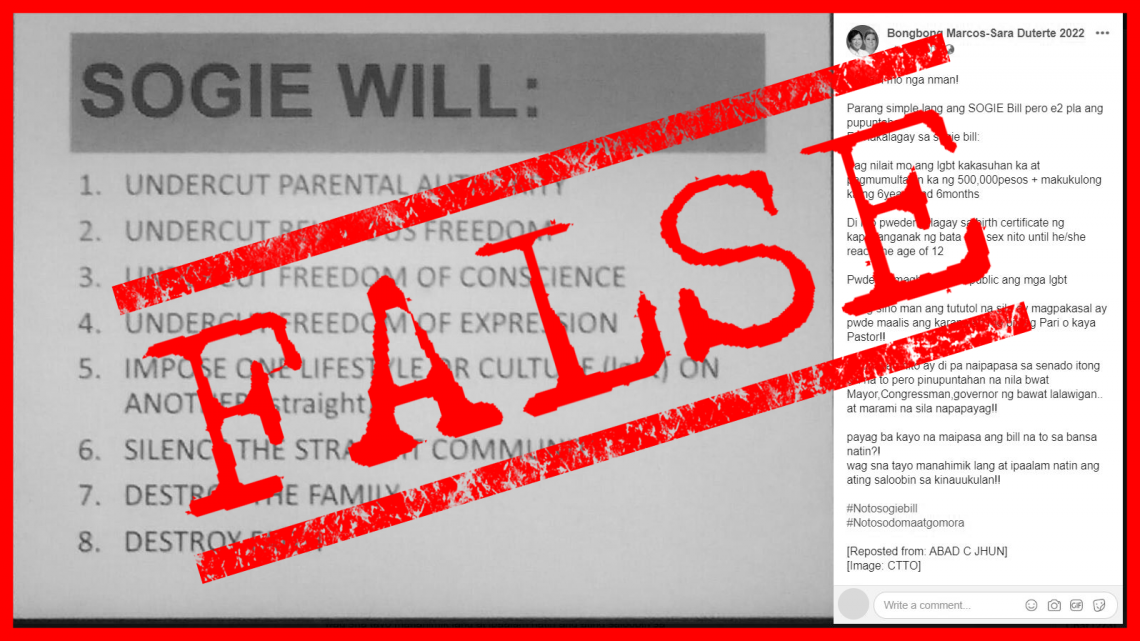 The four versions of the SOGIE Equality bill in the Senate — Senate bills 159, 689, 412, and 315 — and their counterpart in the House of Representatives, House Bill 4982, do not have any provision allowing same sex marriage. It also makes no mention of defrocking priests or pastors.
The bills do not have any provision stating that birth certificates should not indicate the sex of a child. This false claim might have been based on a statement of gender equality advocate Naomi Fontanos during an Aug. 20 Senate hearing on the SOGIE bill. In response to a question raised by Sen. Nancy Binay, Fontanos said a child should not be assigned its sex at birth because it is only "predictive."
Bongbong Marcos-Sara Duterte 2022's claim that the bill now lets members of the lesbian, gay, bisexual and transgender community kiss in public is misleading. There is no law prohibiting public displays of affection in the country.
Lastly, the penalties listed by the Facebook page for "insulting" members of the LGBT community are inaccurate.
None of the current versions of the bill set "P500,000+" as the fine for violators. The measures filed in the Senate and the House range from P100,000 to P250,000, and P250,000 to P500,000, for individuals who discriminate against persons on the basis of their sex, gender or SOGIE.
Prison time for violators is also not "6 years and 6 months," as the Facebook page falsely claims. Prison time in the proposed bills vary depending on the gravity of the discrimination, running from one year to six years, two years to six years, and six years to 12 years.
Bongbong Marcos-Sara Duterte 2022's post with false and misleading claims on the SOGIE bill could have reached over 2.4 million social media users. Its top traffic generators are Facebook page Bongbong Marcos-Sara Duterte 2022, and Facebook groups Tulfo Brothers Worldwide, (vf)DDS/ DIEHARD DUTERTE SUPPORTERS.
Bongbong Marcos-Sara Duterte 2022 was created May 11, 2018. #