As more cases of the new coronavirus disease (COVID-19) turned up in several countries this week, a video of a person holding and smelling a product on a grocery shelf is circulating on social media and made to appear as an "attempt to spread the virus".
Facebook (FB) page CoronaVirus uploaded the misleading 13-second video on Feb. 6 around 4:30 p.m. Manila time, and wrote as its caption, "Inhuman Act: Virus Infected Person Spits On Packaged Drinks At A Grocery In An Attempt To Infect Others #Coronavirus #inhumaact (sic)." The clip shows a hoodie-wearing individual repeatedly drawing a product to his/her face and then putting it back on the grocery shelf.
There is no hint as to where the video was taken, but in the posts, people just describe the person as a Chinese man.Tracing back to the earliest copy of the video online, there is no information that the person is positive for COVID-19. The blurry clip likewise makes it difficult to determine what the person was doing to the grocery items.
VERA Files Fact Check tracked down the earliest available copy of the video online and found it was uploaded by a Twitter user the same day at 12:32 p.m. Manila time. The netizen wrote a caption, translated from Mandarin, reading: "#WuhanPneumonia Ants kill each other." It received 24 retweets and 36 likes.
Among those that retweeted it is a Twitter account with a much larger following. The reshare, done at 1:44 p.m. the same day, has received over 2,500 retweets and more than 2,200 likes so far. This user, however, was more blunt and antagonizing in his assumptions about the identity and motivations of the person in the video.
It read: "Caught on cam! A man, likely infected with the #coronavirus, spits on some packaged drinks at a grocery store in an attempt to infect as many as possible. Their motto? If I die, you die with me."
The two Twitter posts both fail to provide enough information on the individual. It is also unclear whether the person was really spitting on the packaged drinks or not, as the video seems to have been shot from a distance.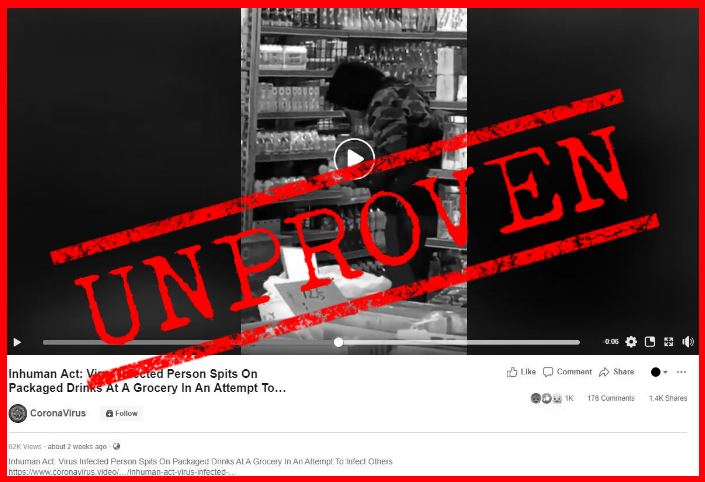 The World Health Organization in a Q&A; on its website says COVID-19 "can spread from person to person through small droplets from the nose or mouth," which happens when a patient coughs or exhales.
However, WHO says it is still "not certain how long the virus that causes COVID-19 survives on surfaces." It adds that the virus seems to behave like other coronaviruses suggesting that it may persist on surfaces "for a few hours up to several days," depending on the type of surface and temperature of the environment, among others.
"If you think a surface may be infected, clean it with simple disinfectant to kill the virus and protect yourself and others. Clean your hands with an alcohol-based hand rub or wash them with soap and water. Avoid touching your eyes, mouth, or nose," the WHO adds.
The misleading FB post has been shared over 1,900 times and has received over 1,200 reactions, and could have reached over 67,000 people. Traffic to the story largely came from the CoronaVirus page itself, and FB pages iDefend and Wuhan Coronavirus (Latest news, information & discussion).
The page CoronaVirus was created on Jan. 24. It shares all sorts of information on COVID-19, including announcements on new cases discovered in countries where infections have been reported.
COVID-19, which originated in landlocked Wuhan, China, has killed over 2,800 globally and has infected over 84,000. Second to China, which has lost more than 2,600 people to the disease, Iran has the most number of deaths at 34, according to a Johns Hopkins case tracker as of Feb. 29.
(Editor's Note: VERA Files has partnered with Facebook to fight the spread of disinformation. Find out more about this partnership and our methodology.)