As countries around the world went on high alert following the outbreak of the 2019 novel coronavirus (nCov) in China, a netizen published a false Facebook (FB) post claiming the disease has reached Boracay and Cebu.
On Jan. 22, a FB user uploaded as his profile picture a collage of screen captures of four Tweets: one is a re-share of a Jan. 21 ABS-CBN report about a 5-year-old tourist who tested positive for "coronavirus" in Cebu, with a netizen writing as its caption, "the virus is already at Boracay Island"; two other Tweets claimed there were positive coronavirus cases in Cebu province and "allegedly in Manila"; while the last one claimed that "corona virus" has "reached the Philippines."
The false post, which currently has over 5,600 shares, bore the caption: "This is alarming!" The netizen also wrote "#ctto," a shorthand for saying "credit to the owner."
The netizen's post is inaccurate and misleading.
There is no confirmed positive case of the newly-detected 2019 nCoV in the Philippines. This was clarified by Health Secretary Francisco Duque III in a Jan. 27 interview with CNN Philippines. He emphasized this in a separate press conference in Malacanang, where he also reported that the five-year-old boy suspected of having the disease tested negative.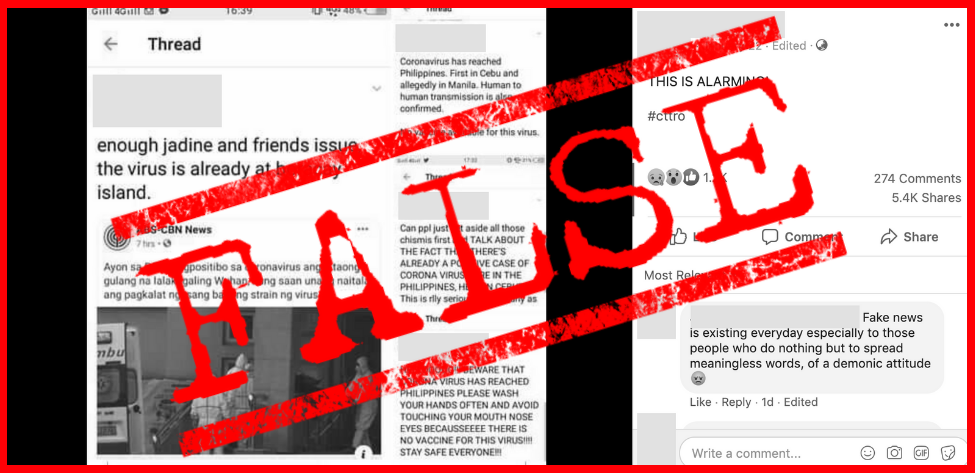 Duque said there have been 39 coronavirus-related cases reported to the Department of Health's Epidemiology Bureau and of this number, 11 are persons under investigation (PIU) and under quarantine awaiting test results. They all had travel history to China.
The health secretary also warned the public against unscrupulous groups whose agenda, he said, is to propagate infodemic. "Infodemic means the spread of false or baseless pieces of information. And let's not be party to such a propagation because otherwise, this problem, this misinformation can be more viral than the virus that we all are guarding against. So, this is an infodemic, we don't want to be party to its spread," he said.
A Jan. 24 post on the Department of Health's official FB page also advised the public to "refrain from spreading unverified information" and to source updates only from the department's official communication channels.
The netizens who published the Tweets also appeared to have a misunderstanding of what "coronavirus" is.
The new virus — identified by researchers just last Jan. 7, after looking into a string of pneumonia cases from Wuhan, China in December 2019 — is only one among many viruses under the coronavirus family. The coronavirus family, which "usually causes respiratory illness," also includes strains for the common cold, as well as severe acute respiratory syndrome (SARS) and Middle East Respiratory Syndrome (MERS), according to a World Health Organization information page.
The ABS-CBN report shown in the netizen's untrue post did not refer to a positive testing for the 2019 nCoV but for "non-specific pancoronavirus," which the report explained was a test to detect any coronavirus but does not identify its particular strain. The netizen who Tweeted about it also falsely connected the Cebu case to Boracay, which is in another province more than 400 kilometers north-west of Cebu.
The netizen's false post surfaced the same week news came out about nearly 500 passengers from Wuhan arriving at Kalibo International Airport, a popular transfer station to get to Boracay Island. An aviation official has since announced that the passengers will be sent back to China.
Three Chinese nationals at the airport who earlier showed "influenza-like" symptoms have also been cleared of the disease and released from quarantine, while one flight attendant who worked on a Wuhan-Kalibo flight and put herself under self-quarantine remains under close observation.
(Editor's Note: VERA Files has partnered with Facebook to fight the spread of disinformation. Find out more about this partnership and our methodology.)