A video showing domesticated and exotic animals being sold at a wet market falsely claimed to be in Wuhan, China, the center of the outbreak of the novel coronavirus (2019-nCoV), is making the rounds on the Web.
The six-and-a-half-minute video, which features bats, dogs, rats, snakes, cats, and other animals — some dead, some alive and encaged — was uploaded by several Facebook (FB) pages. One version of the post, published on Jan. 30 by FB page Isko Moreno Supporters, bore the title, "The Most Exotic Marketing in the World – Wuhan Market (Corona Virus)."
The video currently being spread on social media is a composite of two different clips, none of which feature locations in Wuhan, or even China.
The first four minutes and 36 seconds of the video comes from nearly five minutes of footage taken at the Langowan Traditional Market in Indonesia, uploaded as early as July 2019 on Youtube channel Jerry Mewengkang. Text reading, "Wuhan Market – Extoxic market in the world (sic)," was edited into the first few seconds of Isko Moreno Supporters video.
At the 15-second marker, the false video on FB showed a signage hanging by the window of what looks like an office within the market. It read, "KANTOR PASAR LANGOWAN," which is Indonesian for "Langowan Market Office."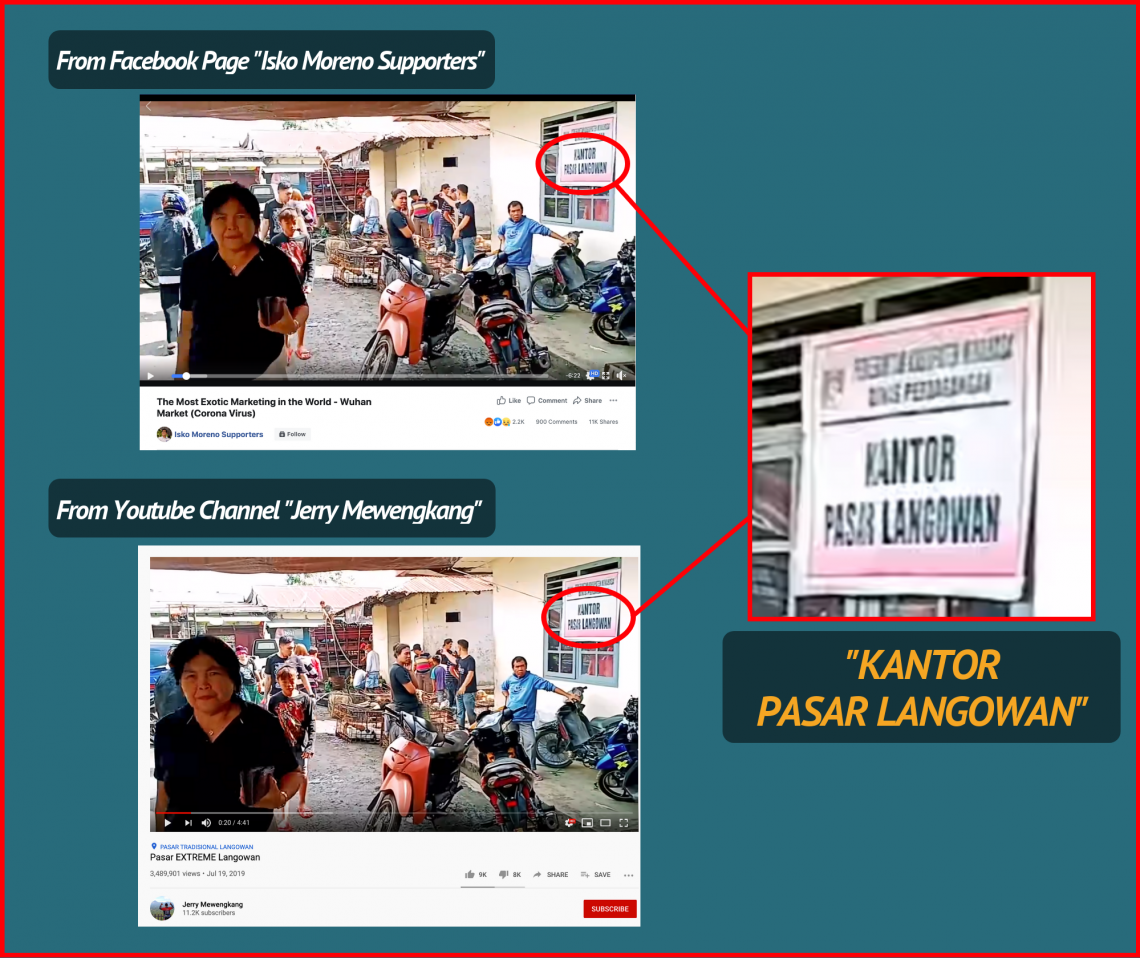 The last two minutes of Isko Moreno Supporters' clip was lifted from a nearly three-minute-long October 2016 Youtube video of a market in Tomohon city, Indonesia. A look at images of the market using Google Map's Street View shows similarities between elements found in the FB video and on Google's street view of the Tomohon Traditional Market.

The false video, through a number of FB pages, has collectively gotten over 15,200 shares, 3,200 reactions, and 1,300 comments.
Many netizens who interacted with the untrue video on Facebook expressed anger and disappointment in the comments section toward the "Chinese," criticizing them for eating the animals mentioned. Several viewers also expressed worry, believing rumors that the new coronavirus might have come from eating or getting in contact with bats.
The World Health Organization, however, clarified in a FAQ that the 2019 nCoV originating from bats is only a "possibility," as "the origin of the virus has not yet been established."
There are over 20,000 confirmed cases of the 2019-nCoV globally, and 427 people have died because of the virus. Of the fatalities, one is in Hong Kong and another in the Philippines; the rest are in China.
(Editor's Note: VERA Files has partnered with Facebook to fight the spread of disinformation. Find out more about this partnership and our methodology.)