Website City News published on Jan. 30 a false report claiming Alibaba Group founder Jack Ma gave US$5 million to a Filipino student at the China Medical University for "developing a vaccine" against the novel coronavirus (2019-nCoV).
The inaccurate story bore the headline, "Filipino student gets $5 million from Jack Ma for developing a vaccine for Coronavirus." It claimed the Chinese magnate made the donation to a Filipino named Ernest Berham to help mass-produce a "coronavirus vaccine" the latter has supposedly developed amid the 2019-nCoV outbreak in China.
No vaccine has been developed to stop the recently discovered virus, which has infected over 20,000 people globally and has killed 425 in China, one in the Philippines and another one in Hong Kong.
In a post debunking 2019-nCoV myths and rumors, the World Health Organization said: "To date, there is no specific medicine recommended to prevent or treat the new coronavirus."
While there have also been several media reports about Ma making donations for nCoV research, none reflect City News's claim that he made a special separate donation to a Filipino researcher nor to the China Medical University.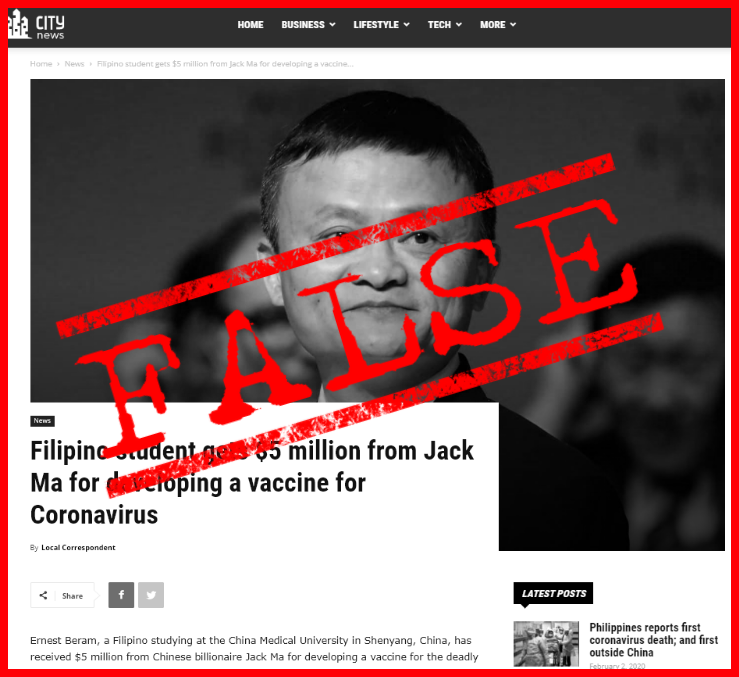 City News's inaccurate story came after Ma, China's richest man according to Forbes's 2019 China Rich List, on Jan. 29 announced a donation of 100 million Chinese yuan (about US$14.4 million, or P725.5 million) through his foundation to support the development of a 2019-nCoV vaccine.
Of the CNY100 million total, Ma's foundation announced that CNY40 million (about US$5.7 million or P290 million) will be split evenly between the Chinese Academy of Sciences and Chinese Academy of Engineering for their research and development of a vaccine, while the remaining funds will be used to "support domestic and foreign top scientific research institutions."
The thumbnail used by City News in its false report is a photo of Ma during the 2017 World Economic Forum taken by photographer David Grogan for CNBC.
The false report has reached over 80,000 people on Facebook (FB) and received more than 2,500 interactions. Top traffic generators from social media are FB groups President Duterte News, DUTERTE DEFENDERS, and DUTERTE FOR PRESIDENT 2016.
City News was created on June 24, 2019.
(Editor's Note: VERA Files has partnered with Facebook to fight the spread of disinformation. Find out more about this partnership and our methodology.)