A Facebook (FB) post giving information and safety precautions about coronaviruses is misleading readers by falsely suggesting that a positive case of the newly-discovered 2019 novel coronavirus (nCoV) was "confirmed" to be found in Cebu province.
This comes in the wake of an outbreak of the 2019 nCoV, which has killed 106 in China and infected over 4,500 in 11 countries.
On Jan. 25, several FB users published the misleading post, premised on information that "the coronavirus has reached the Philippines." It then lifted content from American health website Medical News Today about coronaviruses, specifically on identifying symptoms and treatment for infections.
Publishers of the post also speculated that there "may be" a case of the illness "somewhere in Palawan or even Manila," but said they are not "100% sure" of this information.
This is misleading, and even potentially harmful.
The Department of Health announced on Jan. 28 there remains to be no positive case of the 2019 nCoV in the country, only that there are 27 people under investigation for suspected infection.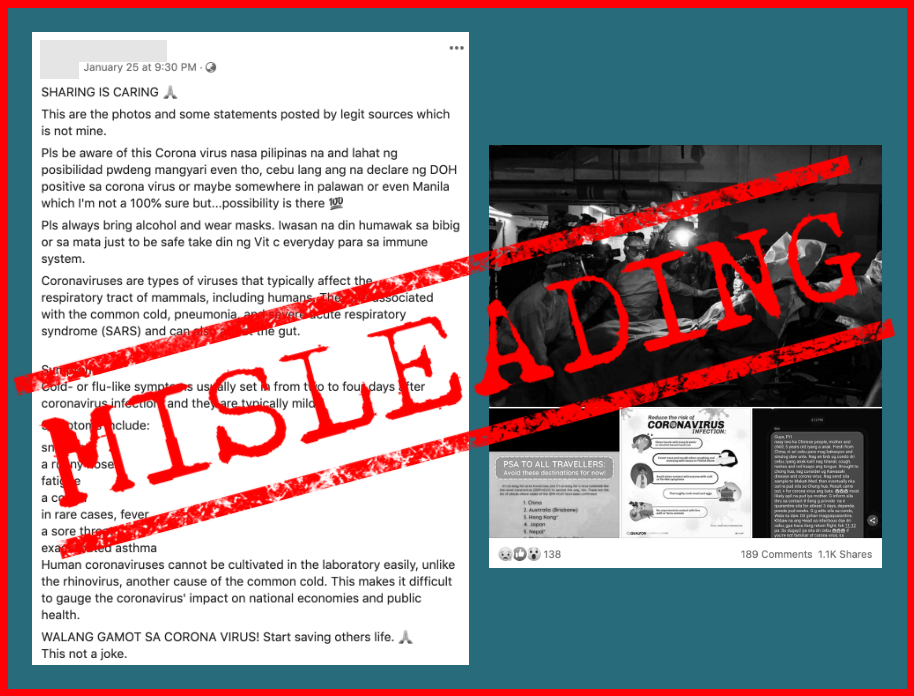 The 2019 nCoV and coronavirus are also not one and the same, as the former refers only to a specific strain of coronavirus.
A World Health Organization information page says coronavirus is a family of viruses that usually causes respiratory illness and houses many different strains, including the virus that causes the common cold, as well as other deadly coronaviruses that previously had major outbreaks such as severe acute respiratory syndrome (SARS) and Middle East respiratory syndrome-coronavirus (MERS-CoV).
Additionally, the sharing of false and unverified, baseless pieces of information may cause harm, according to Health Secretary Francisco Duque III, pointing out how, at the rate misinformation is spread, it may be going more viral that the actual virus itself.
In a media briefing on Jan. 27, Duque advised the public to not propagate infodemic: "Infodemic means the spread of false or baseless pieces of information. And let's not be party to such a propagation because otherwise, this problem, this misinformation can be more viral than the virus that we all are guarding against. So, this is an infodemic, we don't want to be party to its spread," he said.
The misleading post also carried a photo set featuring four screengrabs. These include
a Jan. 22 The New York Times photo of the first confirmed 2019 nCoV patient in Hong Kong;
a public advisory about destinations with suspected and confirmed cases of the 2019-nCoV that travelers should avoid, which appears to have been published and since deleted by travel FB page WindowSeat.ph;
an infographic advisory on 2019 nCoV published by FB page of business process outsourcing company Qualfon Cebu; and
an FB Messenger message claiming a 5-year-old child in Cebu tested positive for "coronavirus."
The last one appears to refer to the case of a five year-old Chinese kid from Wuhan city in China — the suspected origin of the 2019 nCoV — who arrived Jan. 12 in Cebu with his mother.
The kid initially tested positive of a "non-specific pancoronavirus," which tests if a person has coronavirus but does not identify which strain. He was later cleared of the disease while his mother did not show symptoms of the virus.
Several netizens, instead of just sharing the misleading post, republished the claims as a completely new post. As of writing, four iterations of the post flagged by VERA Files Fact Check have been shared collectively by over 1,700 FB users.
(Editor's Note: VERA Files has partnered with Facebook to fight the spread of disinformation. Find out more about this partnership and our methodology.)