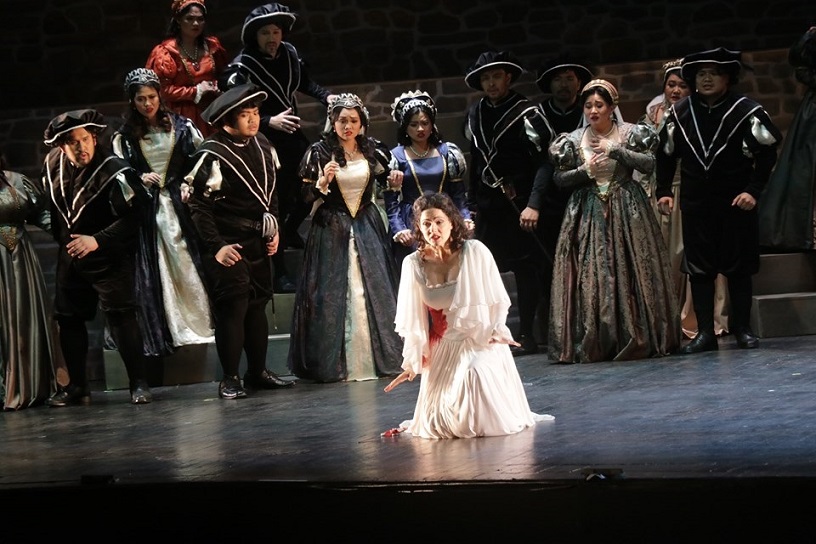 The Mad Scene of soprano Melody Leloudjian. Simply well-nuanced.
Donizetti's Lucia di Lammermoor — first performed in 1835 in Naples, Italy — had a triumphant return at the Cultural Center of the Philippines where it was last seen in Pilipino version in 1976.
Friday night amidst scare of the corona virus, it was raining applause in the Act 3 Mad Scene while soprano Melody Leloudjian intoned her initial mad moments with the aria, Il dolce suono.
Descending on the huge stairs in white and eerie like a ghost figure, this Lucia wore a long train transformed by the magic of lighting into a river of blood while she toyed with the fatal dagger to the alarm of the wedding guests played by the Viva Voce ensemble. To her credit, she transformed this scene into one of her winning moments, singing and acting the mad part with realism and with good taste and using the huge stage space to her advantage.
The singing was truly focused, her dialogue with the flute never went astray and in the first part, she got a deafening applause and her first round of Bravas! before she could proceed to her cabaletta. Reaching her finale, her mad scene was truly well-nuanced and the audience reciprocated with incessant applause.
With Lucia gone, the Edgardo of Arthur Espiritu arrived only to find his loved one lifeless on a tomb.
In this finale, Espiritu sang the much-awaited Tomb Scene. As soon as he got started with the aria, Tombe degli avi miei and ending with the heart-rending tragic ending, Fra poco a me ricovero, the tenor easily conquered his audience and harvested his first round of Bravos! It literally shook the theater and it also interrupted his cabaletta. Remaining in character, Espiritu savored the applause in increasing volume and with the signal from the conductor's baton, it died down for his aria's finale.
Espiritu's Tomb Scene was indeed overpowering as his excellent singing and acting merged with great result.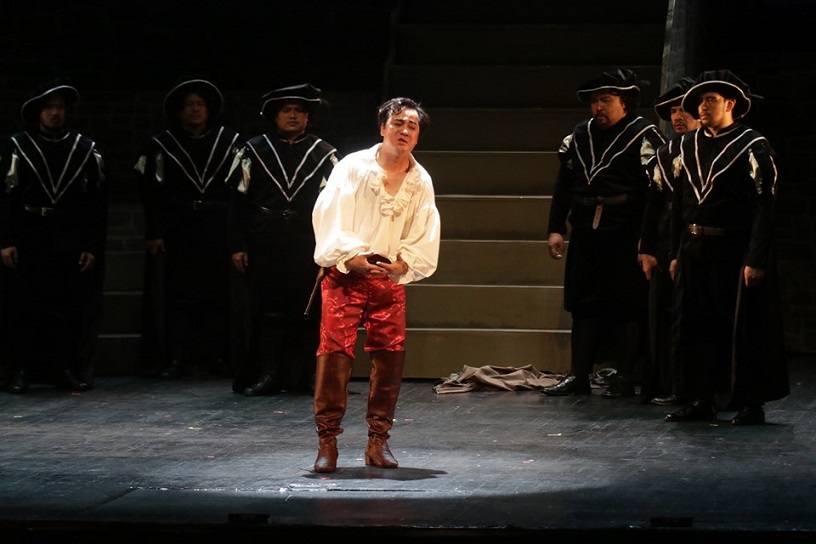 The overpowering Tomb Scene of Edgardo portrayed by Arthur Espiritu.A star tenor is born.

The Bravos sounded like it could go on forever! Nothing like it was seen on the CCP stage except perhaps on the year the great dance icon Maya Plisetskaya did her signature Dying Swan also to great audience uproar.
Posted opera convert Arnel Patawaran: "Arthur Espiritu as Edgardo was pure power on stage. His voice filled the main theater of the Cultural Center of the Philippines at last night's gala. His gestures, like a conductor's baton, elicited deep emotions from the audience, so did his facial expressions and the way he slipped completely into character."
Opera fan Joseph Uy was ecstatic: "I am so fortunate to have witnessed some of the greatest Edgardos live from Carlo Bergonzi, Placido Domingo, Luis Lima, Jose Carreras and Pavarotti (in concert version only with Sutherland). Last night, Arthur proved he had nothing to fear from all of them. His was a most heartfelt portrayal of Edgardo I have seen in my long opera going life."
Meanwhile, the Lucia of Louledjian was equally cheered.
Poet and screenwriter Frank Rivera said the soprano's Mad Scene was simply jaw-dropping. "On the other hand, Edgardo's suicide scene was something that would haunt me. It was truly tragic and hard to get over with," he added.
An opera fan and member of the ensemble named Red Digger posted on FB: "The tenor's portrayal of Edgardo will no doubt go down in history as one of the best opera moments this country has ever seen."
Neurologist and art patron Joven Cuanang said he was stunned by the voice. His singing was so heartfelt I could feel the dagger pierce my heart in his suicide scene."
UST voice major Ronald Ng found Espiritu's portrayal nothing short of superb. ""You could feel his agony in every word and note. It was heart and mind merging and, in the end, you just witnessed a thoroughly moving finale. Simply moving!"
Piano teacher Willie Aquino concluded: "No doubt about it. The Filipino tenor (Espiritu) is the star of the night."
Other members of the ensemble did just as well.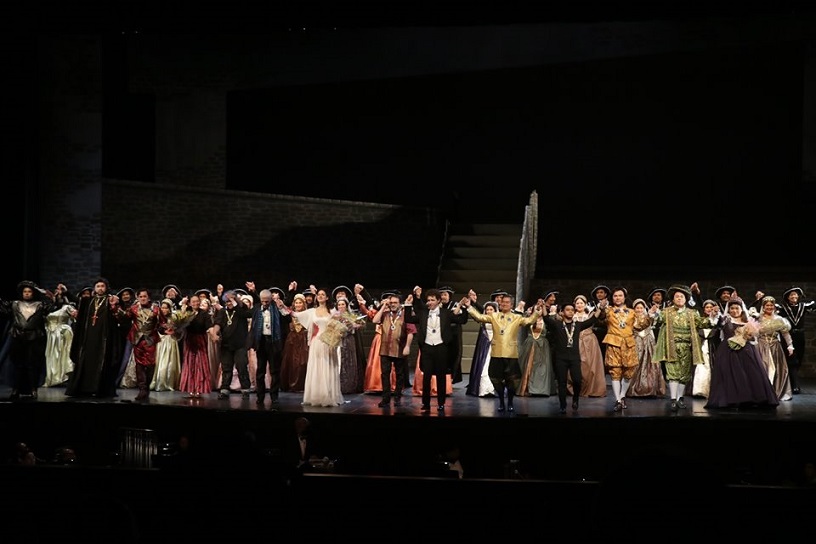 The triumphant curtain call for Lucia di Lammermoor at the CCP Friday night. The opera event of the decade.

The vocal power of Nomher Nival as Normanno (huntsman and retainer of Enrico) was easily recognizable in the first act, soprano Camille Lopez-Molina was a standout as Alisa, Lucia's handmaid; bass Shi Zong as the Calvinist chaplain was a towering presence and so was the Lord Bucklaw of tenor Ivan Niccolo Nery.
Korean baritone Byeong-In Park as Lord Enrico Ashton delivered with his solid baritone and an equal dose of good acting.
But most of all, the Viva Voce Lab — trained by Camille Lopez Molina –complimented the lead singers. One has not seen a perfect singing ensemble in a long, long time.
The Philippine Philharmonic Orchestra under Maestro Alessandro Palumbo was in excellent form and one in complete rapport with the singers. The conductor knew his Donizetti score inside and out and it showed in the faithful interaction with the singers.
True, many elements came into perfect place in this production.
Director Vincenzo Grisostomi Travaglini did something magical and it showed in his flawless direction.
It was also a meeting of international talents from various nationalities namely Filipino (Espiritu), Korean (Byeong-In Park as Lord Enrico Ashton), Cambodian (Prince Sisowath Ravivaddhana Monipong, assistant director) French (Leloudjian ) and Italian (Palombo and Travaglini as director and set designer).
Like it or not, this 2020 CCP edition of Lucia di Lammermoor towered over previous productions like Rigoletto, La Traviata, Barber of Seville and L'elisir d'amore.
It is easily the opera production of the decade.
Lucia di Lammermoor will have its last performance Sunday, February 2, 2020, 3 p.m.
The two performances of Lucia di Lammermoor will benefit the Philippine Philharmonic Orchestra Society, Inc. (PPOSI) and the Philippine Italian Association (PIA) Endowment Fund. For tickets and more information, call 8832-3704 or 8891-9999.