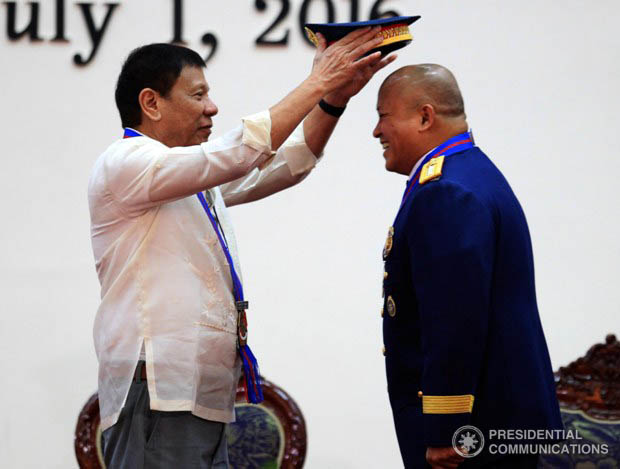 President Duterte appoints Police Director General Ronald De la Rosa chief of the Philippine
National Police July 1, 2016 to oversee his banner program of war against
illegal drugs. Malacañang photo by Kiwi Bulaclac.

The cancellation by the United States government of Sen. Ronald "Bato" de la Rosa's visa is a preview of what's in store for police officials involved in President Duterte's brutal drug war that has claimed the lives of at least 20,000 through a reprehensible practice of extrajudicial killing (EJK).
And they have reasons to be worried about. What they are seeing tells them that contrary to Duterte's boasts that he will protect them, he can't.
De la Rosa told media last week that the U.S. Embassy in Manila confirmed the cancellation of his visa which was still due to expire in 2022. He said the U.S. Embassy did not tell him the reason for the cancellation but he surmised that it had something to do with his implementation of the Duterte government's bloody drug when he was the chief of the Philippine National Police from July 2016 up to his retirement in April 2018.
De la Rosa's guess is supported by the cancellationof another Tokhang official's U.S. visa. He said the retired general, whom he didn't name, had to postpone his trip because he was told at the airport that his visa to the U.S. was canceled.
Reliable sources said retired police general Ramon Apolinario, who was Dela Rosa's deputy for administration and is now sergeant at arms at the House of Representatives, is also included in the visa ban imposed by the U.S in the implementation of the 2018 Asia Reassurance Initiative Act (ARIA), which commits $1.5 billion to countries in Indo-Pacific but specified that the assistance to the Philippines would be dependent on the adherence of its counternarcotics strategy to international human rights standards.
In fact, ARIA took note that "There have been unacceptable human rights developments" in the Philippines which has been identified by Freedom House as 'Partly Free' and where there are continued disturbing reports of extra-judicial killings.""
It is stated in the law, which was signed by President Trump on Dec. 31, 2018 that sanctions on countries whose policies and practices are not consistent with international human rights standards range from "financial penalties and visa ban sanctions."
As noted by lawyer Romel Bagares in his commentary in VERA Files, " It is of a piece with the older Magnitsky Act, a law authorizing the US government to sanction those who it sees as human rights offenders by freezing their assets, and banning them from entering the U.S."
This should also be taken in the context of the preliminary examination being conducted by the International Criminal Court (ICC) on allegations of crimes against humanity committed by the Duterte government. Once ICC starts its investigation, which is expected to happen this year, warrants of arrest will be issued not only for Duterte but for all those who carried out Duterte's vicious war against illegal drugs.
A source with access to some officials in Malacañang said in2017, after the ICC commenced the preliminary examination of the situation in the Philippines, police officers made known their concern to the President about the adverse consequences of their participation in the government's tokhang operations.
They themselves know that Duterte's assurances of a protection including a presidential pardon are all air.
The source said the police officials' concern is not only for themselves but also on the future of their family. They are worried that the visa ban will upset dreams of family members.
For many Filipinos, families of police officers included, the United States is THE destination. The idea of members of their family not being able to travel abroad, especially to the United States, will be considered a catastrophe.
That's what former senator Antonio Trillanes IV has been telling them. Reacting to the update by ICC Prosecutor Fatou Bensouda last month, Trillanes urgedmembers of the PNP who have been a part of the EJKsto make a decision " on whether you would fall with Duterte on being liable for crimes against humanity, or you would partly cleanse your crime by being a witness for the ICC prosecutors."
The former senator, a staunch critic of Duterte, reminded the Tokhang officials: "Now, let me point out the obvious, as Duterte steps down from office in just a little over two years, he would not be able to protect you. In fact, even Duterte won't be able to protect himself."
Duterte's reaction of terminating the Visiting Forces Agreement with the U.S over the cancellation of de la Rosa's visa is his way of telling Tokhang officials that he is not without options to protect them.
Sadly for the police officials, it shows Trillanes is right: Duterte cannot protect them.