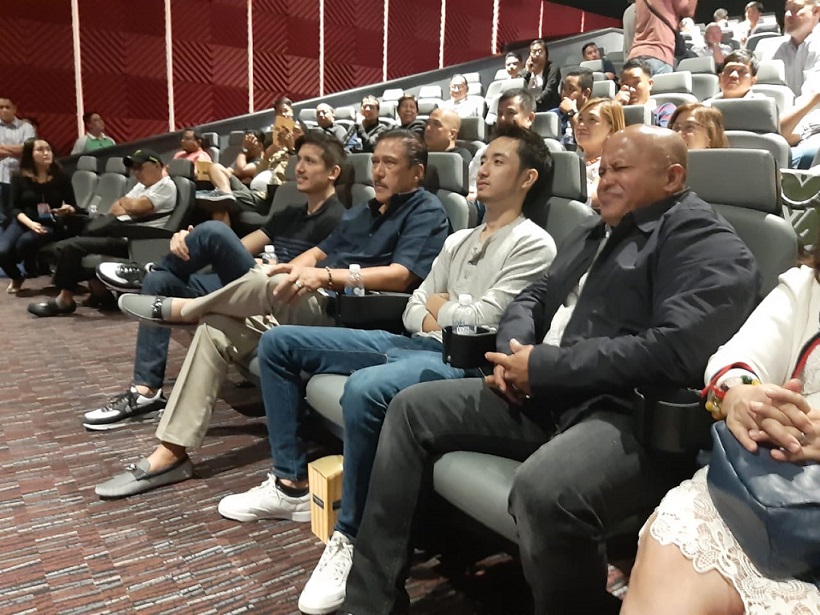 Senate President Vicente Sotto and Sen. Ronald Bato de la Rosa watch the Pacquiao-Thurman fight in a movie house in Makatiin July 2019.Permission granted by Inquirer.net for the use of this photo by Neil Arwin Mercado.
Remember this photo of Senate President Tito Sotto and Senator Ronald "Bato" dela Rosawatching the Las Vegas fight between Senate colleague Manny Pacquiao and American boxer Keith Thurman fight at a theater in Rockwell last July?
We wondered then why de la Rosa, who was investigated by the Ombudsman for accepting an all-expenses paid tripto watch the Pacquiao-Jesse Vargas fight in Las Vegas in November 2016 when he was police chief,opted to stay in Manila when President Duterte cleared him of any wrongdoing. (In fairness to the former police chief, he also skipped the Pacquiao -Jeff Horn fight in Brisbane, Australia in July 2017.)
A source told us that De la Rosa actually wanted to watch the Pacquiao-Thurman fight but his United States visa was cancelled in connection with The Asia Reassurance Initiative Act (ARIA).
The information we got was his former PNP Deputy Chief for Administration Ramon Apolinario, who has been appointed House of Representatives sergeant-at-arms, is also included in the visa ban.
Signed by President Trump on Dec. 31, 2018, ARIA aimsto promote Washington's security and other interests in the Indo-Pacific region a fund commitment of$1.5 billion over the next five years. But it has one limitation specific to the Philippines, and this has to do with the Duterte government's human rights record in connection with its anti-drug war, according to provisions of the new law.
ARIA imposes sanctions on countries whose policies and practices are not consistent with international human rights standards. Sanctions range from "financial penalties and visa ban sanctions."
The other day, the online website, Politiko, reported about the cancellation of de la Rosa's U.S. visa. Politiko said it happened in May 2019.
Following up on the Politiko story, CNN Philippines reported that De la Rosa said he has heard about the visa cancellation but has not received any official notification from the U.S. Embassy. He said he decided not to watch the fight in Las Vegas as he might be barred from entering the United States.
"Hindi ko na lang tinry manood ng last Pacman fight kasi baka hindi nga ako papasukin at mapahiya lang ako. May tsismis na akong naririnig noon pa prior to the fight (I just did not try to watch Pacman's last fight because I might just be barred and be embarassed. I had been hearing rumors even prior to the fight.)," Dela Rosa said.
The law enforcer-turned-lawmaker also told CNN Philippines that he never verified with the U.S. Embassy on his alleged visa ban. He said in a text, " Never pa. Kung may time ka pakitanong doon sa US embassy then pakitext na lang ako kung totoo. Tnx (If you have time, please as the U.S. Embassy, then text me if it's true.)
Actually, we asked the U.S. Embassy about this in July, and the reply we got was: "Visa records are confidential under U.S. law. We do not discuss individual visa cases."
More on ARIA: It specifically states that "none of the amounts appropriated may be made available for counternarcotics assistance for the Philippine National Police unless the Secretary of State determines and reports to the appropriate committees of Congress that the Government of the Philippines has adopted and is implementing a counternarcotics strategy that is consistent with international human rights standards, including investigating and prosecuting individuals who are credibly alleged to have ordered, committed, or covered up extrajudicial killings and other gross violations of human rights in the conduct of counternarcotics operations."
This visa ban sanction is just a prelude to the retribution for those who participated in the murders of more than 20,000 Filipinos in Duterte's war on drugs. More to come when the International Criminal Court decides toopen the investigation ofthe situation in the country.