A Filipina vlogger who has been pushing COVID-19 vaccine conspiracy theories has offered a distorted view on the rising number of hospitalizations among vaccinated people in the United States, as reported by U.S. infectious disease expert Dr Anthony Fauci.
Fauci, in a Nov. 18 interview with NBC News, said: What we're starting to see now is an uptick in hospitalizations among people who've been vaccinated but not boosted… "It's a significant proportion, but not the majority by any means."
In a Nov. 24 Facebook Live video, UK-based vlogger Lynn Agno flashed on the screen the headline of a story which read: "Fauci: COVID-19 hospitalizations rising among vaccinated". She then went on to say, "We are being fooled. Their vaccinations caused a rise in positive cases and a rise in hospitalizations."
Her sweeping conclusion is inaccurate as Dr Fauci's statement about increased hospitalizations referred to those who have not received booster shots.
The American doctor has urged citizens to get booster shots because they provide an added layer of protection against the pandemic.
Likewise, the vlogger's claim that vaccinations have led to a rise in COVID-19 positive cases is erroneous.
According to the Department of Health and the United States Centers for Disease Control and Prevention (U.S. CDC), none of the approved vaccines against COVID-19 contains the live virus that causes the illness. Hence the vaccines cannot cause COVID-19 positive cases.
A Morbidity and Mortality Weekly Report (MMWR) conducted from May-July 2021 among adult patients in New York concluded that vaccines are highly effective in preventing hospitalization against COVID-19.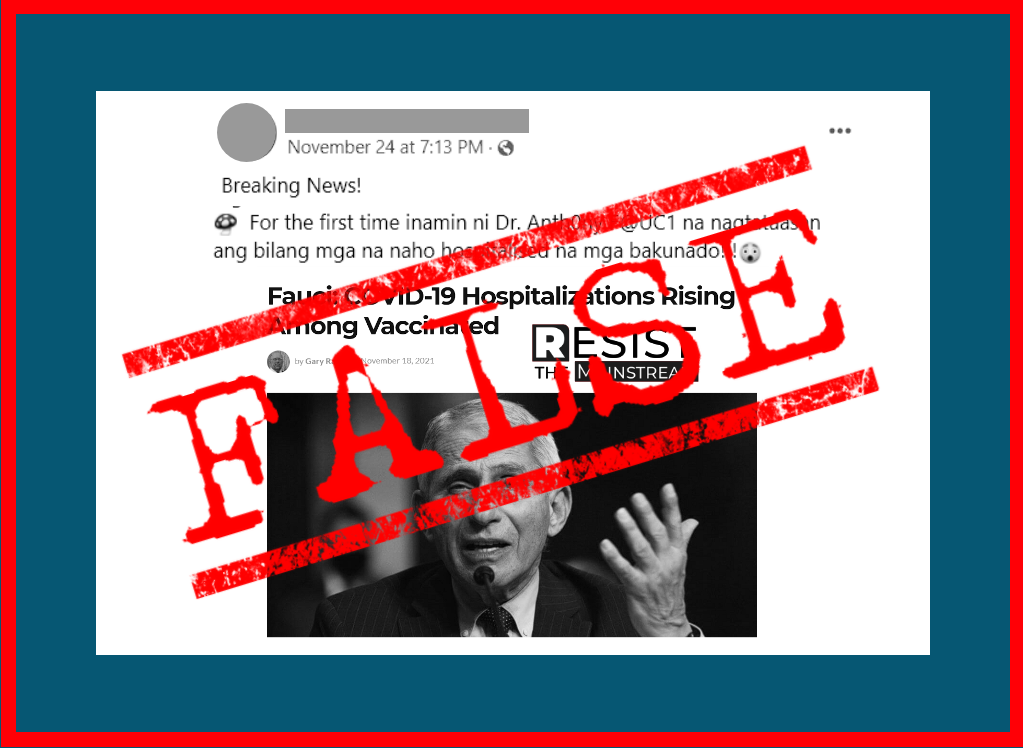 The study, commissioned by the U.S. CDC, also found out that hospitalizations and positive cases in fully-vaccinated individuals did increase among adult patients in New York in the last two weeks of July. The increase in positive cases was attributed to a decrease in vaccine effectiveness.

Vaccine effectiveness, or the rate of disease reduction among vaccinated individuals, did decrease from 91.8% to 75% during the study period. This coincided with a period of easing societal public health restriction and increased circulation of the Delta variant in New York, the MMWR report published last September stated.
It is natural for vaccinated individuals to have waning immunity due to the decrease in antibodies that protect against diseases, health experts from non-profit organization Meedan explained.
The erroneous video got a total of 2,100 reactions, 1,800 comments, and 14,000 views. It emerged the same day the Department of Health reported that 86% of hospitalized COVID-19 cases involved people not fully vaccinated.
Have you seen any dubious claims, photos, memes, or online posts that you want us to verify? Fill out this reader request form.

(Editor's Note: VERA Files has partnered with Facebook to fight the spread of disinformation. Find out more about this partnership and our methodology.)