Another bogus site uploaded a fabricated report claiming that BDO Unibank launched a cryptocurrency platform where netizens can invest their money. This is a scam.
An impostor website bearing the domain name lost.xspacet.space uploaded the fake story supposedly published on Aug. 14 by The Manila Times. Its headline read: 
"With the opening of a new platform, BDO Unibank offers all residents of the Philippines an opportunity to earn extra money."
The story revolved around an alleged "interview" with BDO Unibank Inc. president and CEO Nestor Villanueva Tan discussing their "new project" called "Bitcoin Bank." It claimed that  Filipinos can invest their money "in a variety of cryptocurrencies" through the platform, promising huge earnings daily. 
Both the BDO Unibank and The Manila Times disowned the article calling it "fake" and a "scam" in their advisories posted on Aug. 16.
"This is NOT legitimate BDO news. The article is FAKE and it used a FABRICATED website of Manila Times," a part of BDO's statement read.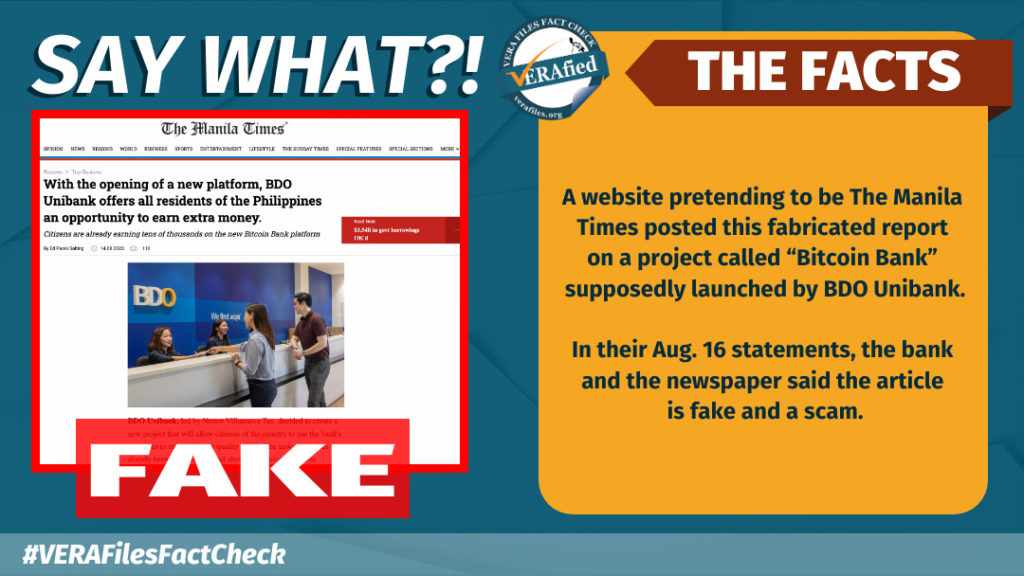 The fake report bore altered photos from previous BDO events. This is not the first time for this kind of scam.
BDO Unibank's Facebook page also flagged the scam in 2022. A similar fake report on a new BDO digital platform was also circulated by a source pretending to be CNN Philippines. 
Cybersecurity firm Kaspersky reported last July that the Philippines was the second most attacked with crypto phishing in Southeast Asia in 2022. 
VERA Files Fact Check also debunked a revived scam that promotes another cryptocurrency trading platform. (Read Bogus site resurfaces FAKE story endorsing a 'bitcoin trading platform')
The link garnered 398 reactions, 47 comments and 353 shares, according to the social media monitoring tool CrowdTangle.
Have you seen any dubious claims, photos, memes, or online posts that you want us to verify? Fill out this reader request form or send it to VERA, the truth bot on Viber.
(Editor's Note: VERA Files has partnered with Facebook to fight the spread of disinformation. Find out more about this partnership and our methodology.)