A two-month old YouTube video is misleading viewers with a false headline on its post: "Japan nagsabing handa nitong protektahan ang Pilipinas laban sa China (Japan said it's ready to protect the Philippines against China)."
YouTube channel PH TV, which grabbed a chunk of its content from a May 28, 2019 The Philippine Star article, is inaccurate on two instances: it skewed a statement made by Philippine Ambassador to Japan Jose Laurel V in 2019, and misleadingly presented it as a recent development.
What Laurel said in May last year was that Japan was ready to support the Philippines' needs, "particularly in security," citing the 10 coast guard ships and other defense assets it has pledged to Manila. He made no mention of Japan fighting off China.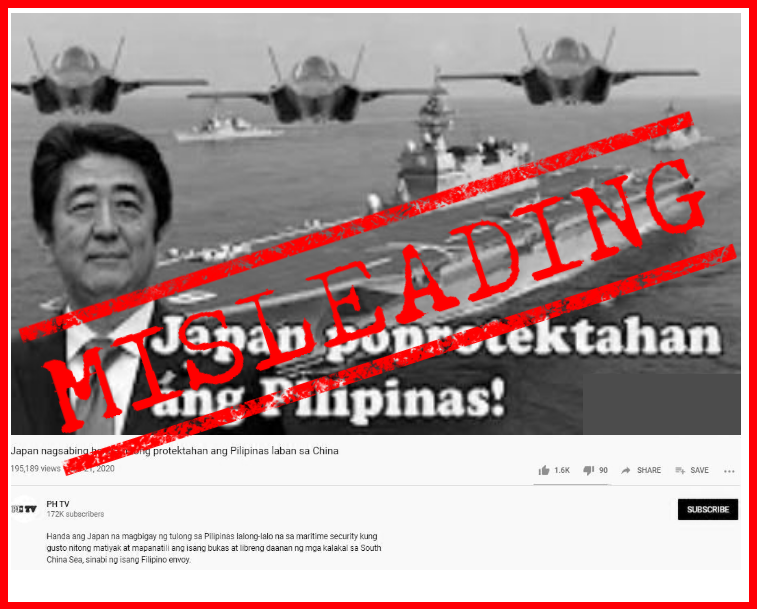 The Philippine envoy, who spoke at a news conference ahead of an international forum in the Japanese capital on May 31 last year, said it was in Tokyo's interests to keep shipping lanes open in the South China Sea, where its commercial ships pass.
The South China Sea is being contested by China, Taiwan, Malaysia, Brunei, Vietnam and the Philippines.
PH TV's report, which could have reached over 4.3 million people, was misleadingly uploaded on March 21, nearly 10 months after Laurel made his statement. It resurfaced on social media a second time after netizens re-shared it in May.
The content of PH TV's inaccurate report was a series of clips showing military ships sailing at sea, and an inset of an unidentified man wearing a mask, reading as his script the Philippine Star article translated into Filipino,
The video's thumbnail shows a Japanese ship called the JS KAGA (DDH 184) from the Japanese Ministry of Defense, during a bilateral maritime exercise between Japan and the United States on August 30, 2018 in the South China Sea. It was photoshopped with an image of fighter jets and a photo of Japanese Prime Minister Shinzo Abe.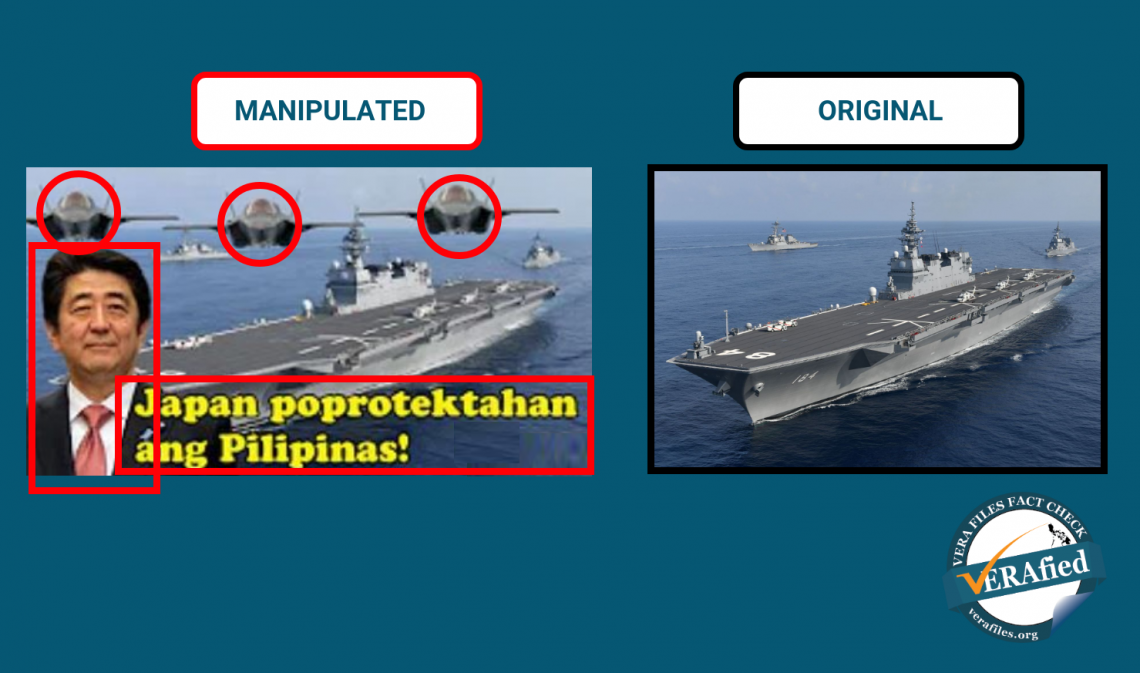 The misleading YouTube upload was re-shared on Facebook this May by netizens around the same time the Palace released a statement on May 27 saying the country, along with Vietnam, has reaffirmed its commitment to the "peaceful settlement of disputes" in the South China Sea.
Recent traffic to the post largely came from Facebook groups Solid Sarah Z Duterte 2022, HUGPONG NG TAONG BAYAN, and Francis Leo Marcos Supporters group.
(Editor's Note: VERA Files has partnered with Facebook to fight the spread of disinformation. Find out more about this partnership and our methodology.)