Website kidstva.com, which has a history of publishing disinformation, published a video on Jan. 3 falsely claiming in its headline that dismissed Police Senior Master Sergeant Jonel Nuezca was stabbed in jail.
The post, which embedded a clip from a day earlier by YouTube channel Hiper One Tv, bore the bogus headline: "JUST IN: SINUGOD SA OSPITAL SI JONEL NUEZCA DAHIL NASAKSAK SA LOOB NG REHAS VIRAL VIDEO NG MAG INA (Jonel Nuezca rushed to hospital because he was stabbed behind bars, viral video of mother and son)."
No such incident has been reported by the media or Nuezca's legal camp, while the Philippine National Police (PNP) announced Nuezca's dismissal from the police service effective Monday, Jan. 11.
The cop made headlines after he was caught on video shooting dead two of his neighbors in Paniqui, Tarlac last month during a heated argument. Indicted for two counts of murder, the former police officer pleaded not guilty during his arraignment last week, according to news reports.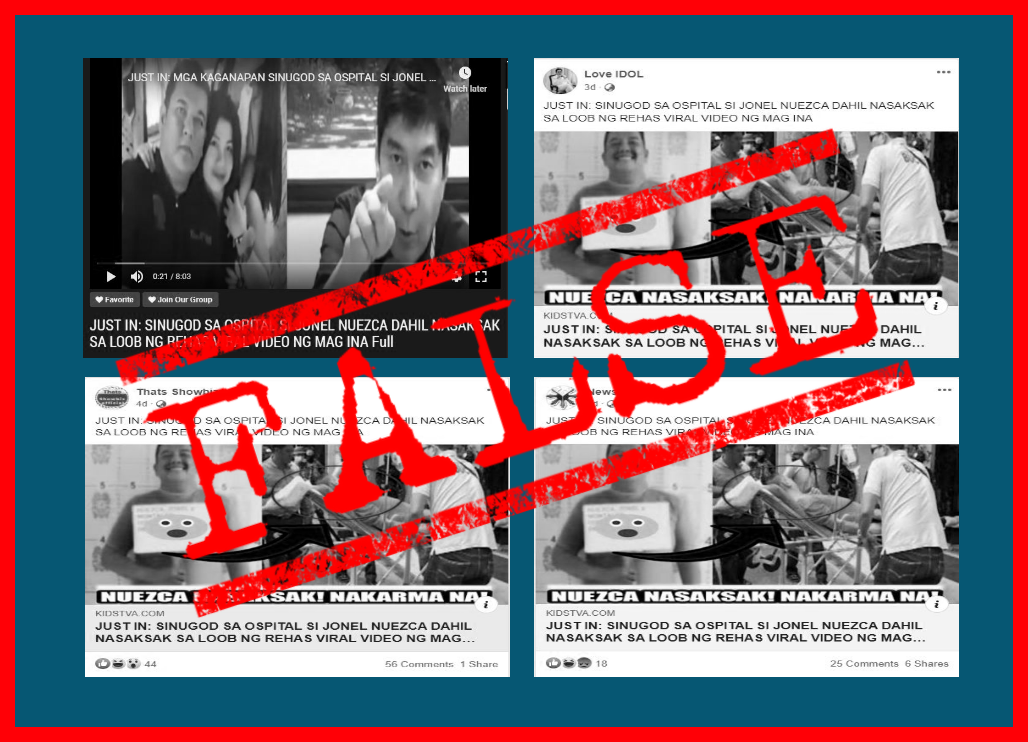 Kidstva.com's headline is also not supported by its content. In the eight-minute clip, an unidentified man spoke for the first four and a half minutes, reporting that Nuezca was moved to another jail. The man also appealed to President Rodrigo Duterte to apply the death penalty against Nuezca. The rest of the clip had no sound and showed a screengrab of Nuezca from the shooting video.
More, kidstva.com had a clickbait thumbnail, consisting of an altered image and a photo given false context. The picture showing a mugshot of Nuezca was doctored to show him smiling. The earliest copies of the edited image were uploaded by multiple Facebook (FB) accounts on Dec. 21, 2020, hours after several media outlets published the original mugshots.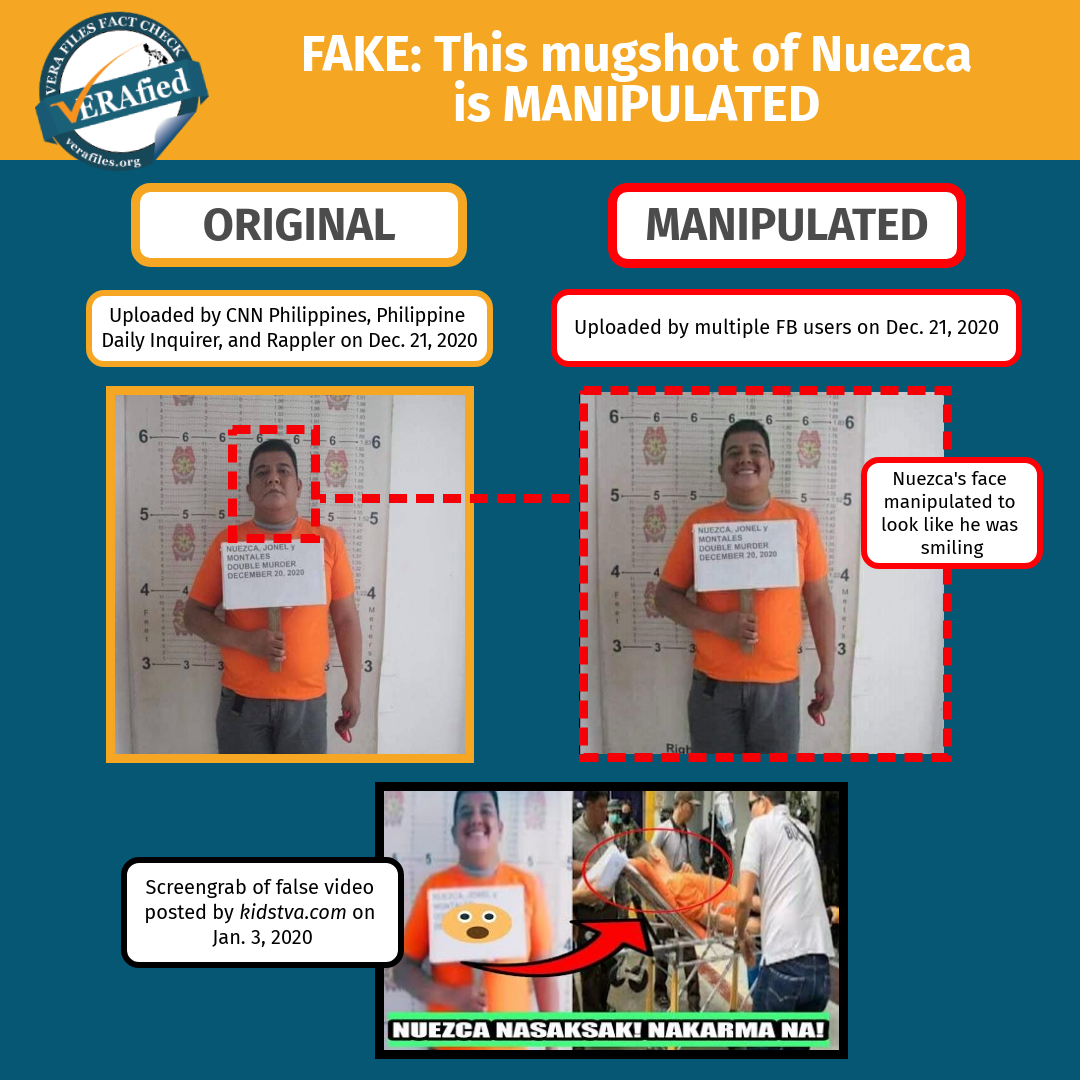 Meanwhile, the photo of an inmate on a stretcher wearing an orange jumpsuit is a high-profile inmate who sustained wounds in a Sept. 28, 2016 stabbing incident at the New Bilibid Prison. The original photo came from a UNTV report aired that day.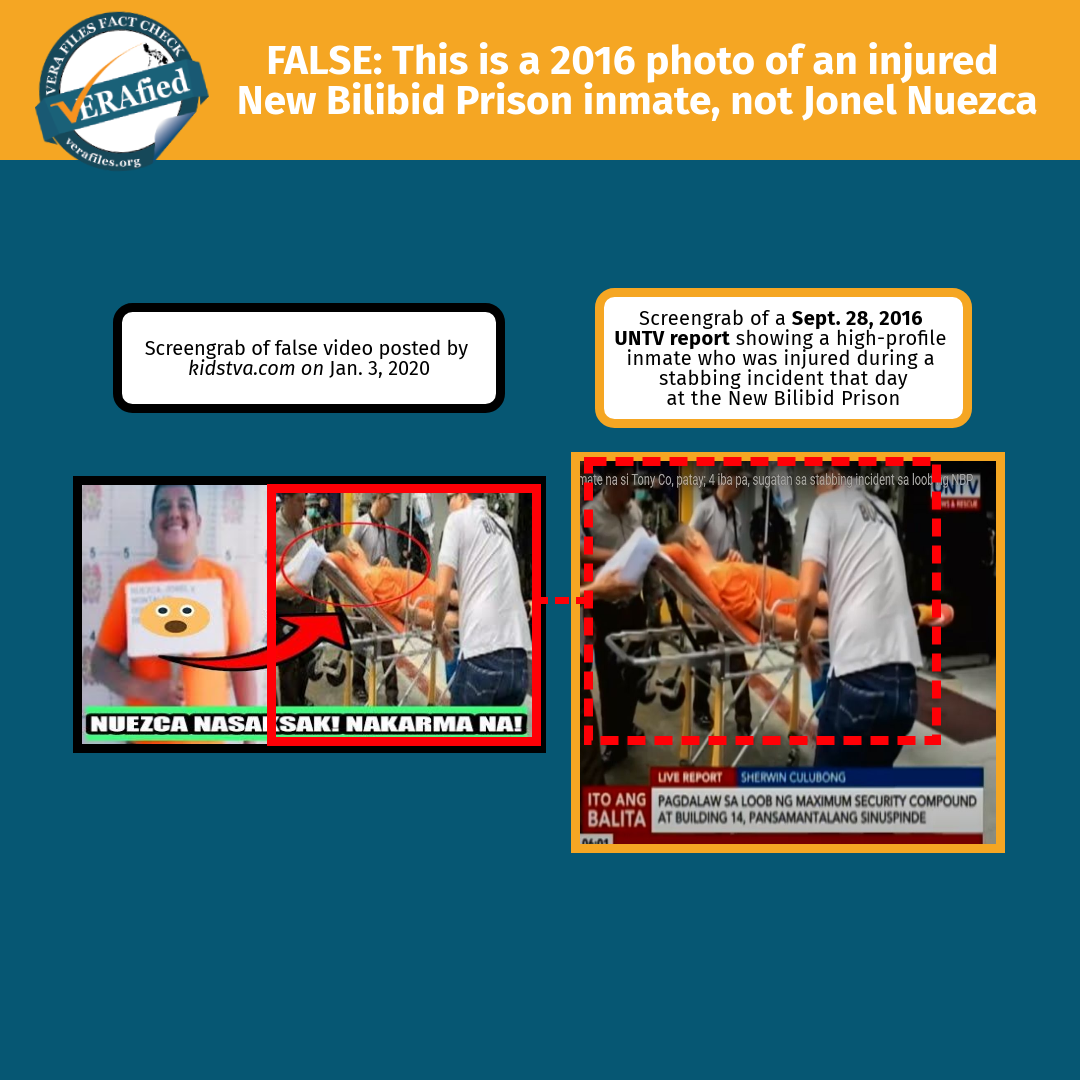 The false post emerged five days after Nuezca, who fatally shot mother and son Sonya and Frank Gregorio on Dec. 20, 2020, was transferred on Dec. 29 to a jail run by the Bureau of Jail Management and Penology.
Kidstva.com's post has a total of 1,300 FB interactions and could have reached 17,570 people according to social media monitoring tool CrowdTangle. FB pages Thats Showbiz, News Viral PH and Love IDOL were its top three traffic generators.
Kidstva.com was created in October 2018 and YouTube channel Hiper One Tv, which carries the false claim about Nuezca's "stabbing" in its description box, was made in November 2018.
(Editor's Note: VERA Files has partnered with Facebook to fight the spread of disinformation. Find out more about this partnership and our methodology.)