Website asensopinoy.info published Aug. 14 a fabricated story claiming that the necklace actress Kris Aquino wore to a film premiere in Hollywood the week before is owned by Ilocos Norte Rep. Imelda Marcos.
Bearing the headline, "KWINTAS NA SUOT NI KRIS AQUINO SA CRAZY RICH ASIAN PREMIERE SI IMELDA MARCOS ANG MAY ARI (Necklace Kris Aquino wore at Crazy Rich Asian [sic] premiere owned by Imelda Marcos)!," the fake news report carried as its content a 10-minute clip from a 49-minute Facebook Live video that day of a netizen named Niño Ruelo Barzaga.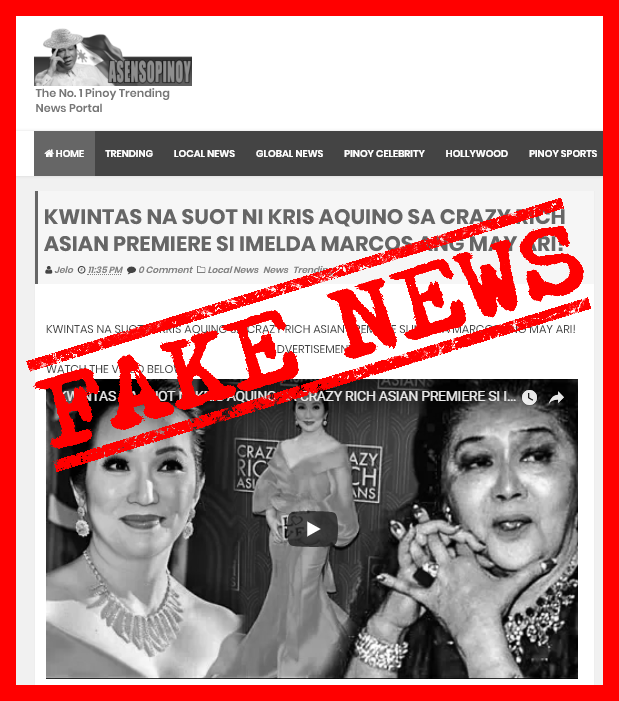 In his curse-laden monologue, Barzaga claimed the necklace worn by Aquino – sister of former president Benigno "Noynoy" Aquino III – was a piece of Marcos jewelry "under the care of the Bangko Sentral (ng Pilipinas)."
This claim is disputed by the jewelry shop itself that created Aquino's diamond necklace.
"[T]he jewelry Kris Aquino wore on the Crazy Rich Asians premiere was an original design from Diagold Jewelry. Moreover, it was made especially for her for the event," Diagold Jewelry digital marketing officer Mark Mionda told VERA Files.
The fact that Aquino's necklace was created by the Cebu-based Diagold Jewelry has been mentioned in several news reports, and even in an Aug. 8 Instagram post by Aquino herself.
The fake story could have reached over 371,000 people, its largest traffic generators from social media being the pages Pres. Duterte Supporters, Duterte-Marcos Real Change and Ikaw Lamang Sapat Na Sa Puso Ko. Asensopinoy.info was created in October 2017.
In 2015, 2016 and earlier this February, fake reports similar to this one have also surfaced, with a number of websites claiming the diamond necklace Aquino wore during the Asia-Pacific Economic Cooperation Leaders' Summit in 2015 was also owned by Marcos.
The Presidential Commission on Good Government, tasked to recover the Marcos family's ill-gotten wealth, had debunked the claim in 2015, saying the necklace was "completely different" from what was stored inside the central bank's vault.
In 2016, Aquino revealed the necklace was purchased from luxury brand Bottega Veneta and was made out of cubic zirconia and silver, not diamonds.
(Editor's Note: VERA Files has partnered with Facebook to fight the spread of disinformation. Find out more about this partnership and our methodology.)
2018-08-23 05:19:05 UTC