A video on Facebook (FB) erroneously claimed that President Ferdinand Marcos Jr. announced an order – "that should be implemented by the United Nations (UN)" – to disallow Chinese President Xi Jinping from stepping into Philippine territory.
On Sept. 28, an FB page published the 10-minute video with the false headline: "KAKAPASOK LANG HALA KA! ESTADUS UNIDOS BIDEN NAGULAT sa NAKAKA-BIGLANG UTOS ni PRESMARCOS CH1NA 1YAK (JUST IN. OH, NO! [United States President Joe] BIDEN SURPRISED BY SHOCKING ORDER OF MARCOS, CHINA CRIES)."
The narrator in the video also falsely stated that Marcos Jr. was the only leader who met with Biden during the UN General Assembly (UNGA), citing a statement made by Press Secretary Trixie Cruz-Angeles.
These claims are false.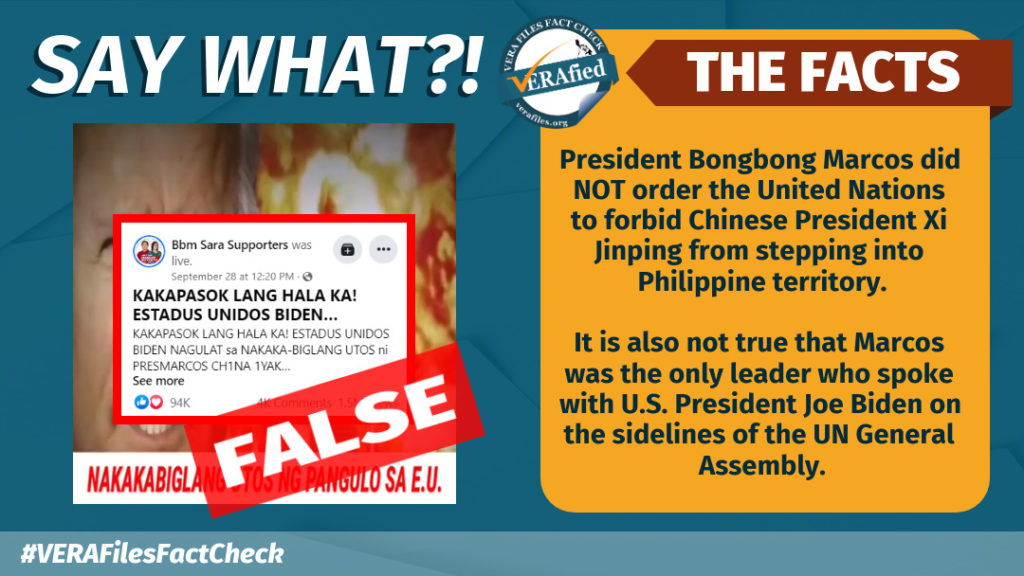 Marcos Jr. made no such order forbidding Xi from entering the country nor are there any legitimate news organizations reporting on it.
Likewise, Marcos Jr. was not the only head of state who met with Biden on the sidelines of the UNGA. Cruz-Angeles has apologized and clarified her previous inaccurate statement. (Read VERA FILES FACT CHECK: Press Secretary falsely claims Biden 'spoke only' with Marcos Jr. among world leaders on the sidelines of UNGA)
Further, the narrator in the video mistakenly said the Philippines is seeking to be a member of the UN, noting that before this, it was only the late deposed President Ferdinand Marcos Sr. who supposedly pushed for the country's membership in the international body. Not true.
The Philippines has been a member state of the UN since 1945. Marcos Jr. is actually seeking support for the country's bid for a seat in the 2027-2028 UN Security Council, where the country served as its president seven times over several decades. 
The video appeared more than a week after Marcos Jr. made his first appearance at the high-level general debate of the UNGA where he addressed world leaders and sought  collaboration on several key international issues.
FB page Bbm Sara Supporters (created Sept. 5, 2022) published the video, garnering over 94,000 reactions, 4,000 comments, 13,000 shares and 1.5 million views.
Have you seen any dubious claims, photos, memes, or online posts that you want us to verify? Fill out this reader request form or send it to 'VERA, the truth bot' on Viber.
(Editor's Note: VERA Files has partnered with Facebook to fight the spread of disinformation. Find out more about this partnership and our methodology.)