A Nov. 7 post by a fake Facebook page under the name of China Telecommunications Corp. that raffles off "free lifetime internet connection" and a smartphone via an online contest is a hoax.
The state-owned Chinese company has tied up with a local consortium that recently won a provisional bid to be the third major telco player in the Philippines.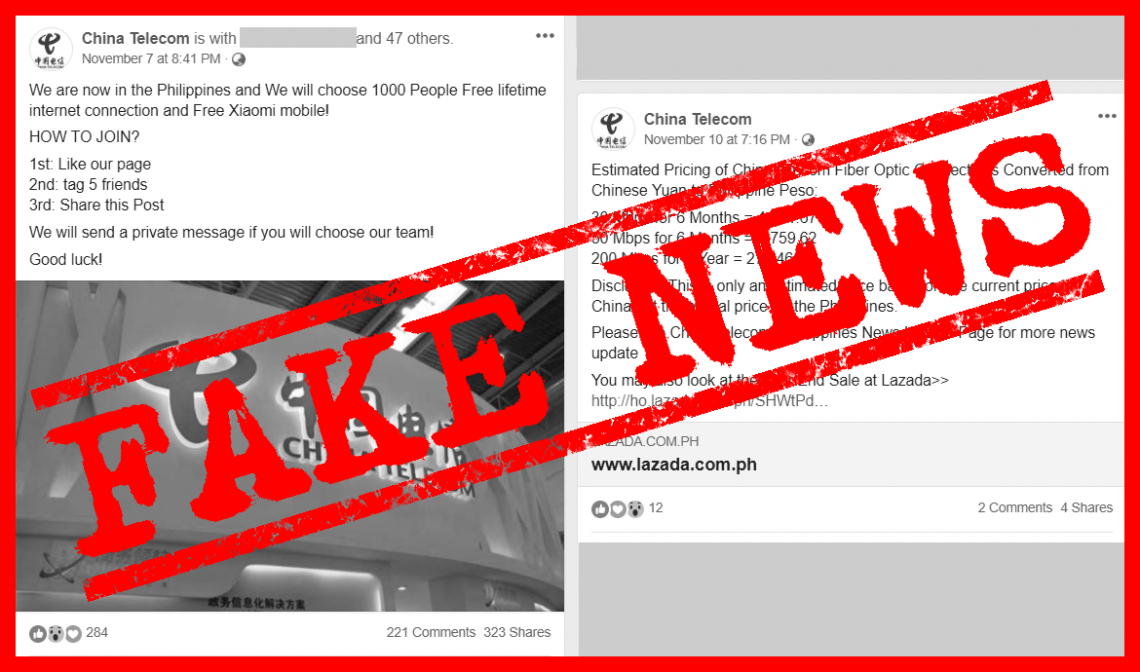 The fake China Telecom page offered netizens a chance to win the free, lifelong internet connection and a Xiaomi phone by liking and sharing the post and tagging five friends in the comments section. The post has generated more than 280 reactions, 220 comments and 322 shares.
China Telecom's official Facebook page is 中國電信國際 China Telecom Global created in April 2014. It has made no such online contest.
Three days later, the fake page posted a status update estimating in Philippine pesos the price of a fiber optic internet connection under China Telecom converted from Chinese yuan, based on the services available in China. The post carried a link to shopping website Lazada and asked readers to like the page "China Telecoms Philippines News Update."
The fake page was created on Nov. 7, the same day the corporation's consortium with Udenna Corp. and Chelsea Logistics Holdings Corp. won the bid to be the provisional third telecoms service provider in the country. The page has 539 followers and 521 likes.

(Editor's Note: VERA Files has partnered with Facebook to fight the spread of disinformation. Find out more about this partnership and our methodology.)
2018-11-14 12:33:17 UTC>