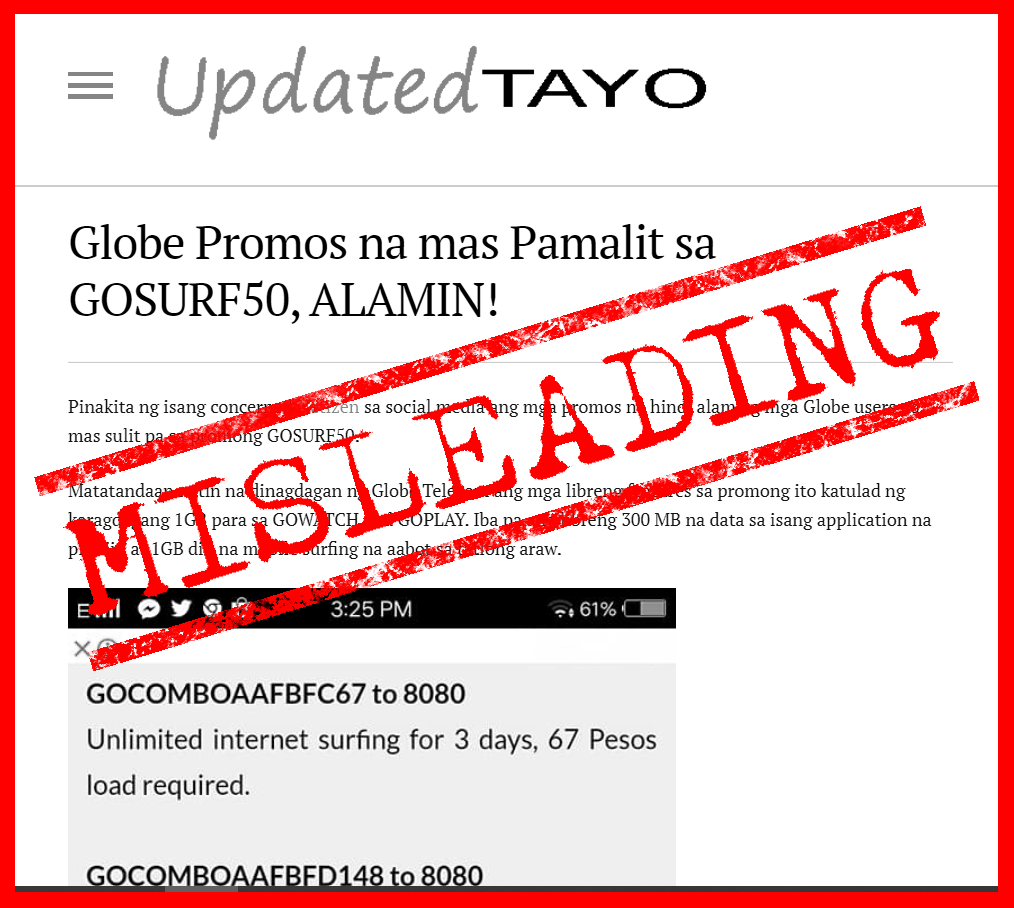 Website updatedtayo.info published Aug.20 a misleading story that shares so-called "little-known" Globe promo codes claiming to be more cost effective than existing ones. Most of these codes are fake.
Bearing the headline, "Globe Promos na mas Pamalit sa GOSURF50, ALAMIN (Globe promos to replace GOSURF50, find out)!," updatedtayo.info posted 19 supposed prepaid promos to use instead of the widely known GOSURF50, which provides mobile data and texting services for three days for 50 pesos.
The story refers to services being offered by Globe Telecom Inc, a local company that provides cellular, broadband and mobile data services across the Philippines.
The codes shared by updatetayo.info were priced between 31 and 773 pesos, offering "unlimited internet surfing" lasting one day to one month.
In an email to Vera Files, Globe Senior Vice President for Corporate Communications Ma. Yolanda Crisanto said 13 of these codes are "fraudulent," namely:
GOCOMBOAAFBFC67
GOCOMBOAAFBFD148
GOCOMBOAAFBFE337
GOCOMBOAAFBFF652
GOTSCOMBOAFBFA31
GOTSCOMBOAFBFB55
GOTSCOMBOAFBFC79
GOTSCOMBOAFBFD176
GOTSCOMBOAFBFE401
GOTSCOMBOAFBFF773
GOCOMBOAKFBFA27 (formerly GOTSCOMBOIFBFA29)
GOCOMBOAKFBFD150
GOTSCOMBOIFBFD162.
Only the last batch of codes is legitimate, namely:
GOCOMBOAKFA31
GOCOMBOAKFB59
GOCOMBOAKFC83
GOCOMBOAKFD187
GOCOMBOAKFE387
GOCOMBOAKFF744
Updatedtayo.info posted its misleading story the same day its source, a certain Ry Flor Mata, posted the 19 codes on his Facebook page. The website's post could have reached more than 486,000 people, while Mata's post could have reached more than 75 million people.
Social media traffic to the story largely came from the page Angat Pilipino. Updatedtayo.info was created March 6.
(Editor's Note: VERA Files has partnered with Facebook to fight the spread of disinformation. Find out more about this partnership and our methodology.)
2018-09-06 04:50:17 UTC