Several Facebook (FB) groups and pages spread a series of photos featuring a supposedly live crocodile captured and paraded around Antipolo City. It is misleading.
The photos of the bound reptile on bamboo appeared on June 25 and continue to gain views this week, according to FB's fact-checking tool. All of the posts bore the inaccurate caption: "Sobrang laki Ng buwayang NAHULI at namataan sa Antipolo ngayon umaga lang (A very large crocodile was caught and seen in Antipolo just this morning.)"
Included in the caption is a supposed link leading to a video of the parade, which only redirects to online shopping websites.
The photos gave the wrong context. Media giant GMA Network revealed on the same day the misleading posts appeared that the crocodile is, in fact, an animatronic that is part of the network's marketing gimmick for its upcoming show Lolong, named after the largest crocodile in captivity before it died.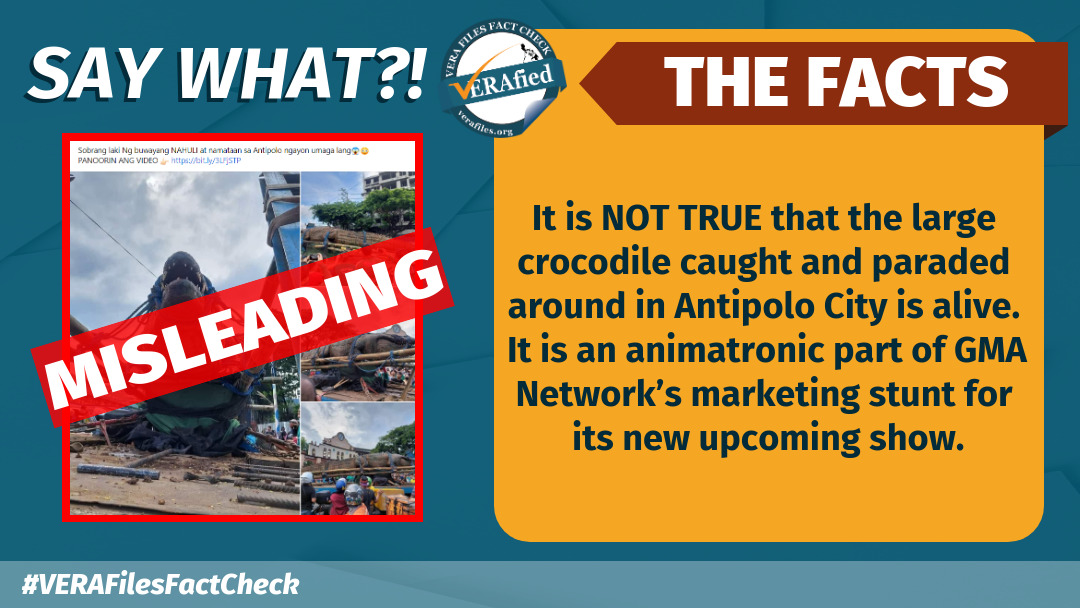 State-owned news organization Philippine News Agency also mistakenly reported that the mechanical crocodile was "alive," further amplifying the misinformation. The organization has since taken down their report and apologized for the confusion.
Many netizens fell for the photos, criticizing the images and questioning the need to parade around the captured reptile. Some also took to task the FB groups and pages, accusing them of spreading "fake news."
The misleading posts appeared after GMA Network first published the photo set. Based on the edit history of the images, the network did not initially clarify that the crocodile was an animatronic and only made it clear after the post went viral.
At least 159 FB groups and pages shared the photos with the fictitious context and garnered more than 21,300 interactions, according to social media monitoring tool CrowdTangle. Its top traffic generators are 𝘽𝙞𝙣𝙞𝙗𝙞𝙣𝙞 (created on April 11, 2018), Sophia Macela (April 8, 2022) and Ann Nang Nann Show (Aug. 9, 2019).
Have you seen any dubious claims, photos, memes, or online posts that you want us to verify? Fill out this reader request form.
(Editor's Note: VERA Files has partnered with Facebook to fight the spread of disinformation. Find out more about this partnership and our methodology.)