Super Typhoon Rolly, internationally known as Goni, made headlines as 2020's strongest storm. As it made landfall on Nov. 1, Facebook (FB) users posted several images allegedly showing the destruction over the Bicol region, which was worst hit by the typhoon.
One user wrote the caption "prayfor #Bicol" and uploaded five photos showing debris and houses either submerged in mud or water. Another user featured three of those photos and added three more, captioned "Bicol Albay."
However, only one image actually shows Rolly's aftermath. The rest show the damage from two powerful storms from past years.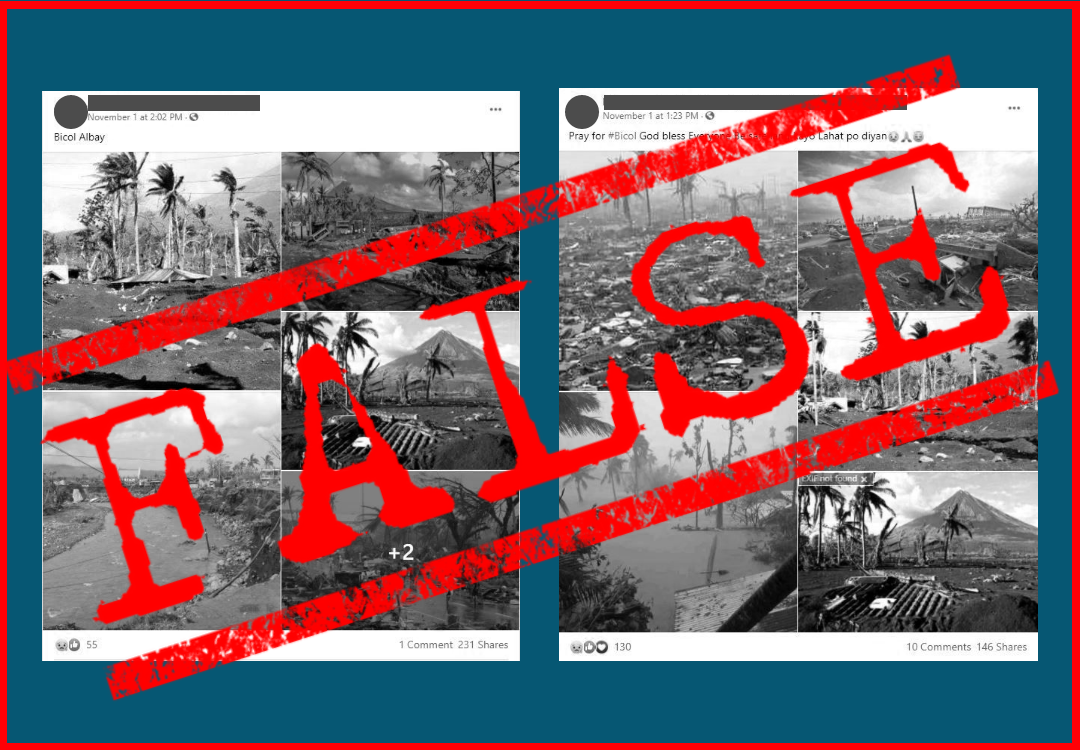 Typhoon Reming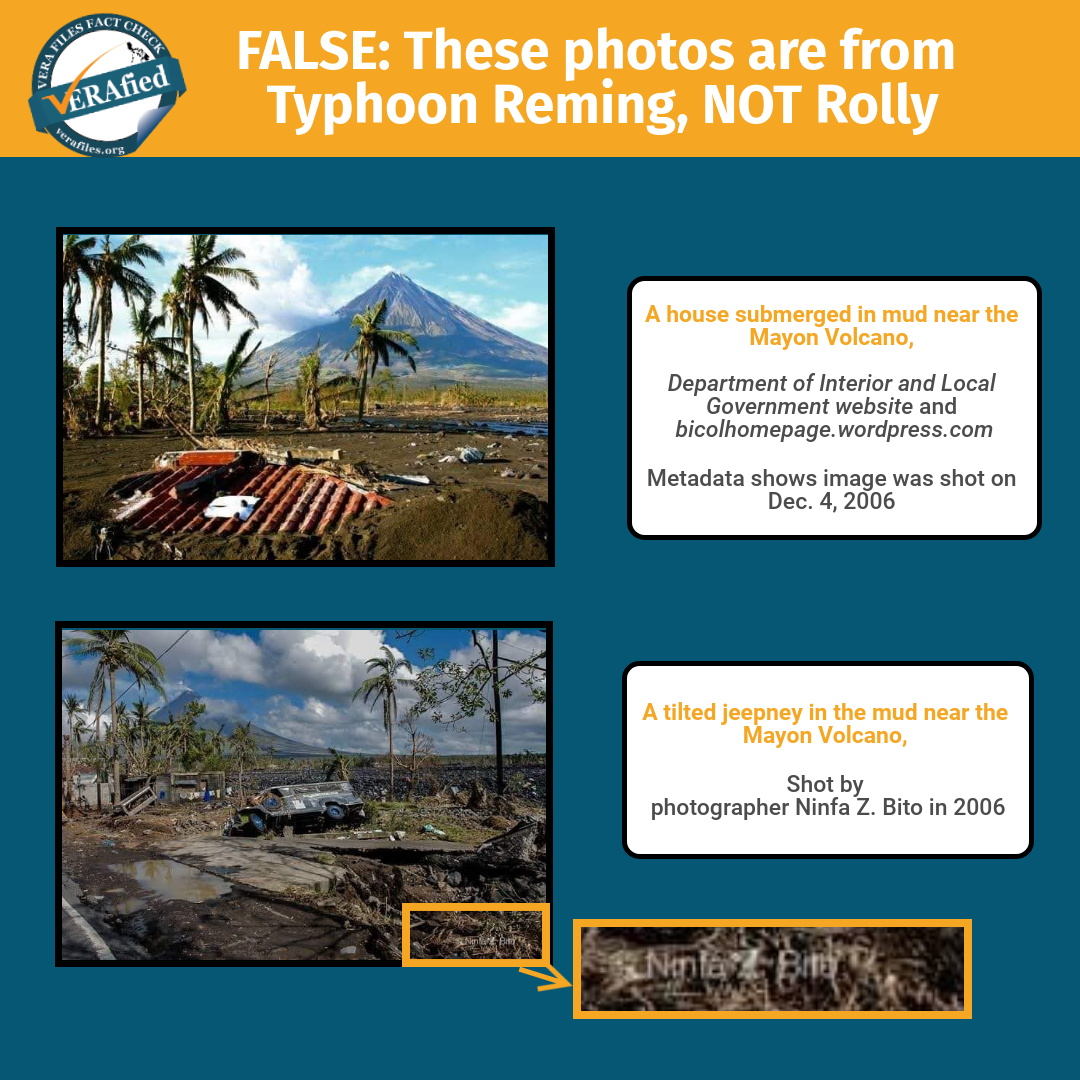 An image of a house submerged in mud near the Mayon Volcano in Albay was uploaded by both FB users. However, it has been on the Web for at least 10 years, uploaded by the Department of Interior and Local Government site and a website called Bicol Home Page (bicolhomepage.wordpress.com) in 2010.
The metadata of both copies shows, via digital photo forensics tool FotoForensics, that it was shot on Dec. 4, 2006. Bicol Home Page described the photo as showing the aftermath of Typhoon Reming (international name Durian), which made landfall on Nov. 30, 2006.
A photo of a tilted jeepney in the mud near the Mayon Volcano was shot by photographer Ninfa Z. Bito, days after Reming struck several provinces in Bicol.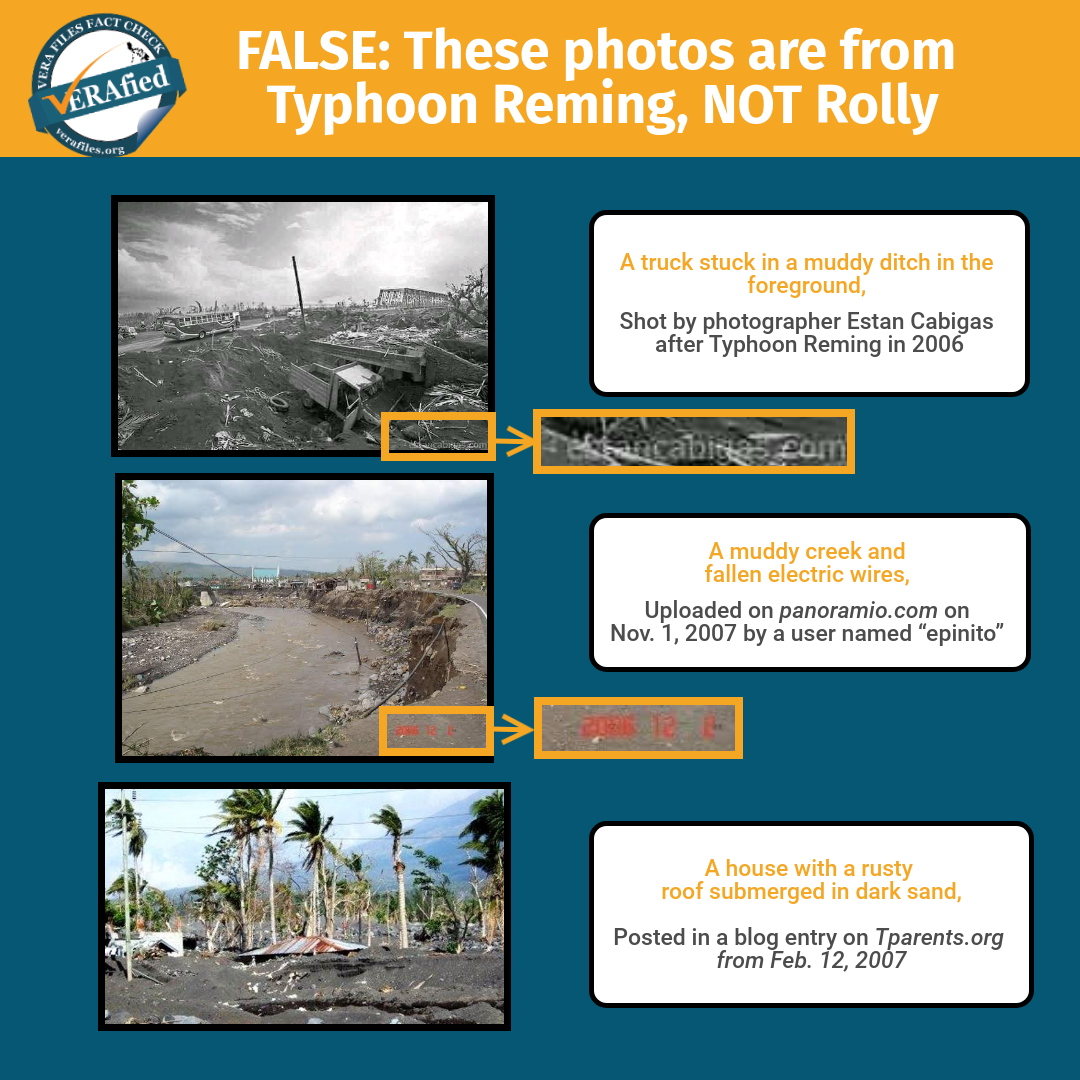 One of the photos was a black and white image showing a truck stuck in a muddy ditch in the foreground, and a bus and a bridge in its background. It contains a watermark saying "estancabigas.com" on the bottom right corner.
VERA Files Fact Check contacted the photographer, Stan Cabigas, whose old site has now been taken down but remains active via his new blogsite and FB page. In an online message on Nov. 11, Cabigas said: "Yes, I took that photo several years ago. This is the barangay in Sto Domingo, Albay which was devastated by lahar and volcanic rocks from Mayon after Typhoon Reming." He reiterated this in a Nov. 11 FB post.
The photo of muddy creek and fallen electric wires was also not taken during Rolly. At its face, the image even has a stamp stating the date it was shot: "2006 12 2." Its earliest traceable copy can be found in an archived post from the now-defunct geo-tagging and photo sharing site Panoramio (panoramio.com). It was uploaded on Nov. 1, 2007 by a user named "epinito" and was titled "Devastation of Super Typhoon Reming (Durian)."
And the photo of a house with a rusty roof submerged in dark sand is at least 13 years old. It can be tracked down to a blog entry by the website Tparents.org from Feb. 12, 2007, about the damage caused by Reming in Albay province. The photo was captioned, "Daraga City under dark sand and stones."
Typhoon Yolanda
Meanwhile, both FB users also uploaded a wide shot of a field filled with debris, while one of them also carried another photo showing people walking along a road.
The two images were taken on Nov. 10, 2013 by Reuters photographer Erik de Castro, two days after Typhoon Yolanda wreaked havoc in Tacloban City. These photos have been misused in other posts claiming to show Rolly's wrath. (See VERA FILES FACT CHECK: These photos are from Super Typhoon Yolanda, NOT Rolly)
In the collage of images, only one photo was taken during Typhoon Rolly. It was first uploaded by the Twitter account of Be An INQUIRER, the citizen journalism arm of Inquirer.net, just a few hours before the false posts were published on Nov. 1.
The misleading posts by the two FB users collectively obtained nearly 400 shares.
(Editor's Note: VERA Files has partnered with Facebook to fight the spread of disinformation. Find out more about this partnership and our methodology.)