As the Christmas holidays draw near, a graphic is circulating on social media saying Filipinos should be thankful to former President Ferdinand Marcos Sr. for passing the 13th month pay law. This needs context.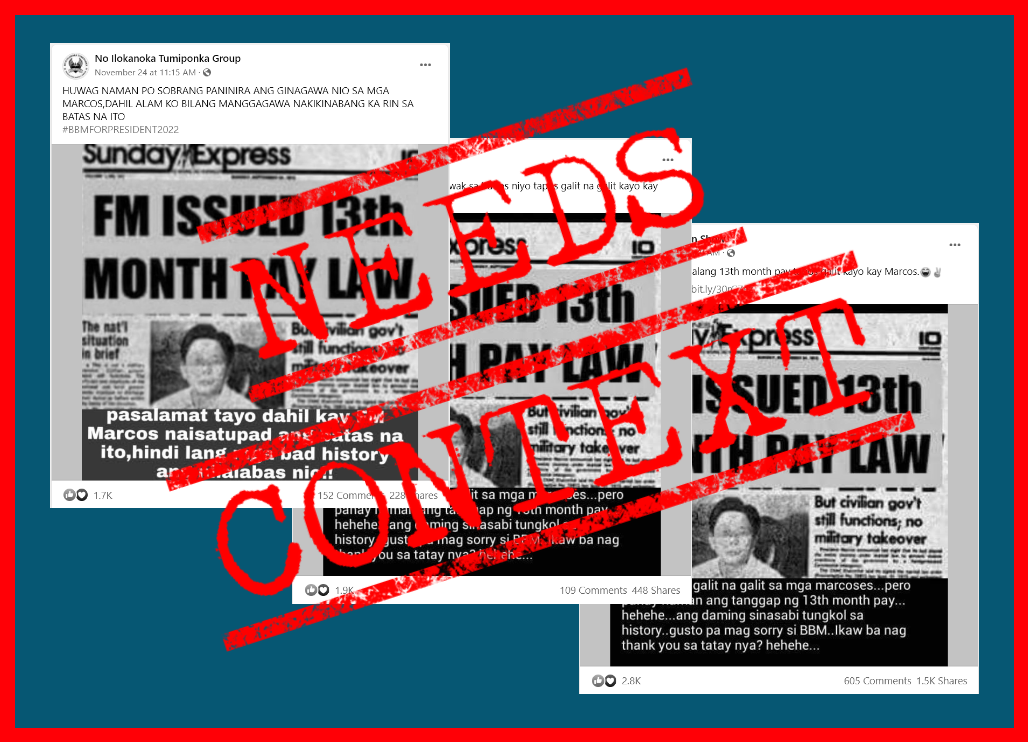 It is true that Marcos issued Presidential Decree (PD) No. 851 in 1975 "requiring all employers to pay their employees a 13th month pay." However, the extra monthly pay was already being given by some employers as a benefit even before it was decreed.
Researchers from the Third World Studies Center at the University of the Philippines Diliman have provided a clearer picture behind the passing of the law. (See Who should Filipino workers thank for the 13th month pay)
For one, PD 851 was highly selective, covering only employees "receiving a basic salary of not more than P1,000 a month, regardless of the nature of their employment." Its implementing rules and regulations did not entitle government employees, household helpers, and workers who were paid by commission, to the additional pay. The law also gave some employers a chance to exempt themselves from granting the benefit.
The law was expanded under President Corazon Aquino through Memorandum Order No. 28 to fulfill her 1986 Labor Day promise, requiring employers to pay "all their rank-and-file employees a 13th month pay not later than December 24 of every year."
In 1988, Aquino signed Republic Act 6686 which finally granted government workers a Christmas bonus equivalent to a month's salary and an additional cash gift of P1,000.
News reports, however, credit the late Negrense labor leader and legislator Zoilo de la Cruz Jr. for pushing the measure to benefit workers. One of the founders of the Trade Union Congress of the Philippines, he was dubbed the "Father of 13th Month Pay." The son of the labor leader said his father took advantage of his closeness to Marcos to conceptualize the additional year-end pay and push its implementation, according to UP Third World Studies Center, based on an article published by the Visayan Daily Star in 2019. PD 851 was a result of a tripartite conference, it added.
The circulating graphic on the 13th month pay featured an image of the Sept. 27, 1972 issue of the now-defunct Daily Express that was manipulated to bear out the headline: "FM issued 13th month pay law."
It was published on Nov. 24 and 25 by the following FB pages: No Ilokanoka Tumiponka Group (created on April 24, 2014), Mang Byanong (June 16, 2017) and Ann Nang Nann Show (August 9, 2019). Their posts have collectively garnered more than 6,400 reactions, 850 comments and 2,100 shares.
Have you seen any dubious claims, photos, memes, or online posts that you want us to verify? Fill out this reader request form or send it to 'VERA, the truth bot' on Viber.

(Editor's Note: VERA Files has partnered with Facebook to fight the spread of disinformation. Find out more about this partnership and our methodology.)