A story published June 23 by website viralnewsph.xyz, quoting a Malacañang consultant, twists a statement made by Vice President Leni Robredo about her work.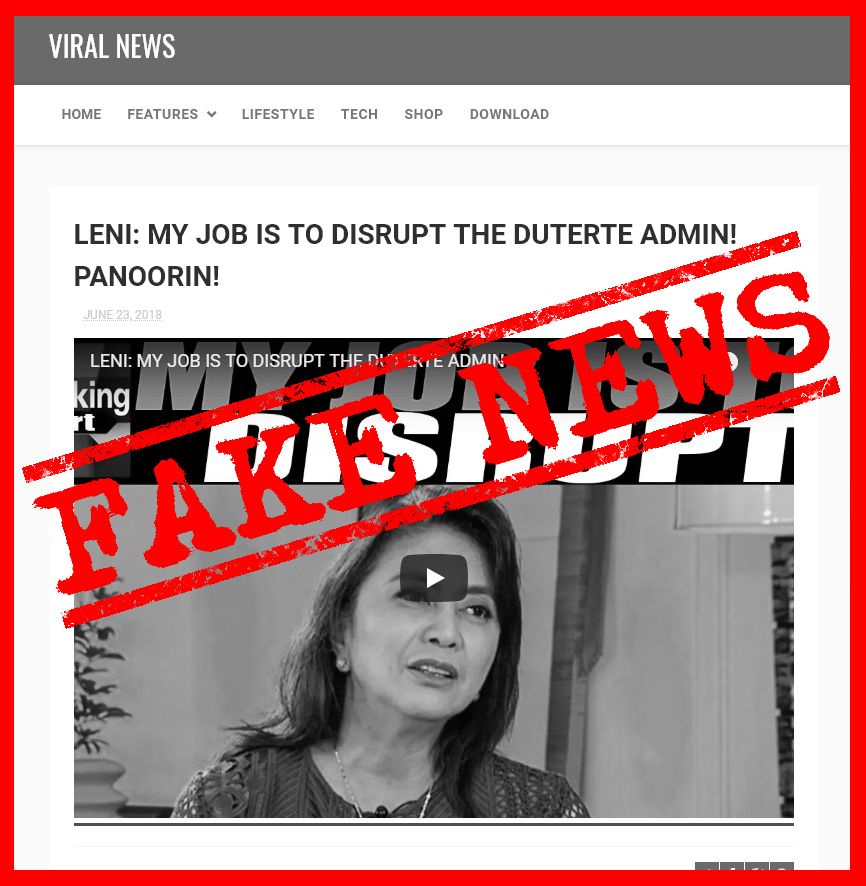 Bearing the headline "LENI: MY JOB IS TO DISRUPT THE DUTERTE ADMIN! PANOORIN (Leni: My job is to disrupt the Duterte administration! Watch!)," the fake story carried a pirated 12-minute clip of an hour-long June 22 Facebook live video by Palace communications strategist Trixie Cruz-Angeles.
Cruz-Angeles, discussing Robredo's June 20 interview with the ABS-CBN News Channel (ANC), says in the video:
"The best interpretation we can make of (Robredo's) statement is that nanggugulo sila o nampipigil sila (they are disrupting or are hindering the efforts of the president's office.)"
But Robredo, in her ANC interview with Tina Monzon-Palma, did not say her job is to "disrupt the Duterte administration."
Monzon Palma: To deal with poverty – what have been the flagship programs of the Duterte administration, apart from the many subsidies and apart from the other give them this allowance if there is problem with the TRAIN Law and implementation, subsidy for jeepney drivers, Philhealth, increase in allowances – what else can you do?

Robredo: We… we… tried to disrupt in the manner by which our office has positioned itself. You know traditionally, our office has been seen as a spare tire.

Monzon-Palma: But do you consider yourselves a spare tire?

Robredo: No, that's why the moment I assumed the vice presidency I told my staff, we can't do six years doing nothing, just doing ceremonial work and just being a spare tire. So we decided to launch an anti-poverty program which we now call Angat-Buhay.
The fake story, which could have reached more than 785,000 people, was posted a day after Robredo's interview.
The story's biggest traffic generators from social media are Alan Peter Cayetano Supporters International, Sara Duterte Worldwide Supporters and Duterte Worldwide Supporters.
Viralnewsph.xyz was created on June 12; the Youtube channel Tokhang TV, which uploaded Cruz-Angeles' clip, in November 2016.
(Editor's Note: VERA Files has partnered with Facebook to fight the spread of disinformation. Find out more about this partnership and our methodology.)