A YouTube channel posted a video of a submarine in a shipyard and claimed it was Philippine-made. This is false. Shown in the clip is a naval vessel built by an American shipbuilding company.
Posted on May 27,  the two-minute and 27-second video carried the headline:
"MAPAPABILIB KA PILIPINAS WAR SUBMARINE GINAWA NG PINOY (YOU WILL BE AMAZED PHILIPPINES WAR SUBMARINE MADE BY A FILIPINO)! PHILIPPINE VINES BREAKING NEWS VIRAL."
Its thumbnail bore a "breaking news" tag and featured a submarine with the "Philippines" label and a flag added. It also carried a text with the erroneous claim.
The video contains clips of a submarine in a shipyard, along with machines and men moving around the facility. It also carried texts further claiming that the watercraft is almost "finished" and that the company that built it will "sell it to the Philippine Navy."
The submarine in the video is the USS Indiana (SSN 789), manufactured by Newport News Shipbuilding, a division of Huntington Ingalls Industries (HII), known as America's largest military shipbuilding company headquartered in Virginia.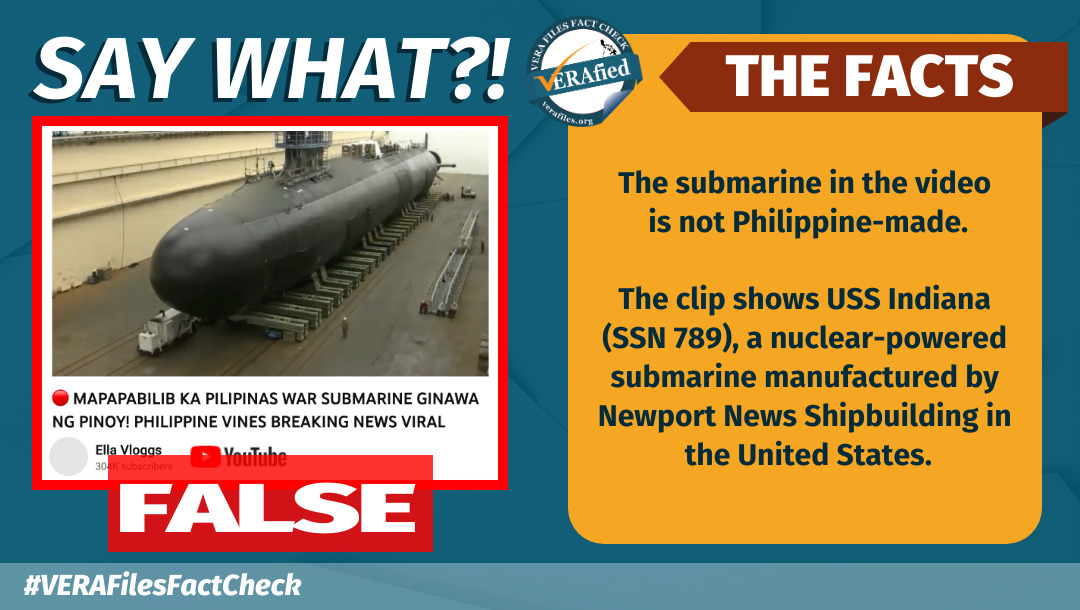 HII's YouTube channel uploaded the original clips on June 30, 2017 showing the rollout and launch of the nuclear-powered fast-attack submarine. These clips were mirrored in the false post.
USS Indiana's construction began in 2012 and it was delivered to the U.S. Navy in 2018.
The false video was posted a day after President Ferdinand "Bongbong" Marcos spoke 
about plans to acquire the Philippines' first-ever submarine. He said there are offers from different countries not only to provide these vessels but to also build them in the country.
YouTube channel Ella Vloggs (created on Feb. 15, 2019) uploaded the video that has 11,510 views as of writing.
VERA Files previously debunked other false claims spread by this channel, most recently a video about a Philippine-made fighter jet. (Read Video shows US aircraft, NOT 'Pinoy-made' fighter jet)
Have you seen any dubious claims, photos, memes, or online posts that you want us to verify? Fill out this reader request form or send it to VERA, the truth bot on Viber.
(Editor's Note: VERA Files has partnered with Facebook to fight the spread of disinformation. Find out more about this partnership and our methodology.)